I have spent much time experimenting with sourdough to come up with a recipe that I feel can rival the famous San Francisco Sourdough French Bread. I find that using my bread machine for the kneading process only, saves me a lot of time and saves my wrists.
I also find that working with a sourdough starter can be very time consuming. Especially if you follow what most sourdough books say and feed them everyday. That is too much work for me as I already have a cat! You even need a sourdough sitter when leaving town! Because I do not use my starter everyday, I store it, covered with plastic wrap, in the refrigerator until ready to use. When I decide I want to use my starter, I then remove it from the refrigerator and let it come to room temperature (usually I let it sit overnight on the counter). I then feed it with 1 cup flour and 1 cup warm water. I let this sit 8 hours or preferably overnight. It is now ready to use in your sourdough recipes!
Bread Making Hints: Secrets to using the bread machine, About yeast in bread making, and Sourdough Starter – How to make a Sourdough Starter.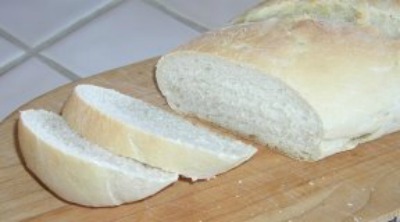 More great Bread Recipes, Sourdough Bread Recipes, and Quick Bread Recipes for all your bread making.
San Francisco-Style Sourdough Bread:
San Francisco-Style Sourdough Bread Recipe
Ingredients:
1 cup sourdough starter, room temperature*
3/4 cup lukewarm water (110 degrees F.)
2 teaspoons salt
1/4 teaspoon baking soda
3 cups bread flour or unbleached all-purpose flour**
Cornmeal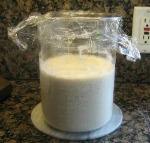 * If you do not presently have a sourdough starter, either make your own sourdough starter or purchase Packaged Sourdough Starter Mix by mail-order. This is the easiest way to get on starter.
** The thickness of your sourdough starter can determine how much flour needs to be used. If you think the dough is too moist, add additional flour (a tablespoon at a time). The same is true if the dough is looking dry and gnarly. Add warm water (a tablespoon at a time).
Instructions:
Add all the ingredients except cornmeal in the bread pan of bread machine. Process according to manufacturer's instructions for a dough setting. Do not be afraid to open the lid and check the dough. It should form a nice elastic ball. If you think the dough is too moist, add additional flour (a tablespoon at a time). The same is true if the dough is looking dry and gnarly. Add warm water (a tablespoon at a time).

After resting, knead dough (see kneading tips below) on a lightly-floured board by pulling the dough towards you and then pushing down and forward with the palms of your hands (kneading gives the bread the elasticity and lets it rise).
Kneading Dough Hints and Tips:
Lightly dust your work surface with all-purpose flour or bread flour. Place a small mound or a measuring cup of flour near the work surface as you will use this flour to sprinkle over the dough as you knead to prevent sticking. Also lightly dust your hands with flour to keep the dough from sticking to you.
Gather the dough into a rough ball and place on your floured work surface.
When you knead, you will use only the heels of your hands. Push down on dough with your hand heels.
Fold the dough in half. Turn the dough about 45 degrees and knead with your hand heels again. Continue to knead, fold and turn the dough for the required length of time or to the consistency suggested. I usually knead the dough around 5 minutes. Well-kneaded dough should feel smooth and elastic. Press your fingertip into the dough; it should spring back.
Place the dough in a lightly-oiled large bowl. Place a damp towel over the bowl and then cover with plastic wrap (the humidity in the bowl helps in the rising process). Let rise until it doubles in volume (when you can put your finger in the dough and it leaves and indentation and doesn't spring back out) approximately 4 to 8 hours (depending on the temperature and the starter used, the rising time can vary as much as 2 hours).
Oven Bread Rising: Sometimes I use my oven for the rising. Turn the oven on for a minute or so, then turn it off again. This will warm the oven and make it a great environment for rising bread. If you can not comfortably press your hand against the inside of the oven door, the oven is too hot. Let it stand open to cool a bit. Sourdough rises more slowly than yeast bread. Always remember, the longer the rise time, the more sourdough flavor.
Cool or Refrigerator Bread Rise: If I do not have the time to wait for the rise to finish or I know that I will be interrupted before the completed rise, I do a cool rise. A cool rise is when the dough is place in the refrigerator and left to rise slowly over night approximately 8 to 12 hours. I usually do this after the first rise and the dough has been shaped into a loaf. As this is a longer rise time, it improves the sourdough flavor in your finished bread.
After dough has risen, remove from bowl, and place on a lightly-floured board. Knead in flour to feed it one more time before baking. Shape dough into a loaf shape and place on a cookie sheet that is dusted with cornmeal or use the Silicone Baking Mats. I personally recommend that you use the Silicone Baking Mats as nothing sticks to them. Cover with plastic wrap and place in a warm spot to rise until doubled in size, approximately 1 to 3 hours.
Preheat oven to 400 degrees F. After rising, slash the bread with a bread razor (lame) or a very sharp knife making three 1/2-inch deep diagonal slashes.
Brush or spray the top of the bread with cold water and bake for 20 to 25 minutes or until nicely browned. A good check is to use an instant digital thermometer to test your bread. The internal temperature should be between 200 and 210 degrees F.

This is the type of cooking and meat thermometer that I prefer and use in my cooking. I get many readers asking what cooking/meat thermometer that I prefer and use in my cooking and baking. I, personally, use the Thermapen Thermometer shown in the photo on the right. To learn more about this excellent thermometer and to also purchase one (if you desire), just click on the underlined: Thermapen Thermometer.
When the bread is cooked, remove from oven and place the bread on a wire cooling rack to cool. Let baked loaf cool for 30 minutes before cutting (this is because the bread is still cooking while it is cooling).
Makes 1 large loaf.
CORNSTARCH GLAZE:
This is a typical mixture that professional bakers use to get that characteristic sheen on breads. I keep this mixture in my refrigerator to use on all the breads I bake.
1/2 cup cold water
1 teaspoon cornstarch
In a small saucepan, with a small whisk, stir together water and cornstarch. Heat mixture to a gentle boil. Stir, reduce heat, until mixture thickens and is translucent. Let cool.
Brush on loaf about 10 minutes before baking is finished and again 3 minutes before bread is completely done.
---

Comments from readers:
I just wanted to share photos of my bread I made using your sourdough recipe as my guide.
I had starter that I was wanting to try out and came across your site. My goal was a take on cinnamon raisin bread, but I was wanting to use dried cherries, blueberries, and cranberries instead. After the first rise, I kneaded in the re-hydrated fruit and cinnamon/sugar and formed the loaf. I then let it rise in fridge overnight. Baked it this morning....oh so good! Thanks for the detailed instructions for the bread.
Now I am going to make rolls for Thanksgiving using your recipe again. Best regards - Jennifer Trent (11/24/14)
https://whatscookingamerica.net/Bread/FrenchSourDough.htm
Did you know that the name sourdough comes from San Francisco and their famous sourdough breads? It is thought that French bakers brought sourdough techniques to Northern California during the California Gold Rush in the late 1800s. If you don't want to make your own sourdough starter, you can buy a San Francisco sourdough starter from Amazon. 
sponsored content
Comments and Reviews