Why Sourdough Banana Zucchini Bread?  Because I had an abundance of zucchini squash in my garden this year.  So, what do you do with all those zucchini – you make Sourdough Banana Zucchini Bread.  This Sourdough Banana Zucchini Bread recipe is perfect as it is so so easy to make and delicious!  Perfect for breakfast with butter or jam.
I am always looking for new ideas and recipes for using my
Sourdough Starter
.  I adapted my favorite 
Sourdough Banana Bread
recipe and added shredded zucchini squash to the recipe.  So simple to make and so tasty!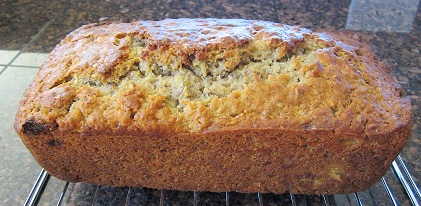 Check out Linda's Bread Making Hints:
Secrets to using the bread machine
About yeast in bread making
Sourdough Starter
Quick Breads
More great Bread Recipes, Sourdough Bread Recipes, and Quick Bread Recipes for all your bread making.
Sourdough Banana Zucchini Bread Recipe:
Sourdough Banana Zucchini Bread Recipe
Ingredients:
1/3 cup butter, room temperature
1 cup granulated sugar
2 large eggs, slightly beaten
2 very ripe bananas, mashed (preferably overripe)*
1 cup Sourdough Starter**
1 teaspoon pure vanilla extract or 1 teaspoon grated orange rind (zest)
2 cups sifted all-purpose flour
1 teaspoon baking powder
1/2 teaspoon baking soda
1/2 teaspoon ground cinnamon
1/4 teaspoon ground nutmeg
1/2 teaspoon salt
3/4 to 1 cup coarsely-chopped pecans (or your favorite nuts)
1 cup shredded (peeled or unpeeled) zucchini squash
* To ripen bananas, allow green or yellow bananas to ripen at room temperature until the skin is covered with brown spots.
** Make sure your sourdough starter is fresh and bubbly by adding equal amounts of water and flour to it the day before using. If you don't presently have a sourdough starter, either make your own sourdough starter or purchase Packaged Sourdough Starter Mix by mail-order.
Instructions:
Grease one 9x5-inch loaf pan (or spray sides and bottom of loaf pan).
In the bowl of you mixer, cream together the butter and sugar until light and fluffy; add eggs and mix until blended. Stir in the mashed bananas and the sourdough starter. Stir in the vanilla extract or orange zest; set aside.
In another bowl, combine the flour, baking powder, baking soda, cinnamon, nutmeg, and salt.
Add the flour mixture, chopped nuts, and shredded zucchini squash to the prepared sourdough mixture, stirring just until blended.
Pour batter into prepared loaf pan and let the filled loaf pan aside for 15 to 20 minutes before baking. This is not your usual sourdough bread recipe where you let the dough rise until doubled. You only let it rest for approximately 20 minutes.
Preheat oven to 350 degrees F. Adjust oven rack to middle position.
Bake approximately 60 to 65 minutes (it took me 65 minutes to achieve the proper temperature) or until a toothpick inserted in the center comes out clean. Be sure and poke the toothpick already to the center of the loaf.A good check is to use an instant digital thermometer to test your bread. The internal temperature of the bread should be at 200 degrees F. when done.

This is the type of cooking and meat thermometer that I prefer and use in my cooking. I get many readers asking what cooking/meat thermometer that I prefer and use in my cooking and baking. I, personally, use the Thermapen Thermometer shown in the photo on the right. To learn more about this excellent thermometer and to also purchase one (if you desire), just click on the underlined: Thermapen Thermometer.
Remove from oven and cool on a wire rack 10 minutes; remove from pan. Cool completely before slicing.
Storage: Breads that contain fruit, nuts, or butter may be stored for 2 or 3 days, well wrapped in plastic wrap or aluminum foil. May be frozen for longer storage. After thawing frozen breads, reheat them in a 400 degree F. oven for a few minutes before serving.
Makes one (1) large loaf.
Additional Banana Bread Recipes:
Banana Nut Bread
There is a saying about lemons; "When life gives you lemons, make lemonade". Well maybe there should be one for bananas as well - when life gives you overripe bananas, make banana bread! At least that is what I do.
Banana Oatmeal Yogurt Bread
I combined a couple of my Banana Bread recipes to create this delicious and healthy loaf of banana bread. The use of yogurt in the recipe allows you to cut back on butter. This bread is slightly heavier and denser than other banana breads. Great for breakfast!
Banana Pineapple Bread
This is a very moist and delicious tropical tasting banana bread. Very easy-to-make for your family. I made this bread a week ago and it was still moist and tasty.
Banana Pistachio Yogurt Bread
This Banana Pistachio Yogurt Bread is very moist and very delicious. I love pistachios, so I though why not make bread using them. This bread is as addictive as eating pistachios! The use of yogurt in the recipe allows you to cut back on butter or oil in your diet.
Banana Yogurt Bread
This is a very moist and delicious banana bread. The use of yogurt in the recipe allows you to cut back on butter. Very easy-to-make for your family.
Blueberry Pecan Banana Bread
Whether you enjoy a slice as a snack or for breakfast, this Blueberry Pecan Banana Bread is so flavorful, you won't need any butter.
Raspberry Chocolate Banana Bread
This is a family banana bread recipe that I modified reducing the amount of butter with a substitution of non-fat Greek yogurt. I also added the fresh raspberries and chocolate chips for an amazing flavor combination. It is very easy to make and so ridiculously delicious!
Sourdough Banana Bread
I slightly adapted this delicious Sourdough Banana Bread from the outstanding cookbook, The Complete Sourdough Cookbook by Don and Myrtle Holm. I am always looking for new ideas and recipes for using my Sourdough Starter. This quick bread recipe is perfect as the bread is so moist with the sweet taste of bananas, and so easy-to-make.
Ultimate Banana Bread
This recipe for banana bread fascinated me, as it takes 6 bananas in the recipe. Also the bananas are heated, juiced, and the juice reduced! I had never heard of this technique before, so I just had to give it a try. I very slightly adapted a few instructions in the recipe from the Cooks Illustrated Magazine, America's Test Kitchen, Season 11.
https://whatscookingamerica.net/Bread/SourdoughBananaZucchiniBread.htm
Comments and Reviews