My husband loves the coarser texture of this Sourdough Semolina Bread recipe.  He said to be sure and tell you that it is even better served with honey.  As you can see, this sourdough bread recipe is a favorite in our house.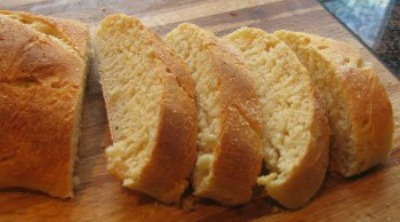 For more great Low Fat Recipes, Low Calorie Recipes, Low Carbohydrate recipes, and Diabetic Recipes, check out my Diet Recipe Index.  Also check out my Nutritional Chart for fat grams, fiber grams, and calories for all your favorite foods.
Bread Making Hints: Secrets to using the bread machine, About yeast in bread making, and Sourdough Starter – How to make a Sourdough Starter.
More great Bread Recipes, Sourdough Bread Recipes, and Quick Bread Recipes for all your bread making.
Sourdough Semolina Bread Recipe:
Sourdough Semolina Bread Recipe
Ingredients:
1 1/2 cups sourdough starter, room temperature*
1/2 cup lukewarm water (110 degrees F.)
2 tablespoons olive oil
1 tablespoon granulated sugar
1 cup semolina flour (durum wheat)
2 cups bread flour or unbleached all-purpose flour**
1 teaspoon coarse sea salt or kosher salt
1 teaspoon instant active dry yeast
Cornmeal
* If you don't presently have a sourdough starter, either make your own sourdough starter or purchase Packaged Sourdough Starter Mix by mail-order.
** The thickness of your sourdough starter can determine how much flour needs to be used. If you think the dough is too moist, add additional flour (a tablespoon at a time). The same is true if the dough is looking dry and gnarly. Add additional warm water (a tablespoon at a time).
Instructions:
Different bread making techniques:
After resting, knead dough (see kneading tips below) on a lightly-floured board by pulling the dough towards you and then pushing down and forward with the palms of your hands (kneading gives the bread the elasticity and lets it rise).
Kneading Dough Hints & Tips:
Lightly dust your work surface with all-purpose flour or bread flour. Place a small mound or a measuring cup of flour near the work surface as you will use this flour to sprinkle over the dough as you knead to prevent sticking. Also dust your hands with flour to keep the dough from sticking to you.
Gather the dough into a rough ball and place on your floured work surface.
When you knead, you will use only the heels of your hands. Push down on dough with your hand heels.
Fold the dough in half. Turn the dough about 45 degrees and knead with your hand heels again. Continue to knead, fold and turn the dough for the required length of time or to the consistency suggested. I usually knead the dough around 5 minutes. Well-kneaded dough should feel smooth and elastic. Press your fingertip into the dough; it should spring back.
Place the dough in a lightly-oiled large bowl. Place a damp towel over the bowl and then cover with plastic wrap (the humidity in the bowl helps in the rising process). Let rise until it doubles in volume (when you can put your finger in the dough and it leaves and indentation and does not spring back out) approximately 4 to 8 hours (depending on the temperature and the starter used, the rising time can vary as much as 2 hours).
Oven Rising: Sometimes I use my oven for the rising. Turn the oven on for a minute or so, then turn it off again. This will warm the oven and make it a great environment for rising bread. If you can nott comfortably press your hand against the inside of the oven door, the oven is too hot. Let it stand open to cool a bit.
Cool or Refrigerator Rise: If I don't have the time to wait for the rise to finish or I know that I will be interrupted before the completed rise, I do a cool rise. A cool rise is when the dough is place in the refrigerator and left to rise slowly over night approximately 8 to 12 hours. I usually do this after the first rise and the dough has been shaped into a loaf.
After kneading, shape dough into a into a one-inch high circle and place on a jelly roll pan or cookie sheet that is dusted with cornmeal (I use the Silicone Baking Mats instead of cornmeal). Press sesame seeds into the surface of the dough and brush with olive oil. Cover with plastic wrap and place in a warm spot to rise until doubled in size, approximately 1 to 3 hours.
Preheat oven to 425 degrees F. After rising is completed, bake for 10 minutes. Reduce heat to 375 degrees F. and bake and additional 15 minutes or until loaf sounds hollow when tapped. (A good check is to use an instant digital thermometer to test your bread. The internal temperature should be between 200 and 210 degrees F.) Remove from oven and place the bread on a wire rack to cool.

This is the type of cooking and meat thermometer that I prefer and use in my cooking. I get many readers asking what cooking/meat thermometer that I prefer and use in my cooking and baking. I, personally, use the Thermapen Thermometer shown in the photo on the right. To learn more about this excellent thermometer and to also purchase one (if you desire), just click on the underlined: Thermapen Thermometer.
When the bread is cooked, remove from oven and place the bread on a wire cooling rack to cool. Let baked loaf cool for 30 minutes before cutting (this is because the bread is still cooking while it is cooling).
Makes 1 large loaf.
https://whatscookingamerica.net/Bread/SourdoughSemolinaBread.htm
Comments and Reviews