When life gives you too many zucchini squash in your garden – make zucchini bread!
This photo was shared with me by my sister, Carol Arroyo, and her website The Baking Pan.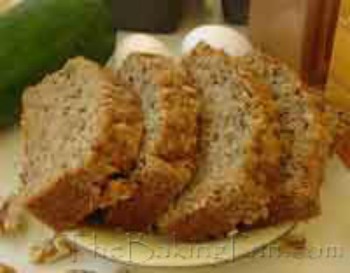 Check out Linda's Bread Making Hints:  Secrets to using the bread machine, About yeast in bread making, Sourdough Starter, and Quick Breads.
Check out all of Linda's great Bread Recipes for your bread making.
Ingredients:
3 eggs
2 cups granulated sugar
1 cup vegetable oil
3 cups all-purpose flour
1 teaspoon salt
1 teaspoon ground cinnamon
1 teaspoon baking powder
1 teaspoon baking soda
1 teaspoon ground cloves
2 cups shredded unpeeled zucchini squash
1 cup chopped nuts of your choice
1 teaspoon pure vanilla extract
Instructions:
Preheat oven to 350 degrees F. Lightly grease and flour two (2) 9 by 5-inch loaf pans.
In a large bowl, cream eggs, sugar, and vegetable oil until light and fluffy. Mix in flour, salt, cinnamon, baking powder, and baking soda. Add cloves, zucchini, nuts, and vanilla extract; stir until well blended.
Pour batter into prepared loaf pans and bake 55 to 60 minutes or until a toothpick inserted in the center comes out clean. NOTE: Be sure and poke the toothpick to the center of the loaf. A good check is to use an instant digital thermometer to test your bread. The internal temperature of the bread should be at 200 degrees F. when done.

This is the type of cooking and meat thermometer that I prefer and use in my cooking. I get many readers asking what cooking/meat thermometer that I prefer and use in my cooking and baking. I, personally, use the Thermapen Thermometer shown in the photo on the right. Originally designed for professional users, the Super-Fast Thermapen Thermometer is used by chefs all over the world. To learn more about this excellent thermometer and to also purchase one (if you desire), just click on the underlined: Thermapen Thermometer.
Remove from oven and cool on a wire rack 10 minutes; remove from pan. Cool completely before slicing.
Yields 2 loaves.
https://whatscookingamerica.net/Bread/zucchinibrd.htm
Additional Quick Bread Recipes:
Butternut Squash Bread
Zucchini Cranberry Bread with Pecans
Mincemeat Nut Bread
Vanilla Bean Bread
Orange Poppy Seed Bread
Comments and Reviews