Rocky Road S'mores Bars – Who says that you can not have s'mores all year round?  S'mores do not have to be limited to a campfire, they can be made as cookies year round right in the oven.
When my children were young, they would ask me to make these Rocky Road S'more Bars all the time.  What could be a better cookie treat than graham crackers, chocolate, and marshmallows?  According to my children, nothing else would do.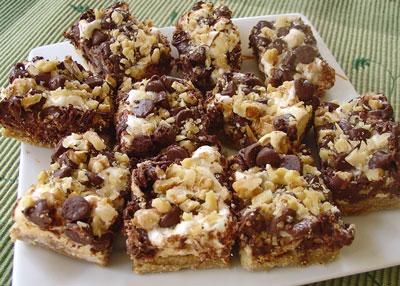 More favorite Cookie Recipes and Secrets To Making Perfect Cookies.  Also learn How To Have A Successful Holiday Cookie Exchange or Cookie Swap.
Rocky Road S'mores Bars Recipe:
Rocky Road S'mores Bars Recipe
Ingredients:
1/2 cup butter, room temperature
1/2 cup firmly-packed brown sugar
1 cup all-purpose flour
1/2 cup graham cracker crumbs
2 cups miniature marshmallows
2 cup semi-sweet chocolate chips
1/2 cup chopped walnuts or nuts of your choice
Instructions:
Preheat oven to 375 degrees F. Lightly butter a 9-inch square baking dish.
In a large bowl, cream butter and brown sugar until light and fluffy. Add flour and graham cracker crumbs; stir until well blended.
Press prepared mixture onto the bottom of the prepared baking dish. Sprinkle over the top with marshmallows, chocolate chips, and walnuts.
Bake 15 to 20 minutes or until golden brown.
Remove from oven and cool on a wire rack. Cut into bars and remove from the baking dish.
Yields 3 dozen bars.
https://whatscookingamerica.net/Cookie/RockRoadSmores.htm
Source:  Photo courtesy of my sister, Carol Arroyo, from her website called The Baking Pan.
---
More marshmallow recipes:
Chocolate Sundae Cookies – These cookies remind me of the chocolate pinwheel cookies.  I believe this cookie recipe is an older Pillsbury Cook-Off recipe winner.
Rice Krispies Treats – This classic treat is always a favorite with children and a crowd-pleaser.  My children loved this recipe when they were young.
Graham Cracker Marshmallow Bars – How about a delicious no-bake cookie?  So easy to make and so addictive!
Marshmallows – If you have never had fresh homemade marshmallows, here is your chance.  These marshmallows are so delicious and decadent that you'll never want store purchased ones again!
Comments and Reviews