Grilled Yogurt Lamb Kabobs are rich and tender.  The yogurt in the recipe tenderizes the lamb.  What makes them especially winning is that they are low in fat, high on flavor, and easy to make.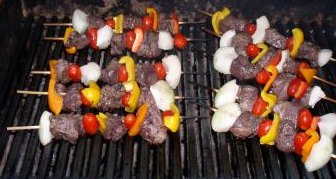 Learn How To Cook Perfect Boneless Leg of Lamb.
Grilled Yogurt Lamb Kabobs Recipe:
Grilled Yogurt Lamb Kabobs Recipe
Ingredients:
Yogurt Marinade (see recipe below)
2 pounds boneless lamb roast, cut into 1-inch cubes
2 sweet onions, peeled and each cut into 6 wedges
3 large red bell peppers, cored, seeded, and each cut into 18 pieces
18 slices lemon, 1/2-inch thick
9 canned artichoke hearts, cut in half
Instructions:
Prepare Yogurt Marinade - add lamb cubes and marinate, covered, at least overnight or up to 3 days in the refrigerator. Remove lamb from refrigerator and allow to come to room temperature before proceeding. Remove lamb cubes from marinade and discard marinade.
Preheat barbecue grilland brush the grill with oil to keep the lamb from sticking.
Starting with the first skewer, thread on a piece of onion, a piece of red bell pepper, a slice of lemon, a cube of lamb, and a piece of artichoke. Repeat this sequence twice so that three of everything is on the skewer. Squeeze everything up tightly so that everything fits on the skewer. Repeat with the remaining skewers.
Place lamb skewers onto hot grill and cook approximately 10 minutes, turning occasionally, or until lamb is browned and pink in the middle and the vegetables are cooked. Temperature of the lamb on the meat thermometer should register 120 degrees F. to 130 degrees F. or desired temperature (see below). Remember the meat continues to cook (meat temperature will rise 5 to 10 degrees after it is removed from the oven).
https://whatscookingamerica.net/GrilledLambKabobs.htm

This is the type of cooking and meat thermometer that I prefer and use in my cooking.  I get many readers asking what cooking/meat thermometer that I prefer and use in my cooking and baking.  I, personally, use the Thermapen Thermometer shown in the photo on the right.  Originally designed for professional users, the Super-Fast Thermapen Thermometer is used by chefs all over the world.  To learn more about this excellent thermometer and to also purchase one (if you desire), just click on the underlined: Thermapen Thermometer.
Yogurt Marinade:
1 cup plain yogurt (regular or low-fat yogurt)
3 cloves garlic, finely chopped
1 teaspoon ground coriander
1/2 teaspoon ground cumin
1/2 teaspoon freshly-ground black pepper
In a large bowl, combine yogurt, garlic, coriander, cumin, and pepper.
Comments and Reviews