Charleston, South Carolina is known for their elegant She Crab Soup.  A cross between a bisque and a chowder, made with their famous blue crab meat.  In elegant society, terrapin, oyster, or crab soups were the accepted preliminary to a sumptuous banquet.
This soup/bisque/chowder is considered the city's signature dish.  Local restaurants offer their own version, and in many Charleston restaurants, the soup du jour is often She Crab Soup.  With the abundance of blue crabs available in the coastal Carolina waters, this soup became very popular.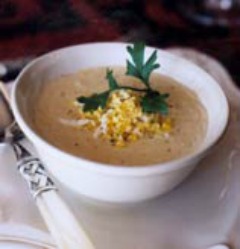 History She Crab Soup:
Culinary historian John Martin Taylor, author of Hoppin' John's Lowcountry Cooking, credits the Scottish settlers who arrived in the Carolinas in the early 1700s with bringing their famous seafood bisque recipes called partan-bree, a crab and rice soup, to the area.
The addition of the crab roe (or crab eggs) is credited to William Deas, a butler and a cook to R. Goodwyn Rhett, mayor of Charleston.  According the local legend, William Howard Taft (1857-1930), 27th president of the United States, was being "wined and dined" by Mayor R. Goodwyn Rhett (1862-1939), mayor of Charleston from 1903 to 1911 residence – the home of one of the original signers of the United States Constitution, John Rutledge.  Rhett's most prominent guest was William Howard Taft, who visited Charleston in 1909 and again in 1910.  Supposedly, the Rhetts' asked their butler to "dress up" the pale crab soup they usually served.  The butler added orange-hued crab eggs to give color and improve the flavor, thus inventing the Charleston delicacy know as She Crab Soup.
Today this historic home is known as The John Rutledge House Inn and is an outstanding bed and breakfast offering gracious southern hospitality.  John Rutledge built this elegant home as a wedding gift for his bride Elizabeth Grimke in 1763.
She Crab Soup Recipe:
She Crab Soup History and Recipe
Ingredients:
2 tablespoons butter, divided
2 tablespoons all-purpose flour
1 cup milk
1 1/2 cups half and half cream
4 teaspoons finely-grated onion
3/4 teaspoon Worcestershire sauce
Salt and white pepper to taste
1/4 teaspoon ground mace
1/4 teaspoon red (cayenne) pepper
1/4 teaspoon grated lemon zest (rind)
1 1/2 pounds flaked blue crab meat*
1/4 cup crab roe**
3 tablespoons dry sherry
1 tablespoon finely-chopped fresh parsley leaves
* If you live in parts of the country where blue crab is not available, other types of crabmeat, such as Dungeness, snow, king, or rock crab, may be substituted.
** Crab roe are the eggs harvested from the female blue crab. The addition of crab roe tints the soup orange and enriches its crabby flavor. Two crumbled hard-cooked egg yolks may be substituted for the crab roe.
Instructions:
In a large, heavy pot over low heat, melt butter; add flour and blend until smooth. Slowly add milk and half and half cream, stirring constantly with a whisk; cook until thickened.
Add onion, Worcestershire sauce, salt, white pepper, mace, cayenne pepper, and lemon zest. Bring just to a boil, stirring constantly. Reduce heat to low, add crabmeat and crab roe or crumbled hard-cooked egg yolks; simmer, uncovered, for 5 minutes (if the soup appears about to boil, remove the pan from the heat for a minute or so, then return).
Remove from heat and add sherry, stirring to mix. Let sit for 3 to 4 minutes before serving.
To serve, pour the soup into individual heated soup bowls, dividing the crabmeat and roe equally into each bowl.
Sprinkle with parsley and serve immediately.
Yields: 4 servings.
John Rutledge House Inn She Crab Soup Recipe:
Recipe courtesy of The John Rutledge House Inn.
5 tablespoon butter
1/2 cup finely-chopped celery
2 cups crab meat*
3 1/2 cups milk
1/2 cup chicken stock
5 tablespoons all-purpose flour
2/3 teaspoon mace
1/4 teaspoon white pepper
1 cup heavy cream
Salt to taste
1/4 cup Worcestershire Sauce
3 tablespoons sherry
2 hard-boiled eggs grated (optional)
Paprika
* She-Crabs are known to be a real delicacy because they have much more taste than the "He Crabs." The orange-hued eggs of the she-crabs give the soup extra flavor and color. She-crabs are difficult to find in many part of the country, so white crab meat can be substituted. Hard boiled egg yolk may be crumbled in the soup to imitate crab eggs.
In a large heavy pot over low heat, melt butter; add celery, mace, and white pepper. Cook until the celery is almost transparent.
In a small saucepan, while the celery is cooking, heat the milk and chicken stock until just hot, but not boiling.
When the celery mix is done cooking, stir in the flour to make a Roux-type mixture. Do not brown but heat enough to bubble for several minutes.
Slowly stir in the hot milk mixture and salt to the roux. Add the crab meat, cream, Worcestershire Sauce, and sherry. Let simmer for approximately 30 minutes or until thickened to appropriate consistency.
To serve, sprinkle with grated hard-boiled eggs and some paprika.
Yields: 8 servings.
https://whatscookingamerica.net/History/Chowder/SheCrabSoup.htm
Comments and Reviews