This is a very tasty dish that is great for the Fall season.  It was so much fun to make and just excellent tasting, as the peppers really give the sauce flavor.  If you still have fresh tomatoes in your garden to use up, just peel, chop, and add to the marinara sauce.
Braising means to cook meat by browning in fat, then simmering in a small quantity of liquid in a cover container.  The meat is cooked until very tender.  This method of cooking meat is used for less tender cuts of meat.
This very tender and delicious Braised Cross Rib Roast recipe, comments, and photos were shared with my by Karen Calanchini, Food Stylist and Photographer, of Redding, CA.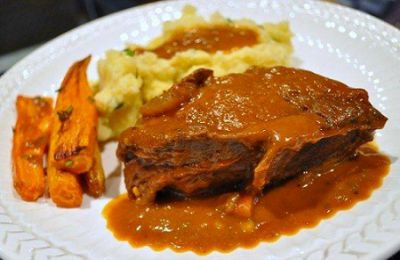 More delicious Beef Recipes using various cuts of beef.
Braised Italian Cross Rib Roast Recipe:
Braised Italian Cross Rib Roast Recipe
Ingredients:
6 tablespoons olive oil, divided
2 large onions, cut in half and then sliced
6 garlic cloves, minced
2 green bell peppers, stemmed, seeded, cut in half, and sliced
4 Banana chile peppers, stemmed, seeded, cut in half, and sliced
Coarse salt or pepper
1/4 teaspoon red pepper flakes
1 (4 pound) Cross Rib Roast*
1 cup Shiraz wine or any robust red wine you prefer
4 to 5 cups Marinara Sauce (you want the sauce to come halfway up the sides of the roast)**
1 teaspoon fresh rosemary, chopped
Cooked spaghetti pasta, drained
* Cross Rib Roast is also know as Beef Shoulder, Chuck, Shoulder Clod, Boston Cut, and/or English Cut Roast.
** You may use either store-bought or homemade Marinara Sauce. Learn how easy it is to make your own homemade Marinara Sauce.
Instructions:
Preheat oven to 325 degrees F.
In a large Dutch oven or roasting pan (with a tight fitting lid) over medium heat, heat 3 tablespoons olive oil. Add onions, garlic, bell pepper, and chile peppers. Add salt and pepper to taste and then add red pepper flakes. Saute until soft and the onions are golden. Remove vegetables from the pan using a slotted spoon; set aside.
Add the remaining 3 tablespoons olive oil to the roasting pan and heat over medium-high heat. Add the Cross Rib roast and brown on all sides. Remove the browned Cross Rib Roast and set aside.
Add the wine to the roasting pan and, using a spatula or spoon, scrape up all the browned bits as they loosen from the bottom of the pot. Add the cooked vegetables, marinara sauce, and rosemary into the roasting pan; stirring to combine.
Add the braised Cross Rib Roast. Bring the liquid mixture just to a boil; remove from heat, place the lid on the pot, and put into the preheated oven.
Roast in the oven for approximately 3 hours until the meat is fork tender (like a pot roast) and registers at least an internal temperature 180 degrees F, on your an internal temperature.

This is the type of cooking and meat thermometer that I prefer and use in my cooking. I get many readers asking what cooking/meat thermometer that I prefer and use in my cooking and baking. I, personally, use the Thermapen Thermometer shown in the photo on the right. T o learn more about this excellent thermometer and to also purchase one (if you desire), just click on the underlined: Thermapen Thermometer.
Remove the cooked roast to a cutting board and thinly slice cross the grain.
Place the cooking liquids from the pot into a warm bowl and place the cooked spaghetti pasta into another bowl. Serve along side of the sliced roast.
Makes 6 servings.
https://whatscookingamerica.net/KarenCalanchini/ItalianCrossRibRoast.htm
Comments and Reviews