Portuguese Braised Beef Shanks are a wonderful dish with warming spices and a little twist of Mexican chile peppers thrown in.  Creamy, buttered mashed potatoes also go well with this dish.
This Portuguese Braised Beef Shanks recipe, comments, and photos were shared with my by Karen Calanchini, Food Stylist and Photographer, of Redding, CA.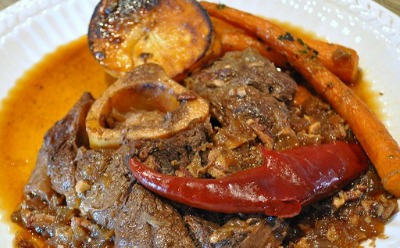 Portuguese Braised Beef Shanks Recipe:
Portuguese Braised Beef Shanks Recipe
Ingredients:
1 teaspoon mixed color peppercorns
1 teaspoon whole allspice berries
6 whole cloves
2 cinnamon sticks
2 bay leaves
6 ounces thin-sliced pancetta, cut into cubes*
4 (about 3 1/2 pounds total) thick center-cut beef shanks (I had mine cut 1-inch thick)
Coarse salt or sea salt and freshly-ground mixed color pepper
Olive oil, if needed
2 large yellow onions, medium chopped
6 to 8 garlic cloves, finely minced
2 1/2 cups Beef Stock
2 cup dry red wine
2 tablespoon dark molasses
1 teaspoon salt
1 dried Guajillo chile pepper**
1 dried Arbol chile pepper**
* Pancetta is Italian bacon that is made from pork belly meat that is salt cured. It is made by seasoning the pork belly with salt and lots of pepper, then curling it into a tight roll and wrapping in a casing.
** Chiles de arbol or arbol chile (ARE-bowl) are narrow, curved chiles that start out green and mawture to a 3-inch to 5-inch bright red pod. The arbol chile is very hot, and related to cayenne pepper. These chiles register around 50,000-65,000 on the scoville heat unit scale (or about 7-8 on a 1-10 scale). These chile peppers are found Mexican Food Stores and in most hispanic food sections of grocery stores. If you can not find arbol or guamillo chile peppers, substitute dried cayenne chile peppers.
Instructions:
Preheat oven to 350 degrees F. Position oven rack in lower third of oven.
Place the peppercorns, allspice, cloves, cinnamon, and bay leaves into a cheesecloth pouch; tie securely and set aside.
How make a cheesecloth pouch: Cut a piece of cheesecloth approximately 8 inches by 8 inches. Place your spices and/or herbs in the middle of the cheesecloth. Crush them slightly to release their flavors. Tie the cheesecloth shut with kitchen or cotton twine. Leave the tie long enough so that you can remove the cheesecloth easily.
Heat a large oven-proof pot with a tight-fitting lid over medium-low heat until hot. Add the pancetta cubes and sizzle to render the fat and crisp up. When crispy, remove with a slotted spoon to a folded paper towel; set aside.
Place the beef shanks into the hot rendered fat. Sprinkle salt and pepper over the top of each beef shank and sear until very brown (this step gives the dish more flavor). Turn the beef shanks and sear the other side. Sprinkle salt and pepper over the browned side. Once both sides are well seared, remove the beef shanks to a plate; set aside.
Lower heat to low (if the pot is dry, add a little olive oil). Add the onions, stirring until they begin to release their water. Using your spatula, scrape up the browned bits on the bottom of the pan and stir into the onions. Saute the onions until softened. Add the garlic and saute an additional 1 minute.
Add the beef stock, wine, molasses, and 1 teaspoon salt to the pot. Turn off the heat, add the prepared pancetta, beef shanks, and any accumulated juices to the pot. Nestle the cheesecloth spice pouch and the chile peppers in the pot. Cover and braise the beef in the oven, for approximately 4 hours, turning once and using a spoon, scoop up the juices and the onions and pour over the top of the shanks. Meat should be falling off the bone when done.
Remove from oven and transfer the beef shanks to a serving platter, along with the bones (the marrow in the bone is excellent and some people love to eat it). Remove the cheesecloth spice pouch and peppers (unless you want to eat the peppers).
At this point, the juice may be reduced, if necessary, by cooking over high heat to the obtain the consistency or thickness you desire. Skim fat from the top, taste, and season with salt and pepper if needed.
Divided meat and bones (with marrow) onto 4 plates and ladle the sauce on top.
Makes 4 servings.
https://whatscookingamerica.net/KarenCalanchini/PortugueseBeefShanks.htm
Comments and Reviews