Roasted Eggplant with Marinara Sauce is a very tasty eggplant dish that could be considered an eggplant sandwich,  that even non-eggplant eaters seem to enjoy!  Learn about
Eggplant Hints, Tips, and Information
.
This recipe and photos were shared with me by Karen Calanchini, Food Stylist and Photographer, of Redding, CA.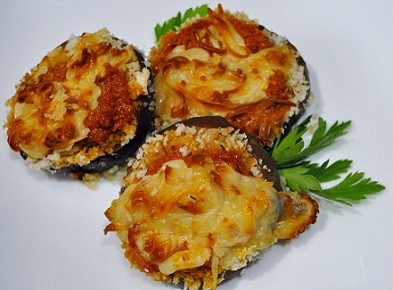 Roasted Eggplant with Marinara Sauce Recipe:
Roasted Eggplant with Marinara Sauce Recipe
Ingredients:
1 medium-size eggplant, pared and cut into 1/3-inch to 1/2-inch slices
1/2 cup butter, melted
3/4 cup fine dry bread crumbs
1/4 teaspoon salt
1 (8- or 10 3/4-ounce) jar of your favorite marinara Sauce
1 tablespoon crushed oregano leaves
1 cup shredded fresh Mozzarella Cheese*
* Purchase Fresh Mozzarella Cheese, Mozzarella Cheese Making Kits, and Mozzarella Cheese Slicers at What's Cooking America's Cooking Store.
Instructions:
Preheat oven to 450 degrees F. Line a baking sheet with non-stick aluminum foil.
Place melted butter in a bowl. Combine bread crumbs and salt in a separate bowl. Dip eggplant slice in the butter and then in breadcrumb mixture.
Place each prepared eggplant slice in a single layer on the prepared baking sheet.
Spoon and spread the marinara sauce on top of each eggplant slice, sprinkle with oregano, and then sprinkle with Mozzarella cheese.
Bake approximately 10 to 12 minutes or until tender.
Notes: I like to use young eggplant, and I do not peel them. I brush butter all over the skin (olive oil works just as well). I also like to use my homemade roasted Marinara Sauce, which is a very concentrated and flavorful sauce.
https://whatscookingamerica.net/KarenCalanchini/RoastedEggplantMarinara.htm
Comments and Reviews