Coffee and Spice Rubbed Lamb recipe was adapted from the cookbook called "The Wine Lover's Cookbook – Great Recipes For The Perfect Glass of Wine", by Sid Goldstein.
 Sid Goldstein says in the book, "As pinot noir wine ages, it picks up some gracefully coffee-like notes.  This Lamb Recipe was created to try to mirror this characteristic as well as accentuate the vanilla character that results from barrel aging.  If the recipe sounds a little 'over the top, do not be intimidated.  This delicious lamb recipe is a quite flavorful and wonderful way to heighten the character of almost any red wine, particularly those that have aged for a while."
Your could use either lamb chops or a rack of lamb when making this recipes.  I personally love using rack of lamb!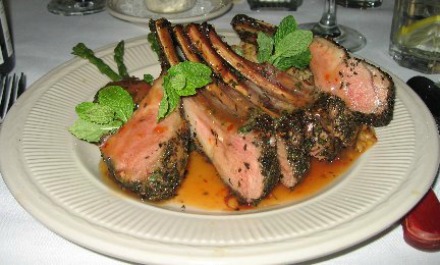 View my six-course dinner menu (includes recipes) using this wonderful lamb recipe.
Coffee and Spice Rubbed Lamb Recipe:
Coffee and Spice Rubbed Lamb Recipe
Ingredients:
Coffee Marinade (see recipe below)
4 boneless, tied lamb sirloin or tenderloin rolls (about 5 ounces each) or 8 double-thick lamb chops or rack of lamb chops
2 tablespoons olive oil
1 cup coarsely-chopped shitake mushrooms
2 tablespoons minced shallots
1 1/2 cups red wine*
1 (6-inch) vanilla bean, split lengthwise
1 tablespoon chopped fresh mint leaves2 cups lamb or chicken stock**
1/4 cup freshly-brewed coffee
1/2 teaspoon honey
1 teaspoon cornstarch mixed with 1 teaspoon cold water (optional)
1 to 2 tablespoons butter at room temperature
Coarse salt and freshly-ground black pepper to taste
Mint sprigs for garnish
* Use the same type of wine that you will be serving to drink with this dish.
** Learn how easy it is to make your own homemade chicken stock.
Instructions:
Prepare Coffee Marinade.
Place lamb in a large glass dish. Pour prepared Coffee Marinade over the lamb and rub in thoroughly on all sides. Refrigerate, covered, for 3 to 4 hours. Remove from marinade and wipe off most (but not all) of coffee mixture with paper towels.
In a large saute pan or skillet over medium heat, saute together the olive oil, mushrooms, and shallots for 4 to 5 minutes. Add red wine, vanilla bean, and mint; bring just to a boil. Reduce heat to a simmer and reduce wine by half. Stir in chicken stock, coffee, and honey until reduce by half. Remove vanilla bean. Stir in cornstarch mixture to thicken sauce if desired. Remove from heat, swirl in butter and season with salt and pepper to taste. Keep warm until ready to serve.
Prepare a hot grill. Cook lamb for 7 to 8 minutes per side or until medium-rare and an internal thermometer registers 125 degrees F. (use a meat thermometer to test for doneness). Remove from grill, cover loosely with aluminum foil, and let rest 5 to 10 minutes before serving. During this time the meat continues to cook (meat temperature will rise 5 to 10 degrees after it is removed from the oven) and the juices redistribute.

This is the type of cooking and meat thermometer that I prefer and use in my cooking. I get many readers asking what cooking/meat thermometer that I prefer and use in my cooking and baking. I, personally, use the Thermapen Thermometer shown in the photo on the right. Originally designed for professional users, the Super-Fast Thermapen Thermometer is used by chefs all over the world. To learn more about this excellent thermometer and to also purchase one (if you desire), just click on the underlined: Thermapen Thermometer.
To serve, place lamb rolls or lamb chops on individual serving plates and top with mushroom sauce. Garnish with mint sprigs.
Makes 4 servings.
Coffee Marinade Recipe:
2 teaspoons finely-chopped garlic
1 1/2 tablespoons chopped fresh mint leaves
1 tablespoon finely-ground coffee
1/4 cup olive oil
1/3 cup red wine*
1/4 teaspoon whole mixed peppercorns
1/4 teaspoon cumin seeds
1/4 teaspoon mustards seeds
1/4 teaspoon coriander seeds
2 teaspoons chopped fresh rosemary or 1 teaspoon dried rosemary
1/4 teaspoon coarse or sea salt
* Use the same type of wine that you will be serving to drink with this dish.
To make marinade, combine garlic, mint, coffee, olive oil, and red wine in a small non-reactive mixing bowl.
Using a mortar and pestle (or electric coffee/spice grinder), grind peppercorns, cumin seeds, mustard seeds, coriander seeds, rosemary, and salt. Add to coffee mixture and whisk thoroughly.


Recommended wine: Pinot Noir
Alternative wine: Cabernet Sauvignon
https://whatscookingamerica.net/LambCoffee.htm
Comments and Reviews