Linguine with Black Truffles an exceptional gourmet recipe with the wild, earthy flavor of the truffles.  This wonderful pasta dish would make an excellent first course dish at your next dinner party or special occasion.
The truffle odor is intoxicating!  Truffles are the culinary equivalent of sex.  You love them or you don't.  You smell them or you don't.  You need them or you don't.  Truffles don't really have much of a 'taste," but the smell is so overwhelming that it infuses any meal (and often the refrigerator).  The actual taste of truffles is a little bland and when sliced over food, they are chewy.  It is the smell that keeps you coming back.
In Oregon, where I live, we have our native white and black truffles that are outstanding and not as expensive as the European truffles.  Give them a try!  More about Oregon Truffles.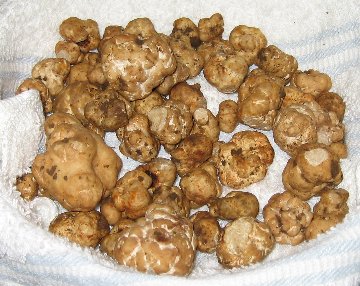 Linguine with Black Truffles Recipe:
Linguine with Black Truffles Recipe
Ingredients:
1 (16-ounce) package uncooked linguine pasta*
1/2 cup plus 2 tablespoons white or black truffle oil (your choice), divided**
1/2 pound freshly-grated Parmesan Cheese (Parmigiano-Reggiano), divided
1 tablespoon coarse salt, sea salt, or fleur de sel
1 tablespoon freshly-ground black pepper or to taste
1/4 cup chopped fresh chives
Black Truffles, shaved***
* If using as a first course dish, use 1-1/2 ounces pasta per person.
** Check What's Cooking America's Cook Store to purchase White Truffle Oil and/or Black Truffle Oil.
*** Purchase frozen Oregon Black Truffles and frozen Oregon White Truffles (when available).
Instructions:
Cook pasta according to package directions: drain and return to pan to keep warm. Learn How To Cook Pasta Properly.
Toss prepared pasta with 1/2 cup truffle oil, 3/4 of the grated Parmesan cheese, sea salt, pepper, and chives.
To serve, place pasta on individual pasta bowls or plates. Drizzle the remaining 2 tablespoons truffle oil over the top and sprinkle with the remaining Parmesan cheese.
Garnish with as many shaved black truffles that you can afford.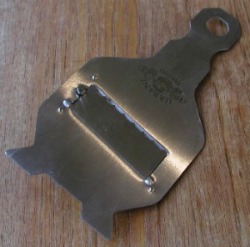 To serve, slice truffles with a truffle shaver or a sharp thin knife very thinly.
You always want to maximize the truffle flavor, using the least amount of the ingredient as possible.
So always slice into paper-thin wedges or strips.
Use a truffle shaver (similar to a cheese grater) when shaving truffles.


Serve immediately and enjoy!
Makes 4 servings.
https://whatscookingamerica.net/Pasta_Rice_Main/TruffleLinguine.htm
Comments and Reviews