Chicken with Herbes De Provencealso recipe also works well substituting chicken wings for a party serving.  I love the lavender in herbes de Provence and sometimes even add a bit more.
More great Poultry Recipes and learn how to Brine Poultry for a moister and tastier dish.  Also learn all about culinary lavender.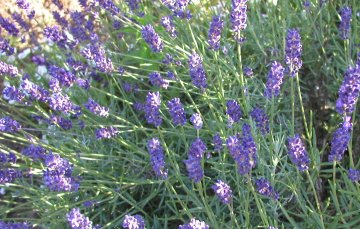 Chicken with Herbes de Provence Recipe:
Chicken with Herbes De Provence Recipes
Ingredients:
4 chicken boneless breast halves (with skin)*
3/4 cup extra-virgin olive oil
1 tablespoon freshly-squeezed lemon juice1 tablespoon herbes de Provence**
* Do not remove skin until after baking, as the skin helps to retain moisture in the meat.
** Herbes de Provence - An assortment of dried herbs said to reflect those most commonly used in southern France. The mixture commonly contains basil, fennel seed, lavender, marjoram, rosemary, sage, summer savory, and thyme.
** Learn to make Homemade Bread Crumbs.
Instructions:
Place chicken breasts, single layer, into an ungreased 13x9-inch baking dish.
In a medium-sized bowl, combine olive oil and the herbes de Provence together. Pour marinade over chicken breasts. Cover and marinate at room temperature for 20 minutes or refrigerate to marinate longer (turning meat over several times).
Preheat oven to 350 degrees F. Bake, uncovered, 25 to 30 minutes or until a meat thermometer registers an internal temperature of 165 degrees F (juices will run clear when cut with the tip of a knife); basting several times during cooking. Remove from oven and serve immediately.

This is the type of cooking and meat thermometer that I prefer and use in my cooking. I get many readers asking what cooking/meat thermometer that I prefer and use in my cooking and baking. I, personally, use the Thermapen Thermometer shown in the photo on the right. To learn more about this excellent thermometer and to also purchase one (if you desire), just click on the underlined: Thermapen Thermometer
Makes 4 servings.
https://whatscookingamerica.net/Poultry/HerbesDeProvenceChicken.htm
Source:  This delicious and very easy-to-make chicken recipe and comments was shared with me by Denise Schreiber, Horticulture/Design Manager, Allegheny County Parks in Pittsburg, PA.
Comments and Reviews