Baked Lemon Chipotle Chicken is so good and so easy to make!  You can make this Lemon Chipotle Chicken as hot and spicy as your want.  You be the judge!  You will also be happy to discover that this chicken recipe is using low fat ingredients and it is baked.  A great to find delicious and healthier recipe for make for dinner.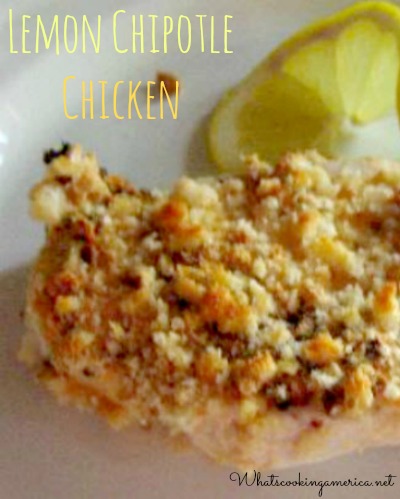 For more great Low Fat Recipes, Low Calorie Recipes, Low Carbohydrate recipes, and Diabetic  Recipes, check out my Diet Recipe Index.  Also check out my Nutritional Chart for fat grams, fiber grams, and calories for all your favorite foods.
Lemon Chipotle Chicken Recipe:
Lemon Chipotle Chicken Recipe
Ingredients:
2 tablespoons minced canned chipotle chiles in adobo sauce (or to taste)*
1/2 cup reduced calorie (light) mayonnaise
Juice of 1 lemon
4 (6 to 7 ounces each) chicken breast halves, boneless and skinless4 tablespoons bread crumbs
* Chipotle Chiles are dried, smoked jalapenos canned in a spicy tomato sauce, which is sometimes called adobo sauce. They are available in your grocery store in the Latin section.
Instructions:
In a small bowl, combine chipotle chiles, mayonnaise, and lemon juice.
In a baking dish, arrange the chicken in one layer; coat them completely on all sides with the chipotle/mayonnaise mixture. Cover and refrigerate for at least 1 hour or overnight.
Preheat oven to 375 degrees F.
Before baking sprinkle 1 tablespoon breads crumbs on top of each chicken breast.
Baked approximately 20 minutes or until a meat thermometer registers an internal temperature of 165 degrees F. (juices will run clear when cut with the tip of a knife).

This is the type of cooking and meat thermometer that I prefer and use in my cooking. I get many readers asking what cooking/meat thermometer that I prefer and use in my cooking and baking. I, personally, use the Thermapen Thermometer shown in the photo on the right. To learn more about this excellent thermometer and to also purchase one (if you desire), just click on the underlined: Thermapen Thermometer.
Makes 4 servings.
Each Serving Totals - 3 fat grams, 4 carbohydrate grams, 177.5 calories
https://whatscookingamerica.net/Poultry/LemonChipotleChicken.htm
Comments and Reviews