Parma Salad Recipe or Prosciutto Di Parma Insalata is awesome!
An excellent use of quality-aged balsamic vinegar and Parmesan Cheese.  This is a very special salad for that special occasion!  If serving at a dinner party, this Parma Salad makes an appetizing first course.  You will love this light and easy-to-make salad.
Recipe from Chef Emeril Lagasse, Emeril Live Cooking Show, 2001.
More wonderful Salads and Salad Dressing Recipes.
Parma Salad Recipe – Prosciutto Di Parma Salad:
Parma Salad Recipe - Prosciutto Di Parma Insalata
Ingredients:
1/2 pound very thinly-sliced Prosciutto di Parma, room temperature*
4 cups arugula leaves, washed, patted dry, and stemmed
1/4 cup extra-virgin olive oil
1 tablespoon good-quality aged balsamic vinegar**
Salt and freshly-ground black pepper (to taste)
8 ounces large button mushrooms, stemmed and caps sliced very thinly
1 cup canned or bottled artichoke hearts, very thinly sliced
2 ripe plum tomatoes (about 3/4 pound), cored, seeded, and finely diced
1/4 pound Parmesan Cheese (Parmigiano-Reggiano), finely shaved***
8 fresh thin bread sticks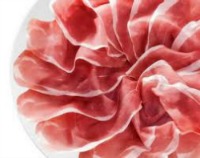 * Do not remove the band of fat around each slice of prosciutto. The fat helps give the prosciutto its balance of flavor and texture.
** To purchase good-quality balsamic vinegars, check out What's Cooking America's Gourmet Food Store.
*** I find the using a cheese slicer or vegetable peeler as it works well in slicing the cheese.
Instructions:
Arrange the finely-shaved prosciutto slices decoratively around the edges of four (4) salad plates.
In a small bowl, combine olive oil, balsamic vinegar, salt, and pepper.
In a salad bowl, toss the arugula leaves with 1/2 of the prepared olive oil/balsamic vinegar dressing. Place the arugula leaves in the center of the four (4) individual serving plates.
In the same bowl, toss the mushrooms and artichoke hearts in the remaining 1/2 of the olive oil/balsamic vinegar dressing.
Arrange the mushrooms and artichoke hearts over the arugula leaves. Top with the diced tomatoes and shaved Parmigiano Reggiano cheese. Serve with two breadsticks on each plate.
Makes 4 servings.
https://whatscookingamerica.net/Salad/ParmaSalad.htm
Comments and Reviews