This Caesar Arugula Salad variation of Caesar salad has always been a big hit whenever I serve it.  This is a definite "must try recipe."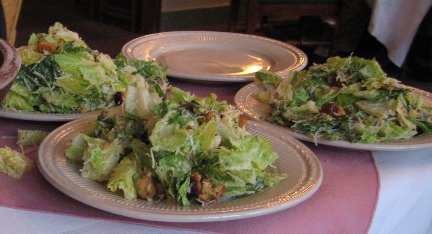 More wonderful Salads and Salad Dressing Recipes.
Please check out my Grilled Balsamic Chicken and Peaches dinner menu which includes this wonderful Caesar Arugula Salad.
Caesar Arugula Salad Recipe:
Caesar Arugula Salad Recipe
Ingredients:
1/2 cup toasted walnuts or pecan halves (about 2 ounces)*
1 large clove garlic, minced
2 anchovy fillets, mashed plus 1/2 teaspoon anchovy oil**
2 tablespoons freshly squeezed lemon juice
2 teaspoons Dijon-style mustard
1/2 teaspoon salt
1/4 teaspoon freshly-groundblack pepper
1/4 cup extra-virgin olive oil
4 cups bite-size pieces of romaine lettuce (approximately 1/2 head)
4 cups bite-size pieces of arugula leaves (approximately 2 bunches)
1/4 cup freshly-grated Parmesan Cheese (Parmigiano-Reggiano)
* To Toast Nuts: Preheat oven to 500 degrees F. Spread the walnuts or pecans on a baking sheet and toastin the oven for approximately 6 minutes or until golden brown. Remove from oven and transfer onto a plate and let cool before using.
** Use only good-quality Spanish or Portuguese anchovies in your dressing. Anchovy paste may be substituted (approximately two inches squeezed from the tube will provide the equivalent taste of one anchovy fillet). More anchovy fillets may be added according to your personal taste. To purchase Anchovies and Anchovy Paste, check out What's Cooking America's Kitchen Store.
Instructions:
In a small bowl, combine garlic, anchovies and their oil, lemon juice, mustard, salt, and pepper. Using a fork, whisk in the olive oil until smooth; set aside.
Just before serving, combine the romaine and arugula in a large salad bowl. Pour the dressing over the greens and toss well. Add the toasted nuts and the parmesan cheese; toss again and serve on individual salad plates.
DO NOT OVERDRESS YOUR SALADS - Too much salad dressing will weight down the salad ingredients and mask their flavors. The dressing's role is to highlight not to overpower the salad ingredients. A general rule is 1/4 cup of dressing for 6 cups of greens. As soon as your salad is mixed, taste a leaf to see if there is sufficient dressing. If not, drizzle some more over the salad, a tablespoon at a time; toss and taste again.
Makes 6 to 8 servings.
https://whatscookingamerica.net/Salad/caesarargulasalad.htm
Source:  Recipe from Food & Wine Magazine, June 1995.
Comments and Reviews