Tonight we had Homemade Cottage Vegetable Soup and Golden Cornbread.  I made the soup in my cast-iron Dutch oven, and I baked the cornbread in my 10-inch cast iron skillet. There's just something about cooking with cast iron that 'does' something for me – maybe it's the 'old fashioned' appeal or maybe it is because I know the health benefits.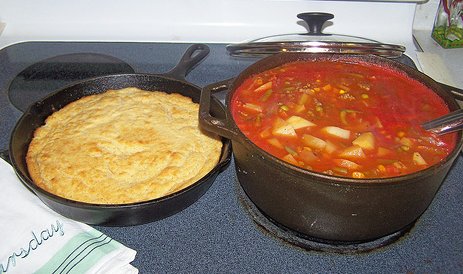 Check out Linda's Bread Making Hints: Secrets to using the bread machine, About yeast in bread making, Sourdough Starter, Quick Breads.
Morel of Linda's great Bread Recipes or your bread making and lots more Cast-Iron Cooking Recipes.
Cottage Vegetable Soup and Golden Cornbread Recipe:
Cottage Vegetable Soup and Golden Cornbread Recipes
Ingredients:
1 pound ground beef
2 onions, chopped coarsely
2 (26-ounce) cans Hunts Chunky Vegetable Spaghetti Sauce
1 pound bag frozen mixed vegetables (peas, carrots, beans, corn)
Salt and black pepper to taste
Garlic powder to taste
Italian seasoning to taste
Onion powder to taste
1 cup water (or more)
Instructions:
Preheat oven to 425 degrees F. Place oven rack on the middle rack of your oven.
Place butter into a large, heavy ovenproof frying pan or a cast-iron skillet (I like to use my 10-inch cast-iron skillet) in the oven until the butter is melted. NOTE: Heating the butter in the skillet until it is hot and melted before adding the batter guarantees a desirable crispness on the outer edges of the bread. While pan is heating and the butter is melting, prepare your cornbread batter.
In a large bowl, mix together the cornmeal, flour, sugar, baking powder, salt, buttermilk, egg, and vegetable oil until well-blended.
Pour the cornbread batter into the hot, buttery skillet (batter will sizzle), return to the oven, and bake for 20 to 25 minutes until golden brown and a toothpick inserted into the center will come out clean.
Remove from oven and let cool on a wire rack for approximately 5 minutes. Invert cornbread onto a large plate and cut into wedges.
Makes 6 to 8 cornbread wedges.
https://whatscookingamerica.net/Soup/CottageVegetableSoup.htm
Comments and Reviews