Tonight we had Homemade Cottage Vegetable Soup and Golden Cornbread.  I made the soup in my cast-iron Dutch oven, and I baked the cornbread in my 10-inch cast iron skillet. There's just something about cooking with cast iron that 'does' something for me – maybe it's the 'old fashioned' appeal or maybe it is because I know the health benefits.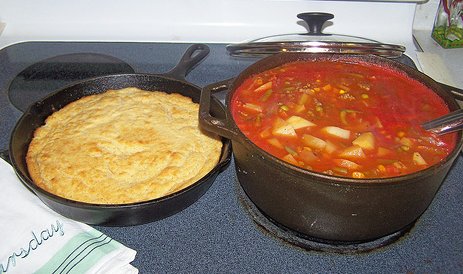 Check out Linda's Bread Making Hints: Secrets to using the bread machine, About yeast in bread making, Sourdough Starter, Quick Breads.
Morel of Linda's great Bread Recipes or your bread making and lots more Cast-Iron Cooking Recipes.
Cottage Vegetable Soup and Golden Cornbread Recipes:
Keyword:
Cottage Vegetable Soup and Golden Cornbread Recipes
Ingredients
Cottage Vegetable Soup:
1

pound

ground beef 

2

onions,

chopped coarsely

2

(26-ounce) cans

Hunt's Chunky Vegetable Spaghetti Sauce

1

pound bag

mixed vegetables,

frozen (peas, carrots, beans, corn, small potatoes)

Salt

and black pepper to taste

Garlic powder

to taste

Italian seasoning

to taste

Onion powder

to taste

1

cup

water

(or more)
Instructions
Cottage Vegetable Soup Instructions:
In your cast-iron Dutch Over or a large soup pot over medium-high heat, brown ground beef and onion; remove fromheat and drain

Place pot back on the heat and add onions, spaghetti sauce, mixed vegetables, salt, pepper, garlic powder, Italialn seasoning, and onion power (add enough water to make it the consistency you desire).

Simmer over low heat until vegetables are tender. NOTE: You my have to add a little more water during the cooking.
Cornbread Instructions:
Preheat oven to 425 degrees F. Place oven rack on the middle rack of your oven.

Place butter into a large, heavy ovenproof frying pan or a cast-iron skillet (I like to use my 10-inch cast-iron skillet) in the oven until the butter is melted. NOTE: Heating the butter in the skillet until it is hot and melted before adding the batter guarantees a desirable crispness on the outer edges of the bread. While pan is heating and the butter is melting, prepare your cornbread batter.

In a large bowl, mix together the cornmeal, flour, sugar, baking powder, salt, buttermilk, egg, and vegetable oil until well-blended.

Pour the cornbread batter into the hot, buttery skillet (batter will sizzle), return to the oven, and bake for 20 to 25 minutes until golden brown and a toothpick inserted into the center will come out clean or the internal temperature registers approximatly 200 degrees F.

Remove from oven and let cool on a wire rack for approximately 5 minutes. Invert cornbread onto a large plate and cut into wedges.

Makes 6 to 8 cornbread wedges.
Comments and Reviews