Hashed Brussels Sprouts with Poppy Seeds and Lemon is a simple recipe that has converted lots of sworn Brussels-sprouts haters into devoted connoisseurs.  It has turned the sprouts into comfort food by "hashing" and stir-frying them with poppy seeds.This is my new favorite way to cook Brussels sprouts.  So delicious!
I slightly adapted this wonderful Hashed Brussels Sprouts with Poppy Seeds and Lemon recipe is from The Union Square Cafe Cookbook by Danny Meyer and Michael Romano.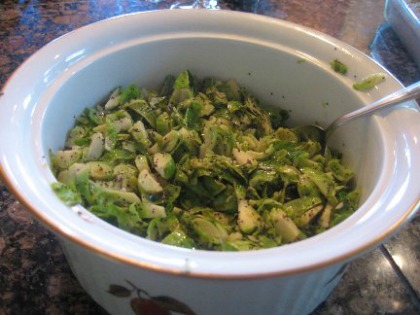 More delicious Brussels Sprouts Recipes and the Vegetable Buying Guide (How to choose and use fresh vegetables).
Hashed Brussels Sprouts with Poppy Seeds and Lemon Recipe:
Hashed Brussels Sprouts with Poppy Seeds and Lemon Recipe
Ingredients:
1 pound large Brussels Sprouts*
2 tablespoons freshly-squeezed lemon juice
2 tablespoons olive oil
3 garlic cloves, minced
1 tablespoon poppy seeds
1/4 cup white wine
Coarse salt
Freshly-ground black pepper
* 1 pound of Brussels sprouts = approximately 50 tiny sprouts or 17 to 20 large sprouts.
Instructions:
Wash the sprouts under running water. Cut the stems from the Brussels Sprouts, halve each one lengthwise, and remove any blemished leaves. Cut out any large cores. Slice each half into thin slices (about 1/8-inch thick) and toss with lemon juice in a large bowl.
In a large frying pan, heat the olive oil over high heat almost to the smoking point. Stir in the hashed sprouts with the minced garlic and poppy seeds.
Add the white wine and cook for about 3 to 4 minutes, stirring constantly, until the sprouts are bright green and lightly softened but still barely crunchy.
Reduce the heat to low, season with salt and pepper; cook for 1 additional minute.
Remove from heat and transfer to a warm bowl and serve.
Makes 4 to 6 servings.
4 servings (per serving) = 12 carb grams, 8.3 fat grams, 136 calories
6 servings (per Serving) = 8 carb grams, 5.6 fat grams, 91 calories
https://whatscookingamerica.net/Vegetables/BrusselSproutsHashed.htm
You Might Also Like:
Cream-Braised Brussels Sprouts
Your family and guests will definitely love these Brussels Sprouts.  So good and so easy to make.
Creamy Brussels Sprouts with Lemon
This wonderful dish will make a Brussels sprouts lover out of you!  Creamy, lovely flavor with a burst of sunshine.
Grilled Brussels Sprouts
This technique of cooking brussels sprouts is so good – even your children will love them!
Comments and Reviews