Bruschetta, Canape, and Crostini Appetizer Recipe Collection
One of the largest collections of trusted party and holiday appetizer recipes on the internet.  This appetizer index page contains my wonderful Bruschetta, Canape and Crostini recipes.  The recipes are very easy-to-follow and will give you delicious results.  Check the recipes out, prepare them for your family and friends and ENJOY the compliments you will recieve!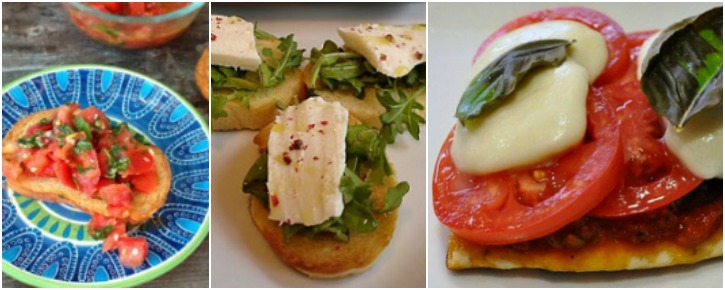 Tip: Offer only enough food to take the edge off and absorb some of the alcohol from the pre-dinner cocktails but not so much that your guests are full by the time they sit down to the main meal.
Back to the main Appetizer Recipe Index
Bruschetta:  From the Italian word 'bruscare' meaning 'to roast over coals'. The thin slices of this traditional garlic bread are made by rubbing slices of toasted bread with garlic cloves, then drizzling the bread with extra-virgin olive oil. They may be topped with a savory topping such as cheese, vegetables, meat or seafood.
Canape:  A canape is a type of hors d'oeuvre, or small, single-bite food, that is traditionally made with a base of a small piece of bread with some sort of topping.
Crostini:  The Italian word means little toasts. The thin slices of bread are toasted, drizzles with olive oil, and served warm. They may be topped with a savory, finely diced mixture such as cheese, vegetables, meat or seafood.
---
---
---
---