Artichoke Mushroom Cannelloni Lasagna is very gourmet in appearance and taste.  It is absolutely simple to put together because you can make most of this appetizer ahead of time.  It is wonderful served as an appetizer, pasta course, or first course at your next dinner party.  This fantastic appetizer was served to me at a wonderful dinner party put on by Peggy Bucholz.  She has shared this recipe with What's Cooking America.
What is an Cannelloni?  It is an Italian dish consisting of stuffed rolls of pasta cooked in a cheese sauce.  This Cannelloni Lasagna makes a great vegetarian dish and adds a fresh face to lasagna and uses a white Parmesan cheese sauce with a hint of nutmeg, white wine and whipping cream.  Wait, it does not stop there, as the recipe uses sauteed artichoke, Shitake mushrooms, and leeks as a meat alternative for the filling.  Instead of layering, the filling is rolled up.  I do love my lasagna, but switching ingredients up once in a while and trying something new is fun.
This Artichoke Mushroom Cannelloni Lasagna recipe was shared with me by Peggy Bucholz and her Fine Dining website.  Photo by Recipe Hubs.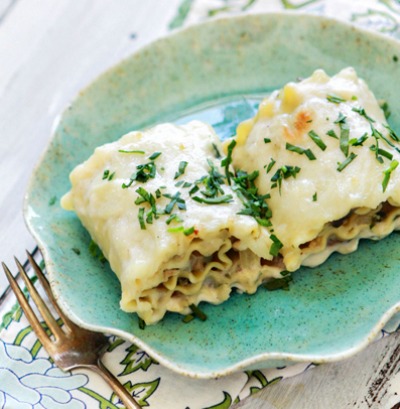 Artichoke Mushroom Cannelloni Lasagna Recipe:
Keyword:
Artichoke Mushroom Cannelloni Lasagna Recipe, Creamy Roasted Garlic Sauce Recipe
Ingredients
Cannelloni Lasagna:
1

(12-inch)

lasagna

noodle with fluted sides

1

tablespoon

Fontina cheese,

grated, divided

Spinach

leaves, arugula leaves, or basil leaves, cut into chiffonade*

Balsamic Vinegar

glaze*
Artichoke Mushroom Filling:
Creamy Roasted Garlic Sauce:
Instructions
Artichoke MushroomCannelloni Lasagna Instructions:
Cook the lasagna noodles 30 minutes in boiling water; remove from heat, rinse in cold water, drain and set aside. This can be done ahead of time and refreshed in boiling water just before serving.

Prepare Filling Ingredients and Creamy Roasted Garlic Sauce; set aside until ready to use.

Spoon a small amount of Creamy Roasted Garlic Sauce in the middle of each serving plate.

Lay the lasagna on a flat surface; cut in two crosswise, now you have two strips of lasagna, each are approximately 6-inches long. Lay noodles out flat, spread approximately 1/4 cup of prepared Filling Ingredients evenly over each noodle; add the Fontina cheese. Leave a 1/2-inch border on all sides.

Roll up each noodle and place seam side down on the Creamy Garlic Sauce.

Place the arugula (or spinach or basil) chiffonade and lemon zest on top of the roll. Decorate the plate with Balsamic vinegar glaze and serve.
Artichoke Mushroom Filling Instructions:
Melt butter in a skillet over medium heat, add the mushrooms, garlic, leeks and artichoke bottom. Saute for approximately 7 to 8 minutes. Add the vermouth and cook until liquid is absorbed, stirring occasionally. Add salt and pepper according to taste.

NOTE: This can be made ahead of time and heated before serving.
Creamy Roasted Garlic Sauce Instructions:
Preheat the oven to 400 degrees F.

Place the garlic cloves in a small piece of foil; drizzle the oil over them, fold up the foil and place in a small oven proof pan. Roast until garlic is soft for 30 minutes. Remove from oven; when garlic is cool, squeeze out the garlic and mash it slightly.

Place the mashed garlic in a small saucepan with the dry white wine and whipping cream; reduce until it starts to thicken. Add the Parmesan cheese and nutmeg. Whisk constantly until heated through and fairly smooth. Add salt and pepper according to taste.

NOTE: This can be made ahead of time.


Recipe Notes
* Chiffonade refers to thin strips or shreds of vegetables used to garnish foods.  To make a chiffonade, cut the thick main vein from the leaves, stack them, roll them lengthwise, and then cut the thin strips from the ends.
** Faux Aged Balsamic Vinegar - If you don't have this glaze in your pantry - do as the chefs have learned to do, reduce your balsamic vinegar with a little brown sugar.
Comments and Reviews