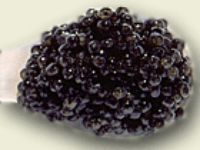 Caviar Torte or Caviar Pie is always a crowd pleaser as everyone seems to enjoy it!  Whatever name it is called, it is so elegant to look at and so good.  People are never sure or what is in this torte, but they love it.  I find I usually have to tell me that it is actually caviar.  Makes an outstanding holiday appetizer.
The addition of some gelatin helps hold the ingredients together when serving.  This appetizer may look difficult to make, but it is so easy to put together. vIt does take some planning ahead as the layers need to be refrigerated overnight before serving.  To save money and be easy on your budget, you could substitute lump-fish roe instead of true caviar.  To be honest with you, I usually use lump-fish when making it.
Do not forget to check out my Holiday Open House Menu.
Learn all about American Caviar.
Caviar Torte or Caviar Pie Recipe:
Keyword:
Caviar Pie Recipe, Caviar Torte Recipe
Ingredients
2 1/2

teaspoons

gelatin,

unflavored*

1/4

cup

cold water

1

(8-ounce) package

cream cheese,

room temperature

1

cup

sour cream

4

tablespoons

mayonnaise

1/8

teaspoon

salt

1/8

teaspoon

white pepper

7

eggs,

hard-cooked, peeled and finely chopped

1

cup

green onions,

finely-chopped (tops and bottoms)

1

(2-ounce) jar

black or red caviar

(or use a combination)**

Assorted

crackers
Instructions
Line a 7-inch springform pan with clear plastic wrap; set aside.

In a small bowl soften gelatin in cold water. (Liquefy gelatin by setting bowl in a pan of hot water or in the microwave for approximately 20 seconds on low.) Set aside.

In a food processor, combine cream cheese and sour cream until smooth. Add 1 tablespoon of softened gelatin mixture. Process until combine.

Spread 1/2 of cream cheese mixture onto the bottom of prepared springform pan.

In a medium bowl, combine mayonnaise, salt, white pepper, and 1 tablespoon gelatin mixture. Add chopped eggs and stir to combine. Spread egg mixture onto top of cream cheese mixture. NOTE: At this point, throw away the remaining gelatin mixture not used.

Add chopped green onions to remaining 1/2 cream cheese mixture; stir to combine. Spread mixture over the top of the egg mixture.

Cover with plastic wrap and press gently to pack cheese. Refrigerate several hours or overnight. To serve, uncover, remove springform pan, and invert onto serving plate.

Remove caviar from the refrigerator. In a fine-meshed strainer, add a small amount of the caviar. Lightly rinse with cold water. Blot the bottom of the strainer on paper towels and transfer the caviar to a separate bowl until all of it is washed. Top prepared torte with caviar; gently spread to the edges or spoon caviar decoratively over the top. NOTE: Use a cookie cutter on top and fill with caviar to make a nice design. Garnish with parsley.

Serve with assorted crackers.
Recipe Notes
* It is always best to measure the the amount of gelatin needed as the envelopes of gelatin can vary.  Learn how to use Gelatin in your cooking and also the history of Gelatin, Gelatine, and JELL-O.
** You can use an inexpensive caviar in this recipe like Salmon, Whitefish, or Lumpfish. 
For neat edges:  When you make designs with caviar, such as the topping for the caviar pie recipe, make a straight edge by holding a table knife blade perpendicular to the surface along the edge line.  Fill design just up to the knife blade.
If there will be a second color caviar next to the first one, fill it in on the other side of the knife blade.  Then lift blade straight up.  The small space between the two caviars will keep them from mingling.
Comments and Reviews