Swiss Cheese Fondue is one of my favorite appetizers – in fact, it is hearty enough to make a meal.  I first tasted this wonderful fondue at the Rheinlander Restaurant in Portland, Oregon back in the 1970's. Cheese fondue is delicious to dip with sourdough or rye bread, vegetables, and cooked sausage.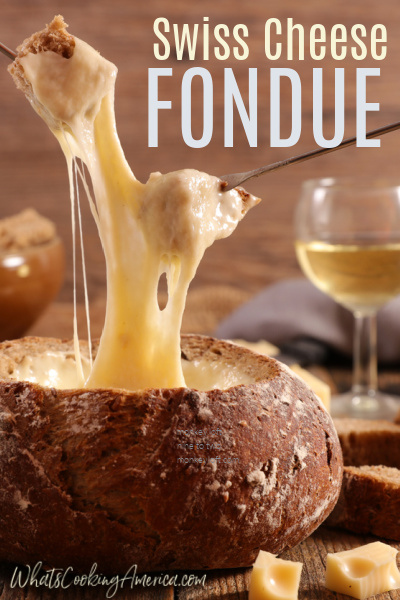 Fondue is a dish consisting of melted cheeses and wine with a Swiss, Italian, and French origin.  In fact, the word fondue is French for "Melt".  The Swiss promoted it as their national dish in the 1930's.  It was a popular appetizer in the U.S. in the 1960's.  Today Cheese Fondue is making a comeback.   It is the perfect meal to gather your friends and family to create a sense of intimacy that is informal and memorable.  I have also served it at wine tastings.  Whether you are a fondue fan or not, you simply must try this very easy to make favorite.
Fondue is very easy to prepare, fun to serve, and enjoyable to eat.  Everyone gathers around a communal pot where the melted cheese is enjoyed by dipping bread or vegetables into it.  This Swiss cheese fondue recipe has become a family tradition at Christmas Eve for my family.  It is by far our family's favorite dish for the holiday and always brings back wonderful memories for me.
Check out another fun alternative to enjoy all the flavors of Swiss Cheese Fondue with our Fondue Pull-Apart bread recipe!
Swiss Cheese Fondue Recipe
Keyword:
Swiss Cheese Fondue Recipe
Ingredients
1

cup

water

1

cup dry

white wine

3

to 4 large cloves

garlic,

minced

1

tablespoon

butter

1/4

teaspoon

white pepper

1/4

teaspoon

ground nutmeg

1

(2-pound) loaf

processed Swiss Cheese or White American Cheese

shredded*

Petite

rye bread

slices, French or sourdough bread, cut into bite-sized cubes
* Found in the deli section of some grocery stores.  This processed cheese makes a very smooth fondue.  If you cannot find this processed cheese in a one-pound block, buy it in slices then dice it with a knife into small cubes.  Have cheese at room temperature before using in the recipe.  Remember - don't use normal Swiss cheese, use only processed.

Gruyere cheese is also a good melting cheese alternative.
Instructions
In the top pan of a double boiler over hot water, combine water, white wine, garlic, butter, white pepper, and nutmeg; bring to a boil. You must use a double boil or the cheese will burn.

Add shredded cheese (a cup or so at a time), stirring continuously, until the cheese melts into a smooth, heavy sauce. Additional wine may be added if the cheese mixture is too smooth. Remove from heat. NOTE: You may add more cheese or wine, as needed, to reach your desired consistency.

To serve, pour prepared fondue in a previously heated heavy fondue pot. I have found, through experience and many different fondue pot over the years, that the electric fondue pots work the best. You sill have to watch that the pots don't get too hot. If you don't have a fondue pot, you could use a small crock pot or slow cooker instead.

Serve immediately with bread slices or bread cubes for dipping with wooden picks or fondue forks for dipping. We like to serve this fondue with dark rye bread.

Keep the fondue warm over as low heat as possible to avoid scorching the cheese.

Serve the same dry white wine that you use for the fondue as a refreshment for your guest. Serves Many!
Comments and Reviews