Mock Chopped Liver
Green Bean Pate!  Yes, you are reading this right.  This very unusual Green Bean Pate recipe will be a big hit at your next party.  This recipe has been called "Mock or Faux Chopped Liver Pate" by many vegetarians.  You must use fresh green beans, not canned or frozen beans, or the texture will be wrong. This pate is excellent on crusty bread or cracker, in a sandwich, or accompanying a cheese plate.  I have to say that this pate this doesn't resemble or taste like chopped liver in any way.  It just taste good!
This pate is excellent served on crusty bread on in a sandwich.  It is also a great on crackers or accompanying a cheese plate.
I slightly adapted this recipe from the Moosewood Cookbook (1992), by Mollie Katzen.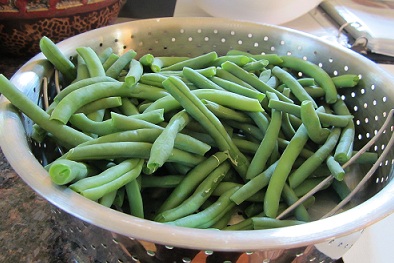 Green Bean Pate Recipe:
Keyword:
Green Bean Pate Recipe, Mock Chopped Liver Pate Recipe
Ingredients
1/2

pound

green beans,

fresh with ends trimmed

3

large

onions,

peeled and sliced

1/4

cup

vegetable brother

3

egg whites,

hard-cooked*

1

cup

walnut

or pecan pieces**

1/2

teaspoon

salt

or to taste

1/2

teaspoon

black pepper,

coarsely-ground

Assorted

crackers

or bread
Instructions
In a large saucepan over medium-high heat, cook green beans in water for approximately 12 minutes. Remove from heat and drain.

In a medium frying pan over medium heat, saute the onions in vegetable broth for 30 minutes or until onions are well done, stirring frequently. Remove from heat.

In a food processor, place green beans, onions, eggs whites, nuts, salt and pepper; whirl until a pate-like consistency is reached.

Transfer into a serving bowl and serve with assorted crackers, vegetables, bread, tortillas, or as a sandwich spread.

This dish benefits from having an hour or so for the flavors to meld before serving. It can be made up to 8 hours ahead and keeps 2 to 4 days refrigerated.
Recipe Notes
*  You could substitute whole hard-cooked eggs for the whites  or an egg white substitute if you desire.
** I have also used pistacho nuts and the taste was excellent.
Comments and Reviews