Watermelon Mint Julep Cocktail is so refreshing and so easy to make!  I actually created this delicious Watermelon Mint Julep because I had some Mint Julep Simple Syrup in my refrigerator and a ripe watermelon that need to be used.  My thoughts were "What could be better than eating it – only drinking it!
A tradition Mint Julep is a Southern drink consisting of Kentucky bourbon, mint syrup, mint, and lots of crushed ice.  According to some Southerners, a Mint Julep is the not the product of a formula, but a ceremony.  The drink as we know it today is an American invention.
You might also want to substitute this Watermelon Mint Julep cocktail for the Kentucky Derby traditional Mint Julep that is very popular in Kentucky.
Learn about watermelons and the Egyptian-style of roasting watermelon seeds.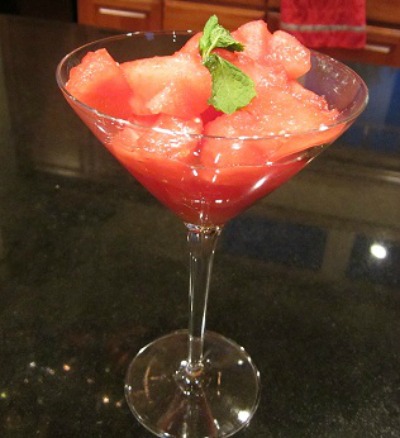 Watermelon Mint Julep Cocktail Recipe:
Keyword:
Mint Syrup Recipe, Watermelon Mint Julep Cocktail Recipe
Instructions
Watermelon Mint Julep Instructions:
Prepare Mint Syrup at least a day before using. Store in the refrigerator until ready to use.

In a large bowl, place the watermelon pieces. Gently stir in the chopped mint leaves. Stir in the Mint Simple Syrup and bourbon. Taste to decide if you want to add more bourbon!

Place in the refrigerator for at least 1 hour for the juices and the watermelon to mix.

Serve in decorative glasses or bowls. Garnish with an mint sprig before serving.


Mint Syrup Instructions:
In a medium saucepan, combine sugar and water. Boil for 5 minutes, without stirring. Remove from heat an pour over a handful of mint leaves and gently crush the mint with a spoon.

Refrigerator syrup mixture overnight in a closed jar. Remove mint leaves and continue to refrigerate. This syrup mixture will keep for several weeks.

Substitution for Mint Syrup: Purchase a bottle of mint syrup (used for flavoring espresso drinks and Italian sodas). NOTE: Mint Syrup is easier to use, but the taste is not as great!

Makes enough syrup for approximately 8 servings.
Recipe Notes
* Amount of simple syrup used will depend on how much watermelon you are using.
Comments and Reviews