Spanish-Style Marinated Green Olives Recipe – Marinated green olives are a typical appetizer served in Spain and they partner particularly well with a glass of chilled dry sherry, which also comes from Andalusia.  Fragrant with herbs and spices, these olive are fantastic!  The longer they marinate, the tastier they become.   Every lunch and dinner, in Spain, started with a bowl of delicious marinated olives!
Did you know that more olive trees grow in Andalusia, in southern Spain, than anywhere else in the world?  Andalusian cuisine differs from the rest of Spain due to the enduring Arab influence, using spices such as cumin, paprika, saffron, rice, cured hams, sauces made with sherry, and lots of olives and citrus fruit.
Also check out our delicious Spanish Paella Dinner Menu which includes this delicious marinated olives recipe.
Read about our travels and culinary adventures through Andalusia, Spain:  Travels in Andalusia, Spain.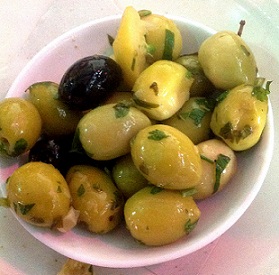 Andalusia-Style Marinated Green Olives Recipe:
Keyword:
Andalusian-Style Marinated Green Olives Recipe
Ingredients
8

ounces large

green olives,

un-pitted, brine-cured (such as Manzanilla Olives)

1/4

cup Spanish

olive oil

1/4

cup

sherry vinegar

4

cloves

garlic,

lightly crushed and peeled

2 to 3

thin slices

lemon

1

teaspoon

coriander,

crushed

1/2

teaspoon

ground cumin

2

sprigs

thyme,

fresh or 1/2 teaspoon dried thyme

1

sprig

rosemary,

fresh or 1/4 teaspoon dried rosemary leaves

1

bay leaf

1/2

teaspoon

fennel seeds

1/2-inch

dried piece

red chile pepper,

seeded or 3/4 teaspoon crushed red pepper flakes
Instructions
With a sharp knife, make a small slit in each olive to allow the marinade to penetrate. Place in a glass jar to a tight fit.

Add olive oil, sherry vinegar, garlic, lemon, coriander seeds, cumin, thyme, rosemary, bay leaf, fennel seeds, and dried chile pepper to the jar with the olives.

Add just enough water to completely cover the olives, if needed. Close jar with lid and shake to blend and distribute ingredients. Leave overnight at room temperature; then refrigerate several days.

These olives will keep for months in the refrigerator. The longer these olives marinate, the better they become.

To serve, bring to room temperature.

Makes approximately 2 cups.
Comments and Reviews