Stuffed Peppadew Peppers have a unique, delicious taste – a mixture of peppery and sweet, with a distinctive flavor.  They have a mild heat of around 1200 on the Scoville scale.  The peppers look a lot like cherry tomatoes but are not related to tomatoes at all.  Peppadew is the trademarked brand name of sweet piquanté peppers that are grown in South Africa.
These little Peppadew peppers are a perfect for your appetizer tray or a finger food snack.  The Peppadew peppers are such a nice bright red, they make lovely appetizers that brighten up your table during the Holidays.  Try them – you'll like them!  I always buy all I can find in my grocery store just to keep them handy for when I want to use them in my cooking.  I usually find Peppadew peppers in most large grocery stores.  Look for them on the same aisle as the pickles or condiments.  Many stores now have nice olive bars where you might be able to find them to purchase in bulk.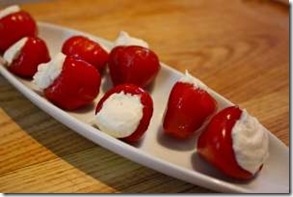 Stuffed Sweet Peppadew Peppers Recipe:
Keyword:
Stuffed Sweet Peppadew Peppers Recipe
Servings
:
24
to 30 stuffed peppers
Instructions
In a small bowl, combine the goat cheese and creme fraiche, blending with a fork until smoother. Stir in herbs.

Drain the liquid from the Peppadew Sweet Piquante Peppers. If some peppers do not sit upright, slice a very thin piece off the bottoms.

Spoon the goat cheese mixture into a pastry bag or small plastic bag and pipe it into the peppers.

Place stuffed peppers on a serving platter, cover, and refrigerate for at least 2 hours.

Garnish the plate with herb sprigs and serve.

Makes 24 to 30 stuffed peppers.
Source:  I adapted this recipe from Peppadew USA, The United States Distributorship of the Peppadew Product Line.
Comments and Reviews