Salsa Verde, also known as Tomatillo Salsa and Green Salsa, is to Mexican cuisine what tomato sauce is to Italian food.  It is similar to red salsa, except that instead of using red tomatoes, it uses the small green tomatillo.
Tomatillos are also called tomate verde in Mexico (which means green tomato) and are considered a staple in Mexican cooking.  Tomatillo is a member of the nightshade family, related to tomatoes.  It now grows everywhere in the Western Hemisphere and is common in Texas gardens.
This salsa is most popular used as a chip dip, but it is also used as a sauce on meats and poultry.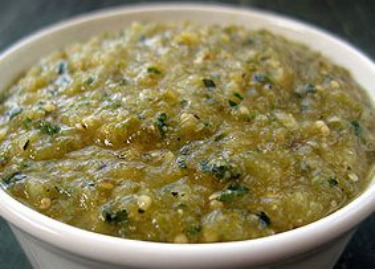 Salsa Verde Recipe - Tomatillo Salsa:
Keyword:
Salsa Verde Recipe, Tomatillo Salsa Recipe
Ingredients
2

large

Anaheim chile peppers

(red or green), fresh*

1/2

pound

tomatillos,

husked, rinsed, diced**

1 1/2

cups

chicken broth,

reduced-salt

2

large

green onions,

chopped

1

large

Serranto chile pepper,

stemmed, seeded

1

large

garlic

clove

1/4

cup

cilantro

leaves (firmly-packed), fresh

1

tablespoon

heavy cream,

half & half, sour cream, or whipping cream

Salt

and pepper to taste

1

tablespoon

lime juice,

fresh-squeezed (optional)

Sugar,

white or brown (optional)***
Instructions
Prepare Chile Peppers:
Char Anaheim chilies directly over gas flame on your barbecue or with your oven broiler until blackened on all sides. Enclose in paper bag; let stand 10 minutes. Rinse off all of the blackened skin and then chop the chilies.

Warning: Always wear gloves when working with hot chile peppers (fresh, dried or roasted chiles). Never touch your eyes when working with chiles. Gloves will protect your hands, but the capsaicin in the chile pepper sticks to all it touches, and if you touch near your eyes it will burn. Rinse well with copious amounts of water. Please don't learn this lesson the hard way!
Prepare Tomatillos:
Remove the husks before using, the husks are inedible. Tomatillos are very easy to cook with because they don't need to be peeled or seeded. Their texture is firm when raw, but soften when cooked.

Rinse before using as the tomatillo is covered by a sticky substance. Do not peel the green skin.
Making Salsa Verde:
In a medium saucepan over medium-high heat, add tomatillos, chicken broth, green onions, Serranto chile pepper, and garlic; bring to boil. Reduce heat to medium-low; simmer until mixture is reduced to approximately 1 2/3 cups, stirring occasionally, about 18 minutes.

Transfer mixture to a blender. Add charred Anaheim chilies, cilantro, and cream; puree until smooth. Season salsa with salt and pepper. Add lime juice.

Can be made 1 day ahead. Transfer to small bowl; cover and chill. Can be served warm or chilled.



Makes approximately 2 cups.
Variation:
Mash an avocado or two with a fork, then stir into salsa. The avocado adds a nice texture and richness to this salsa.
Recipe Notes
* When a green color, they are known as California green chile, long green pepper, and chile verde.  When mature, they turn a bright red and are known as a chile Colorado and California red chile.  These are very mild chiles that grow to 8 inches in size.  They have a tough skin, but it peels off easily if you first char the chiles over a flame and then steam them in a paper bag for several minutes.  Anaheims chile peppers are available year-round, but they are best in the summer.
** Green tomato-like vegetables with paper-thin husks.  Tomatillos are also called "tomate verde" in Mexico (which means green tomato) and are considered a staple in Mexican cooking.  Tomatillo is a member of the nightshade family, related to tomatoes.  Learn more about tomatillos.
*** Add a little sugar if you want the salsa sweeter.
Comments and Reviews