Imagine – a cookie that is an appetizer! Surprise and delight your guests with these Savory Cheddar Cheese Thumbprint cookies.  These tasty bite sized cookies are studded with chopped nuts and crowned with a spicy pepper jelly.
When I first placed a plate of these cheddar cheese thumbprint cookies out, my guests thought I was adding a dessert cookie. They were surprised and delighted by the flavors!  In this recipe I use a mixture of cheddar and Parmesan cheese.  For the chopped nut topping, you can choose between pecans, almonds or hazelnuts. The cheese cookie provides a mellow counter-balance to the bite of hot pepper jelly. No worries, the cookies are not too hot to scare away your guests.  They will be coming back for more!  A glass of red wine would be excellent served these appetizer cookies.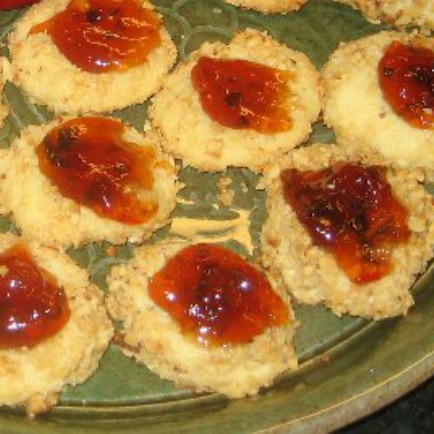 Savory Cheddar Cheese Thumbprint Cookies Recipe:
Keyword:
Savory Cheddar Cheese Thumbprint Cookies Recipe
Ingredients
1 1/2

cups (6 ounces)

Cheddar Cheese,

shredded, sharp

1/2

cup (2 ounces)

Parmesan Cheese

(Parmigiano-Reggiano), freshly-grated

1/2

cup

unsalted butter,

softened

1

egg

yolk

1/4

teaspoon

black pepper,

freshly-ground

1

cup

flour,

all-purpose

1

cup (4 ounces)

pecans,

un-blanched almonds, or hazelnuts, finely-chopped*

1

cup

water

1

cup

Hot Pepper Jelly

(red and/or green pepper jelly may be used)
Instructions
In a food processor, combine cheddar cheese, parmesan cheese, and butter; process until creamy. Add egg yolk and pepper; process until well blended. Add flour and pulse just until soft dough forms. Dough will be sticky at this point.

Using your hands, roll approximately 1 tablespoon of dough into 1-inch balls; place on a cookie sheet and refrigerate 10 to 15 minutes to firm the dough up.

Place finely chopped nuts on a plate. lace 1 cup water in a bowl.

Roll all the balls first, then dip refrigerated balls in water, and then roll the balls in nuts to coat (pressing nuts lightly into dough balls). Place balls on an ungreased baking sheet. Using your thumb, make an indentation in the center of each cookie ball. Refrigerate for 15 minutes before baking.

Preheat oven to 350 degrees F.

Bake cookies in center of your oven for approximately 15 minutes or lightly golden. Remove from oven and place baking sheet on a cooling rack, allowing the cookies to cool directly on the baking sheet.

After cookies have cooled, they may be stored in airtight containers at room temperate or freeze. If you have stored the cookies for a long time before serving them, you can re-crisp them by baking them at 350 degrees F. for 3 minutes. Remove from oven and allow them to cool fully before adding the hot pepper jelly.

Before serving, fill the indentations with hot pepper jelly.

Makes approximately 3 dozen appetizer cookies.
Recipe Notes
*  When measuring cheese and nuts, it is best to use the weight measurements.
Comments and Reviews