This simple Spanish Tomato Toast Recipe (Pan con Tomate), is a delightful combination of toasted bread and tomatoes which is a classic Catalana tapa served before the meal.  It originated in Catalana, but can now be found all over Spain in every village and restaurant.  Sometimes called Pan a la Catalana in other parts of Spain.  Tomato Toast is one of the simplest and most widely eaten tapa dish in Spain.
Every single morning during our travels in Spain, we were served this Tomato Toast for breakfast along with our Cafe con Leche.  I consider this as Spain's National Breakfast.  Check out What's Cooking America's Travels in Andalusia, Spain.
Tomato Toast can be eaten by itself, but is often topped with cheese, ham, or sausage and is eaten for breakfast or as an appetizer.  As a appetizer, thick slabs of country-style bread are toasted over a wood fire until lightly golden.  For breakfast, toasted baguette bread is used.  The bread is rubbed with garlic, tomato halves or grated tomato pulp are smeared all over the toast, drizzled with Spanish extra-virgin olive oil, and sprinkled with coarse sea salt.
Please check out my Spanish Paella Dinner Menu (with recipes) using this delicious Tomato Toast as a tapa.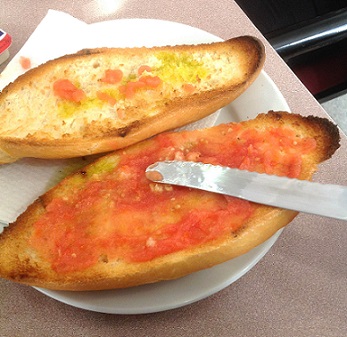 Spanish Tomato Toast - Pan con Tomate Recipe:
Course:
Appetizer, Breakfast
Keyword:
Pan con Tomato Recipe, Spanish Tomato Toast Recipe
Instructions
Grill or toast the bread slices or baguette halves approximately 2 to 4 minutes per side on a barbecue or toast it lightly in the oven.

Once the bread is toasted, rub 1/2 clove of garlic (if using), cut-side of half, over the bread while still warm. Use a fresh piece of garlic for each slice.

Drizzle the bread with olive oil.

Appetizer: Rub tomato (cut side) over the toasted bread, pressing firmly to push the pulp into the bread, until the toast is covered with tomato (but not soggy); discard the skins and remaining pulp.

Breakfast: Grate the tomatoes on a box grater into container. Using a microplane; discard the skins and remaining pulp. Season with coarse or sea salt and stir lightly to combine. The light sprinkling of salt over the tomato and olive oil is essential to bring the flavors together. Spread over the toasted bread.

Tomato Puree: Their grocery stores also carry a canned tomato puree or sauce called jarred salsa tumaca. You can also make your grated tomatoes in advance and refrigerate. Peel the tomatoes and then place in a food processor; discard the skins.

Serve immediately. If you leave these to sit for awhile, the tomato juice with have soaked the bread completely and the magic will be gone!
There are two ways to serve tomato bread:
The first is for the cook to do the rubbing and drizzling.

The second is to provide each person with a clove of garlic, half tomato, cruet of oil, and bowl of salt and let him or her do the work. The second way is more fun.
Optional garnishes, choose one or a combination:
1/2 cup green Spanish olives

12 anchovey fillets, soaked in cold water for 10 minutes, drained, and patted dry

6 paper-thin slices Spanish ham or Prosciutto di Parma

12 paper-thin slices Manchero Cheese
Recipe Notes
*  Use a rustic-style bread, that is solid, dense, and a bit wider than the standard, narrow baguette bread.
**  For the best flavor, use vine-ripe tomatoes, preferably home grown tomatoes.
***  This is a great recipe to use your Fleur de sel.
Comments and Reviews