Sweet Potato Hummus is a variation of hummus that you will love.  It has a beautiful golden color from the slow roasted sweet potato.  Of course you can make the fast version and microwave them too.  Sweet potatoes are virtually fat-free, cholesterol-free and very low in sodium and available all year long.
You can slip this hummus onto your buffet table or serve it on game day and it is a guaranteed hit.  I like to make hummus on Sunday afternoon and enjoy it for a snack at work. You will be surprised at how easy it is to make your own hummus.  When you make it yourself you are in control of the ingredients.  Some people enjoy this with a little kick to it and spice it up with extra cayenne or red pepper flakes.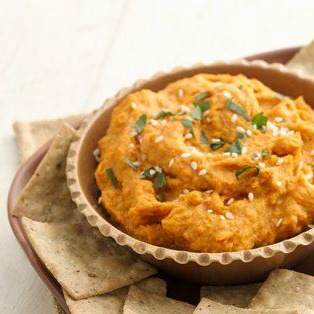 Sweet Potato Hummus Recipe:
Keyword:
Sweet Potato Hummus Recipe
Instructions
Bake or microwave sweet potatoes until fully cooked. Allow the potatoes to cool, then remove the skins and discard them, retaining the flesh.

Toast the cumin seeds on low heat, then crush by hand. Seeds can be crushed by using a mortar and pestle or by smashing between a saucepan and cutting board.

Add seeds and sweet potato to the food processor together with the lemon juice, salt, cayenne pepper, black pepper, olive oil, brown sugar, orange zest and tahini. Blend until smooth and creamy (you may want to add more salt or sugar depending on the sweetness of the potatoes).

Serve hummus with toasted pita or bagel chips. Sprinkle with feta (optional) and toasted pistachios (optional).
Recipe Notes
*  Tahini is a key ingredient in hummus, the traditional Middle Eastern chickpea spread.  Look for the lightest colored raw Tahini you can find when making any hummus recipe.  When you open the can or jar of tahini, you will see that the oil has separated and risen to the top.  You must stir before using to even out the consistency. Depending on the brand of your Tahini and your taste, you might need to add little less or more Tahini.  If necessary, start with less than 1/4 cup (like 2 to 3 tablespoons) and gradually adjust accordingly.
To purchase Sesame Tahini, check out What's Cooking America's Cooking Store.
Source:  This creative Sweet Potato Hummus recipe is by Chef Debra Paquette of Restaurant Zola in Nashville, Tennessee.  Photo from Betty Crocker
Comments and Reviews