Tomato Avocado Crostini appetizer recipe can be made all year round.  My personal favorite time of year to enjoy this Tomato Avocado Crostini appetizer is when fresh vine-ripened tomatoes are in season.  There is nothing like a sweet, juicy tomato picked fresh from the garden.
I always love to find new recipe ideas to enjoy the abundance of summer tomatoes.  Since I am both an avocado and tomato lover, this crostini recipe is the perfect dish for me and always makes me happy.  It is an elegant appetizer to prepare at the last minute.  It would also be a great meal with some salad – dinner on the run!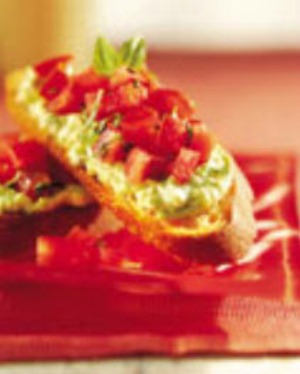 Tomato and Avocado Crostini Recipe:
Keyword:
Tomato Avocado Crostini Recipe
Instructions
Preheat oven to 350 degrees F.

Slice bread into 1/4-inch thick diagonal slices. If you're working with a large loaf, you' will then want to halve each slice again.

In small bowl, combine garlic and olive oil. Brush bread slices lightly with garlic oil mixture. Arrange on sheet pans in a single layer. Bake crostini approximately 10 to 15 minutes until golden brown and crisp. Remove from oven and let cool. NOTE: These can be made ahead of time and stored in an airtight container. Be sure to let cool completely before storing.

In medium-sized bowl combine avocados, goat cheese, and 1/4 teaspoon coarse salt. Mix until smooth. NOTE: Add a little fresh lemon juice to prevent the avocado from browning.

In separate bowl, combine tomatoes, olive oil, 1/2 teaspoon coarse salt, pepper, and basil.

To serve, spread each crostini with approximately 1 tablespoon of avocado mixture, then top with tomato-basil mixture. Garnish with small basil leaves if desired. Place on a large serving plate.

Try not to top the crostini too far ahead of serving, as the bread can get soggy.
Source:  Recipe and photo courtesy of The California Tomato Commission.
Comments and Reviews