I welcome your photos and comments on cooking your Prime Rib Roast.  Contact Linda Stradley.
Return to the main web page on cooking the perfect Classic Prime Rib (Standing Rib Roast).

2015 Comments from readers:
Thank you for this very detailed page on cooking prime rib.  It's not cheap and wanted to avoid ruining the meat at all costs.  I'm feeling pretty secure with the thought of making this now for our up-and-coming Xmas meal.  I also appreciate the additional dishes you added to accompany the meat!  I'm looking forward to finding any other blogs you might have for other meats.  Thanks again and Happy Holidays! – Wendy (12/22/15) 
Nice job with your prime rib post.  I am a forty-year meat industry professional.  I have a published book about meat, The Butchers Guide An Insiders View.  Your prime rib post is the most accurate and complete that I have ever seen.  Nice Job!  More folks would accept the challenge of cooking prime rib at home if they just knew how easy it is.  USDA Prime Beef is sometimes hard to source.  A branded top choice beef like CAB (Certified Angus Beef) beef is also a good option for a quality prime rib roast.  Retail meat customers are not aware that the USDA Choice grade on the label does not state whether the meat is Top Choice, Middle Choice, or Bottom Choice.  Bottom Choice beef is the beef graded just above USDA Select while CAB beef is graded just below the USDA Prime grade. – Jimmy Kerstein (11/30/15.
Than you so much for your tips on cooking prime rib.  I have cooked them wrong for several years, until last night!  I had so many compliments on how it was the best prime rib these men had ever had.  I cooked four (4) roasts yesterday to serve just over 40 men.  Each one was incredible – they were beautiful too!  I wished I would have taken a picture to share, but I failed to do that.  Thank you again.  I will definitely cook my future roasts this way!  So, so good! – Joy Kelley (2/8/15)
So glad I found your site!  I usually just wing it with meat, but since this is such an expensive piece of meat, I wanted to make it the best possible.  Turned out perfect! T hanks for the tips. – Kate Baker (1/22/15)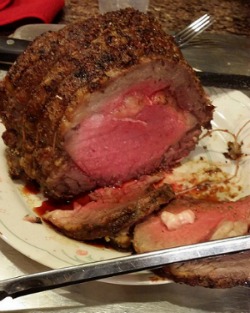 This is the fourth year I have used your instructions and every time the rib roast turns out beautifully!  I want to thank you for the details you have posted and the explanations.  It is easy to understand, and the result has been year after year of the most delicious, tender, and juicy rib roasts I have ever had. Thank you! – Dorothy Rain (1/2/15)

2014 Comments from readers:
Thanks for your Prime Rib Page.  Last year I was heartbroken when my prime rib turned out like a pot roast.  This year I found your page and our meat was amazing! – Ken W., Detroit, MI (12/29/14)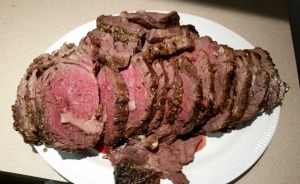 Just wanted to let you know how grateful I am for the "Cooking Perfect Prime Rib" on your "What's Cooking America" site.  Thank you for all the work you did and the time you invested in the well orchestrated directions.  Ordered a Dry-Aged Natural Prime Rib (bones cut and tied back on from Lobel's in New York City). They did a beautiful job and the meat was tender and delicious (expensive…but worth every penny…or I mean $$$).  Purchasing a piece of meat that expensive, I followed your recipe to the letter and you didn't let me down.  Everything you wrote was exactly what the meat turned out to be – OUTSTANDING.  Thank you again for making our Christmas meal the most perfect ever.  I placed a link to your "Prime Rib" directions in my Yelp review (for Lobel's Meats). – Sandy E. Rivers, San Francisco, CA (12/26/14)
I used this page for cooking my Christmas Prime rib roast.It worked great.  I follower it step by step and it came out perfect.  Thank you for the help. – Peggy Taylor (12/26/14) 
Great web page, perfect layout, well organized, wonderful photos, and just what I needed to cook for our Christmas dinner today.  Last year I was premature with the meat and it was RAW in the middle, this time it will be perfect.  Thanks again for an awesome web page! – John Kennedy (12/26/14)
Thank you so much for all of the information on cooking prime rib!  I had never cooked one before, but a local grocery store had a really good sale on them recently, so I decided to try one.  I'm always nervous making beef roasts because I don't want to ruin them, and even with the sale this was still the most expensive piece of meat I've ever prepared!  I found your site after I'd bought it, so I was a little worried about the roast I got being so small (only 2 ribs), because I was only cooking for 4, and that's what the butcher recommended – but it turned out perfect!  I was so amazed when I cut into it and it was a perfect medium-rare all the way through!  My dad said it was better than some prime rib he has had in restaurants.  All of your detailed instructions helped enormously and gave me the confidence to actually put the thing in the oven.  I'm not intimidated by beef roasts anymore, and I'm definitely going to make this again.  Thank you for making me feel like I can actually cook! – Kristina (12/5/14)
Thank you for your awesome help!  Using your website, it was just you and me in the kitchen and three roasts.  I fed fifty people successfully thanks to you!  I never did a photo of afterwards…too excited.  All three roasts were excellent as I followed your directions exactly.  If I didn't find your website, I would've had a bigger a panic attack.  I was okay until I told all my friends I was going to be cooking three standing rib roast.  Then with all the naysayers saying that it is impossible, that threw me into a panic attack.  Your website made it so easy and had I not tied all the three roast it wouldn't have been as good.  Again thank you so much! – Colleen White (12/4/14)
Linda, we had a 3-bone standing rib roast (4.76 lbs) for our New Years day meal.  I followed your instructions to the letter.  The roast was rated "Select" and I was concerned that it was going to be tough and not very pleasant to eat.  I must tell you that the roast turned out perfectly, done to perfection.  Thank you for giving me the set of instructions to make this wonderful meal possible.  Thank you again – Bill Opalewski (1/4/14)

2013 Comments from readers:
Thank goodness I stumbled upon your Perfect Prime Rib Recipe web page!  What an awesome resource and what an amazing outcome for our Christmas roast! Insane!  Your guide is permanently book-marked!  Our roast was cooked to perfection and absolutely the best piece of meat we had all year.  Thank you so very much for all of the work you put into your guide.  Best regards. – Tim Rodgers (12/29/13)
I had not cooked a rib roast in a few years – this year I bought one on the "fly" to make for Christmas for two.  I looked at all of the techniques out there and was having a difficult time deciding how to cook it.  I found your page and it had EVERYTHING I was looking for.  Followed what you said religiously, and it came out to perfection!  I also very much appreciated all of the other recipes for the accompaniments and they turned out to perfection as well.  Thank you for your effort and for having this available for me to use to have my Christmas dinner turn out beautifully.  Kindest regards, – Lisa Syring (12/28/13)
My wife and I just want to say 'thank you' for your clearly written and in-depth web site instructions on how to buy, prepare, cook and serve Prime Rib of Beef.  We were able to purchase a beautiful cut of beef for our Christmas dinner for 6 people.  We managed to cook it to perfection and then serve it at the right moment thanks to your web site.  The Yorkshire pudding and Horseradish sauce recipes were tremendous complements to the meal.  In order to obtain the cut of beef we desired for our meal on Christmas, we had to buy almost twice the amount required.  However, the other half is well wrapped and in our freezer waiting for that next special dinner party that we are already planning!  We also have been exploring your recommendations on this web site for 'the best meat thermometers', cooking timers, etc. and will most likely be making some purchases very soon.  Thank you for those recommendations, as well; very exciting! Best wishes – Bob and Debby Childs (12/28/13)
Thank you so much for the Standing Rib Roast Recipe!  This is the second year in a row I have used your recipe for Christmas dinner and have received rave reviews both times. I  also made both the au jus and the Yorkshire pudding, and they came out perfect.  I just bought a meat thermometer, took my time, and followed your directions.  We have decided to make this our family tradition for Christmas.  Regards – Robert Meadows (12/26/13)
I followed you instructions exactly.  You were right on every step of the way and it came our perfect.  Just took a little longer since it wasn't quite room temp when i started.  Thanks!  My first Prime Rib and it was yummy! – Peggy Peirson (12/26/13)
This is an amazingly useful site.  I had found it previously but could not follow it exactly due to time constraints.  I turned to it this year for Christmas and had a fabulous roast for the family (including my in-laws).  I am known to be a fine cook and people often contact me for advice.  However, this information was so complete and specific that it made it easy and stress-free to tackle such an expensive cut of meat.  Thank you.  Now I realize how much more there is to the site and plan to explore more recipes and information.  Thanks again. – Susan Pullar (12/26/13)
I tried your methods and you can see how good the results look. It tasted superb, if I do say so myself. The roast was from Country Fresh Meats in Weston, WI, near Wausau. Excellent method, Thanks and Regards – Dave Chekouras (12/25/13)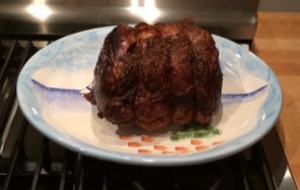 I have never had a problem cooking a great rib roast…but that said, I always refer everyone who asks how to do one to your website recipe. It is so clearly written that even the non cooker's do a great job following all your instructions. Serving a 6 bone roast today for Xmas, and am sure there will a person or two who will want to know how to do it themselves – and I will send them to your site. Hope this Xmas Day finds you and yours doing well – and serving a rib roast of course for the day's dinner! – John B. (12/25/13)
Thanks so much for posting your page for all of us who know nothing about meat. LOL. All I knew was how to cook one. I had forgotten the cooking times per lb. When I found your page, I was so excited to learn so much about it. It is now bookmarked for next time, or for any info I might want to refer back to for myself, or someone else.  Thanks again. – Cindy Shaw (12/25/13)
I followed your directions to the letter for 10 pound rib roast and it was perfect: flavorful, juicy, tender, and just enough medium rare for family who like it more on the rare side. Thank you, thank you. And you're so right that a quality meat thermometer is the key again. – Anna Maria Rodriguez (12/24/13)
What terrific guidance, a wonderful recipe.  The prime rib, the Yorkshire pudding.  My first, and easy, all set.  The expert tips, especially for temperature, made this first try perfect. Thank you very much! – John Duffy (12/24/13)
Your narrative is the best I have ever read on the subject of prime rib preparation and relevant recipes. Much better procedurally than I have even been trained on at the Culinary Institute of America. Thanks so much. – Penny Newman (12/24/13)
I made a four rib standing rib roast following your directions and it turned out absolutely perfect and it was my first try. It was so good one of my guests, Gene, wanted to take what remained home with him. Everyone at the table said they enjoyed it. I would not have had the courage to attempt it without your guidance. – Thanks for the instructions….Now to the leftovers. – Marty Dials (12/24/13)
I've been returning to the web pages on prime rib for about 4 years now. A thank you for keeping it alive. This is the best reference for cooking prime rib anywhere. Before I found your page, I checked several other sites – now I don't even bother.  This site is the bomb. Everything you need to know and then some. The added proof is all the reader comments. Thank you again – Andrew Marshall (12/22/13)
My aunt would host Christmas dinner when I was a child and her choice was always a standing rib roast. I had never attempted to make one myself; living in Florida I would usually choose the grill. I hosted a dinner party for two other couples and thought of making a standing rib roast. I was fortunate to come upon your site! I could tell immediately you knew how to cook this beast! I then could not believe that you also had a recipe for Yorkshire pudding. My grandmother had given me her recipe but it was the ingredients only and not the process. I could not believe I had actually made what tasted EXACTLY like my grandma's pudding!! I had tried it once and made it horrible; did not have the full recipe. I felt like I was 8 years old again hoping that there would be a second piece left!
My five rib came out perfect. I had misread the celcius and farenheit and put my oven at 500 degrees. I went to look at the sour cream/horseradish sauce and checked the times again and went ooooops! No harm done, only in there for 20 minutes or so and lowered the heat. Roast was perfect. I accompanied with roasted vegetables: small quartered onions, sliced garlic cloves, halved white, purple and red small potatoes with mushrooms and red peppers roasted on a baking sheet with heavily buttered sheet before roasting. Prior to done I used almond oil, garlic and saueetd rosemary then tossed the potato mixture in it. I also did asparagus gently steamed, sautd garlic, leeks, chives in a very little bit of butter and almond oil and mixed with the asparagus. THANK YOU for your explicit writings! I never would have had so much fun with having this party without your column. – Diane M. Balsara (12/21/13)
I can't thank you enough for posting this recipe for perfect prime rib. I actually used my goggle search under perfect prime rib and I got your webpage. Last weekend I had a Christmas party for 26 adults and I used your recipe. I didn't only use your recipe, I literally studied all of it like a Handbook. I was very very nervous that I would ruin this expensive important dinner. My prime rib dinner was absolutely perfect! And it's all because of following your step-by-step instructions. I would not have ever known how to tackle this without your webpage. I just want to thank you for providing such detailed information. Everybody was very impressed. Thank you and Merry Christmas to your family. – Jill Frantz (12/20/13)
Let me start by bragging a bit, in that I am a ninja bad-ass cook. I've been cooking for over 20 years and I love it. I can do sauces, expert seasoning, and my grilling skills are rock-solid. So we are getting the first snow of the year here in Boston. Time to hunker down and cook a meal and drink some wine. I ask my wife what she wants and she says "prime rib". Hold the phone. In all of my years of roasting ducks, poaching salmon and grilling Delmonicos, I have never actually made a standing rib roast. I've roasted every other cut of beef but that.
Anyway – I read your post and I must say: SPOT ON!!! I dropped $60 on a 3 bone roast and was a bit concerned about how to get results. I'm no stranger to oven roasting, but I don't want to F-up this glorious piece of meat. To the point, I followed your directions (mostly) and ended up with a delicious medium-rare roast. My wife went back for…THIRDS! Going to use the bones to make onion soup tomorrow. I can tell within 3 sentences if a cook on a website can cook. You can cook. Thanks for the help. Cheers – Todd C. Gilmore (12/14/13)
---
2012 Comments from readers:
When I questioned the social norms of turkey I was met with mixed reviews. Most important my parents were split. My pop loves a rib roast more than his marriage and my catholic mother thought we were, "trying to send her to an early grave". Well, the whole darn clan came over and I was armed with a 15 lbs. rib roast against the turkey my mother insisted on bringing "because it is far more popular this great American day of celebration". My 15 pound rib roast (FOLLOWING YOUR EXACT SPECIFICATIONS) was destroyed by 8 people, and my mothers Turkey was barely touched. I would just like to say to you, WERD!! Your web page was 100% on point. Made to make anyone look like a rib roast master. Thanks – Matthew Vento
This is the second time I've referenced your page and followed the instructions to make the perfect prime rib roast. Both times the roast has turned out flawlessly, especially today, when my mother paid for us to have a ten-pound monster of a beast. Everyone "loved" it! You make the process so easy! It really does make an incredible difference when you allow the roast to come to room temperature before it goes into the oven. Ours was done a little early, so I followed your instructions on how to hold it over for a little while (about an hour) and it was still perfectly medium-rare. I received rave reviews, gave you credit where credit was due, and look forward to roasting another one very soon. Thank you a thousand times over and Happy Holidays! – (12/27/12)
Thank you for an amazing step by step tutorial on how to make the perfect prime rib roast. First time cooking this and followed your directions as listed.  I made one small addition by adding some fresh black pepper and rubbed the roast down with some garlic before putting it in the oven.  As you can see I believe I nailed the perfect medium-rare. Everyone enjoyed it, but none more than myself. It really put our Thanksgiving meal over the top .- Tristan, Queens, New York (11/22/12)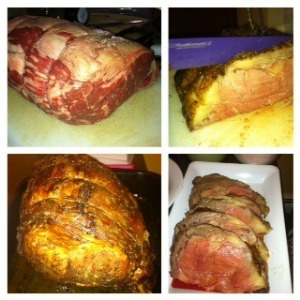 Thank you so much for the helpful information on cooking a prime rib – it turned out excellent! This is the first time I ever cooked a prime rib, and my husband could not say enough good things about it. The roast was very tender and juicy. It was pink in the middle just the way we like it. I also made the horseradish sauce with the mayo and sour cream, and it too was really good. I did not have Dijon mustard so used a teaspoon of dry ground mustard and it worked great. This turned out to be a very delicious Easter dinner. I am just happy that I found your instructions they were so easy to follow. I definitely will keep this recipe on file. – Donna Carnrite, Willoughby, Ohio (4/09/12)
I wanted to thank you so very much for your valued information and the sharing of it for all of the "home cooks." Thanks to you, my beautiful dinner was a success. Not to mention my New Year's Eve party. What a wonderful gift you have given to all of us. I truly appreciate it and again, thank you from the bottom of my heart……Happy New Year! – Fondly, Sheryl Santoro, (1/10/12)
---
2011 Comments from readers:
I have cooked prime rib many times before, but wanted to comment on this web page. It's perfect for the beginner with it's clear, concise, step-by-step instructions as well as skilled cooks (especially those like me who have never been able to successfully manage the popover part of this meal)! The rib roast was a hit during our holiday party. The instructions to omit salting the roast (which is typical ingredient in other prime rib recipes) really made a difference! Great web site and advice. I will pass it on to my fellow foodies! – Dorsey DeMaster, Louisville, KY (12/28/11)
Your prime rib page is absolutely brilliant! You've probably heard this before, but I think it would be incredible to have this in a handy, paged format that could include all of the variations and the droopingly great photographs. It would be great as a PDF or maybe as an app for a tablet, like the iPad. Maybe one of your fans might have the computer skills to pull this off – I'd pay for it in a heartbeat. In the meantime I can't wait for the next occasion to cook this wonderful cut of beef using the incredibly useful instructions that you've been so generous in sharing. Thank you so much! – Harry Marks, Pebble Beach, California (12/27/11)
Thank you, thank you! I have used and followed your instructions on preparing and cooking my prime rib dinners for the past 3 years now and they have all turned out PERFECTLY!!! All of my guests ooh & ahh over that beautiful piece of beef. This year we tried a roast from the short end and the bones were quite a bit larger as the roast was too (I have only prepared 3-bone roast) and the roast was perfect. Again, thanks to your instructions, my daughter in law even took pictures to send to our son overseas. I am so grateful to have found your web site. I also use it for other recipes and will continue to do so.- Thank you, Carolyn Richardson, Spring Grove, PA (12/27/11)

I found your site a week before Christmas when I decided I would cook a roast. I am a relatively good cook but roasts had been outside my experience. I followed your directions to the tee with my 8 pound 30 day dry-aged prime rib roast and the results were excellent! The digital thermometer was the key, as you said. The only thing I would do differently is to buy one with a wire that can be left in the roast with the oven door closed. Toward the end I was taking it out every five minutes to make sure it didn't over cook. It went up exactly 9.5 degrees in the 15 minute resting period. Awesome! Everyone was impressed and ate way too much! Thanks again! – Elijah, Brooklyn NY (12/26/11)
Sadly before I realized that I wanted to write to you, everyone gobbled up the amazing prime rib and yorkshire puddings and I have no pictures. I do want to thank you so much for your amazing instructions. You should title it "How to be a hero on Christmas". This is the 3rd time I have followed your instructions and the 3rd time I have cooked a perfect roast. Thank you so much and have a great day!! – Ron, Southern California (12/25/11)
I have used this recipe several times. I live at 3500 feet and like the prime rib at about 135 to 140 internal temp. At my elevation it takes about 3.5 hours. However, I have smoked mine each time using either Peach or Plum wood. I smoke the roast about 45 min to and hour. I then sear it as you suggest. While I do lose a little moisture smoking, it is not enough to cause any dryness. Thank you for posting the recipe. – Earl and Ann Huff (12/25/11)
I found your site Tuesday and like others here, I have to tell you we had a wonderful dinner thanks to the great and easy to follow instructions you provided. Following your instructions, I was able to not only produce a perfectly cooked rib roast but the best au jus and horseradish sauce anyone could ever remember eating as well. Thank you for taking the time to share the step by step instructions that this first time rib roaster found very easy to follow. Merry Christmas to you and yours and thank you again. My only regret was not getting any pictures as our seven-bone roast looked perfect! – R Curtis, Surprise, Arizona (12/25/11)
My apologies for not writing sooner! Last Christmas my husband brought home a 6-bone, PRIME grade, prime rib roast. None of my recipes told how to deal with such a large roast. Your web site, instructions and pictures helped us make and serve The Best Prime Rib EVER!  My friends are still talking about it and have asked that we make it again this year! We ended up having to hold the meat for almost 1.5 hours and thanks to your great instructions, we knew what to do. It still came out a perfect medium-rare! I also think it's the first time we've ever properly carved the prime rib!  Cannot thank you enough for sharing your expertise! – M. Jarratt, Huntington Beach, CA (12/16/11)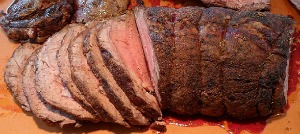 I wanted to let you know that I have never cooked a prime rib before. I had 20 people over for Pre-Christmas dinner last year and followed your instructions and advice and everything came out PERFECTLY! Just about everyone I invited are self proclaimed 'foodies', can cook like you read about. I was very nervous about cooking for them. They RAVED about the meat and how fantastic it was. Thank you very much! I couldn't have done it without you! This year, I am having 20 people over again and will be following your advice to the letter, and I'm not one bit worried about how things will turn out. It'll be just as wonderful this year as last year. My biggest issue this year has been finding a Standing Rib Roast big enough. Costco has 18 pound bone-in prime rib – I was looking for a 20lb, but 18lbs will have to do. Thanks so much! You ROCK! – Tricia Majetich, Jeffersonville, Vermont (12/05/11)
I just wanted to let you know that this is the second Thanksgiving in a row that I've done prime rib-following your instructions. First year was perfect but this year, even more perfect because I purchased an aged (28 days) 7 rib prime rib roast from a butcher (last year, I bought it at Costco). Although I was hesitant to pay that much, I figured I'm sure it'll be well worth every dollar!
All of my guests were in awe when they saw this and tasted it. I opted to make this rare to medium rare. Even for myself, who is not a steak eater, the meat was so moist and just heavenly! The only think left over where the bones! Sad to say that I have no leftover prime rib to look forward to – but that's okay. I'm happy as a clam that my splurge was worth it indeed!! Thank you for your simple but thorough instructions!  – M. B. (11/25/11)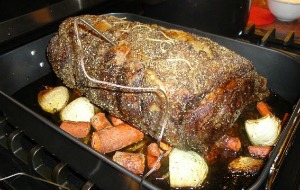 I cooked this 10 pound beauty as instructed on your web page. The only variation was that I took the roast out at 130 degrees F. because the crowd I was feeding liked their meat medium-rare to medium. It is so easy and stress free to make a prime rib now! Thank You. – Jeff Altzner, Melbourne, FL (2/6/11)
I purchased a standing rib roast of seven (7) bones. It weighed in at 13 pounds. It was a small end, beautiful cut of well-marbled choice plus beef. I followed your instructions to a "T." I took my meat out of the refrigerator at 10:30 a.m. and inserted my remote digital probe and got a core temperature of 34 degrees F. By the time I was ready to put the roast in the oven, it was up to 60 degrees F.  I roasted the prime rib for 15 minutes at 450 degrees and then dropped the temperature down to 325 degrees as planned. I have to say, it was the best prime rib I have ever tasted. I did a garlic powder and black pepper rub. I took my roast out at 135 degrees and the temperature went up only 3 degrees. It was tender and juicy! I was also trying to minimize stress, so I just made the McCormick's Au Jus. I also made your horseradish recipe, and it was a hit.
This morning, I got calls from guests thanking me for the wonderful day, but ALL commented that they have never had a better prime rib roast. Also the CDN remote digital thermometer allowed me to execute your instructions to perfection. I am glad I found your prime rib web page to lay it all our for me. I was confident in the process and the information that you supplied. Thank again Linda. – Jeff Altzner (12/26/11)
Thank you so very much for the wonderful website full of information for how to cook a standing rib roast! I had been searching the internet for directions because, although I love to cook and cook a lot, I had never prepared a prime rib. I was having a formal Christmas dinner for 8 guests and decided to take the plunge. Your information was perfect and so was the prime rib!  What was particularly helpful were the guidelines for getting a rare roast, which 7 of my guests requested.  (I would have left it in the oven to 140 degrees as was suggested everywhere else on the internet). I roasted the meat to about 125 degrees and it was beautiful. I also did not know that I shouldn't salt the meat, to rub it with butter, not to use a rack, and to sear the meat at 450 degrees. My guests loved the meal and there was hardly a bite left on any plate. The only thing I did differently from your suggestions was that about way through the roasting process, I added a small can of beef stock. When the meat was cooked, I prepared the au jus as you suggested and it was delicious.
I made my own rub, which I will share with you:  Into about 1/3 jar of Mrs. Dash Original seasonings, I added 1/4 teaspoon chili powder, 1/4 teaspoon garlic powder, 1/4 teaspoon black pepper, and 1/2 teaspoon sea salt. I shook all of this together and then sprinkled some on the buttered roast and saved the rest.
One thing you may want to add to the site is directions for making a soup or stew with the bones and leftovers.  The following day, I cooked the bones with celery and onions, and drained the broth from the meat. I tossed out the cooked vegetables and then sautd a new onion and some celery in a little bit of butter, and then added the rest of the rub and the leftover au jus. I added the remainder of the cooked roast (that had been chopped) and finally returned the stock to the pan. I had to add more beef stock, and then added lots of veggies. I think it was the best soup I had ever made! By the way, one of my guests said it was the best meal he had ever had in his life- and that is totally thanks to you and the information you provided. Thank you again for the wonderful information, the helpful photos, and for creating something that is so very user friendly.  I hope your holiday meal was wonderful too! – Mary Rose, Longwood, Florida (1/9/11)
Thank you so much for your web site. I have had a great deal of anxiety about cooking for company and much more anxiety about cooking an expensive piece of meat. After reading your article on preparing and cooking the prime rib (and the extras like Yorkshire Pudding), I dove into the project with confidence. I followed the instructions perfectly – from the buying of the meat, the prep (tying it) and using a good thermometer. The results were amazing. We had one of the best New Year's Day meals we have ever had. At first I thought it was just my opinion that the meal was good, however, the compliments were overwhelming – compliments for taste and presentation too. I will be making this again! Thanks again for your website. – Jay McCall, Las Vegas, NV (1/6/11)
---
2010 Comments from readers:
Thank you for the excellent information on how to purchase, store, prepare, cook, carve, and serve a prime rib. Thanks to the thoughtful details you have provided, we prepared our first one for Christmas dinner this year (5 ribs) with minimal anxiety. Prior to finding your information we were worried about ruining a costly product and disappointing our guests from Texas who "know their beef". The roast turned out perfectly to our delight and that of our guests. Never again will we wrestle with a Christmas turkey, we are a prime rib family now! With gratitude and best wishes for the New Year. – Stephanie Murphy, La Mesa, California (12/31/10)
Thanks for all the great hints. Christmas dinner was a total success and I think my husband squealed when he saw the perfect color when he cut into it!  Statistics: 7-Rib Roast  – 20 lbs – Dry aged for 8 days (thank goodness, because its original did not fit in the original pan, but after the dry aging process it did)  – 120 degrees F. – PERFECTO! – Sara Snuggerud, Sioux Falls, SD (12/29/10)
I can't even begin to thank you enough for making such an intimidating recipe so easy. It may be the price or the total mass of food I was about to "waste" should I have gotten it wrong. Let me tell you, I stuck to your recipe verbatim and everything came out wonderful! I have never attempted such a large undertaking in the kitchen before (I have made Thanksgiving dinner for 25 people, sushi for hours on end, and even a souffle for my in-laws). None of those were as imposing as this dinner.I ordered two full roasts from the local meat dept. at the grocery store. One was a little over 16 lbs, one a little under. I had to re-arrange the racks in the oven to make both pans fit but, not before I had to trim off one entire rib (about 1 1/2 inch thick steaks) in order to even fit the roasts in the pans. Don't get me wrong, I'm not complaining about a couple of big rib eye steaks in the freezer! I was concerned about having enough after taking "so much" away. I was also concerned about cooking two at the same time and what effect that may have on cooking time. At which point I basted and periodically switched lower roast and upper roast to make sure one wasn't getting done faster or un-evenly.  I basted nearly ever 1/2 hour at least and after 2 1/2 hours I started checking the temperature every 15 minutes.
On the second temperature check, the thermometer read 133 degrees, and I was worried I has missed my mark. The second roast read 140 degrees and I was scared out of my mind at this point. Not only had the temperature risen faster than expected (on both) we were ahead of schedule. I pulled everything out to rest and went to work on the gravy and Au Jus. I really wanted to serve the "perfect" mix of rare to medium slices of meat and, thankfully due to the size (I'm guessing) I was able to get just that. 30+ people served on time and with perfectly done prime rib.  We only attempt these big holiday dinners every so often mainly because we don't want to tempt fate after getting a perfect service like this one. The next time I assure you will be sooner and way less intimidating thanks to you!  – Nick, Cardiff by the Sea, CA (12/28/2010)
Thank you so much for those great directions for the beef, complete with photos.  Wonderful!  They MADE our Christmas 2010.  My husband had been the Christmas Chef and the expert Standing Rib/Yorkshire man. He died two years ago and the mantle fell to me. Last year's beef was leathery and disappointing, so I was pretty apprehensive about 2010.There are an overwhelming amount of different ideas for preparing that dinner out there in cyberspace, but your encouraging directions and photos made me bookmark it and make it the 'do or die' recipe for this year.  SUCCESS!  I followed your directions to the letter and our roast and Yorkshire were splendid. I had made Yorkshire before, mixing the ingredients at room temp; but never put them in the refrigerator before adding to the hot juices. AMAZING! I used a high sided steel pizza pan rather than my popover pans just because it seemed easier.  The only part I didn't follow was taking the roast out of the oven at 120 degrees.  I was just afraid the center would be too rare, so I let it go to 125 degrees.  BIG mistake!  Next time your 120 degrees will be the take out time!!  At 125 degrees it was barely pink in the middle. It wasn't ruined, in fact it was fine, but those 5 degrees made it just a little less rare than I would have liked.So thank you thank you for your good guidance!! – Carolyn from Garnet Valley, PA (12/10)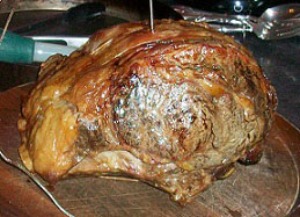 We have been using your rib roast guide for 3 years now. It has become our Christmas tradition and the one time a year I get to cook red meat medium rare! I've also been eating steak and eggs for breakfast for 3 days now using the leftover prime rib roast! – Deven Wilson (12/28/10)
Thank you, thank you, thank you!!! I hosted Christmas dinner for the first time with 19 family members. I prepared a 17-pound roast for the first time and thanks to your EXTREMELY helpful website it turned out SUPER DELICIOUS!!! Everyone enjoyed it and I was so pleased.  I also made your recipe for the horseradish sauce and it was great too! Thanks again and Happy New Year to you! – Allison Yates, Tustin, California (12/27/10)
Thank you so much for this website!!  It made our Christmas Holiday absolutely perfect.  I had never cooked a Prime Rib roast until this year and I followed all the instructions on the site exactly, including dry aging it in the fridge for 7 days prior to Christmas.  I had a 5-rib roast and it came out so perfect.  My husband and our neighbor, who joined us for dinner, could not stop eating it. They even finished off the bones!!  I've bookmarked your site for future use and I'm sure I'll be visiting again. Thanks again for making our holiday one to remember!  – Debbie Yakita, Winter Park, Florida (12/27/10)
I am still delirious from the events of Christmas Day thanks in part to you! I started looking at your prime rib web page about 3 weeks ago. Here is how the Yorkshire Pudding looked right out of the oven and the roasts as well. Everything was delizioso! Have a very Happy New Year – Mary Thomas, Oregon (12/26/10)
Thank you so much for all the helpful info on cooking a standing rib roast. I bought the largest one I have ever cooked and was a little nervous about the time. It was 7 ribs and not cheap!  I did not want to overcook it. I did exactly what you said and with my oven probe and your helpful advice, it came out great! Thanks and Happy New Year! – Joanne from Bloomfield, N.J. (12/26/10)
I was given the honor of cooking Christmas dinner this year for my family of 20 relatives. Since we're big eaters I did an 18 pound 7-rib roast and a roast goose.  Both turned out delicious, but I know that I couldn't have pulled it off without your awesome website. It told me exactly what to order from the butcher, what I was looking for on my thermometer, and your responses to other people down at the bottom gave me faith that somehow I could pull this whole thing off.  I did have trouble getting my oven to stay at a constant temperature, and didn't really get any basting liquid out of the roast itself, but having a thermometer for your meat is really the key. Thank you for this great website, and I've definitely already sent it to my friends and relatives.  The pictures were a great help. You really covered all the bases!! Thank you very much and Merry Christmas. – Tiffany, Toledo, Ohio (12/26/10)
Thank you very much for your info on this site – it is all perfect! I have been in the food business for 37 years and for your readers who have never cooked a rib roast before, they can read your posting and have all the information they need to make a perfect meal.  I have cooked rib roast myself for dinner on Christmas for over 20 years.  I always have the best cut of meat and my calibrated thermometer.  Kudos and happy holidays. – Bob Downes, Food Service Professional (12/22/10)
I am Italian, but I loved prime rib from the first time I ate it in Boston. Then I ate it In New York, and when I came back home (in Rome) I wanted to try to make homemade prime rib. I printed off all the images from your site and I went to my butcher. He was soooo curious about what I wanted to do. I was a little afraid he wouldn't understand or couldn't do the cut – instead he did a great job! I invested in a good meat thermometer, and I made my delicious prime rib, with the congratulation of my husband (who eats prime rib every time he flies to the U.S.) and my guests (it was their first first prime rib). Thank you so much! – Paola, Rome, Italy (12/21/10)
This is the third year I have hosted a family Prime Rib dinner and following your recipe every year it has been absolutely perfect. This weekend was no exception, I cooked a 19+ pound beast and it was done to perfection and there was barely a slice left over. Thank you for the detailed instructions and for making prime rib so simple.
I also wanted to suggest that you add instructions on cutting and tying the roast. Last year I got my roast at Costco and they won't cut and tie it. I was rather stressed trying to find instructions on cutting and tying the roast, I didn't like the thought of experimenting with a $100.00+ piece of meat. Eventually I just went for it and found it was very easy. This year when I did it, I took some pictures because I was going to post instructions but I think it would serve a lot more people on your site. I have attached my pictures in case this is something you are interested in doing, please feel free to use them If you like. – Perrin Kliot, Berkerley, CA (12/7/10)
I wanted to thank you for this recipe and all the information you provided. Out of all the recipes on the web, this one actually offered the tips to a successful and delicious roast. The prime rib was incredible and your advice for 120 degrees was spot on. Everyone loved it and it felt incredible to actually succeed on a dish so expensive. I appreciate all your excellent advice. – Clemence Barlowe (11/25/10)
I have never made a prime rib before, and decided to try it for a dinner party where I really wanted to impress. I was nervous about it (and it's not an inexpensive cut of meat, so I didn't want to mess it up!). Your website was UNBELIEVABLY helpful!! I knew what to ask for from the butcher and how to cook it and serve it. It was amazing. I wish you were there for everything!! Thanks for having this site up. My meat came out perfectly and received rave reviews (and lots of oohs and aahs) from my guests! – Lauren, Stamford, CT (11/14/10)
I just want to thank you and congratulate you on having the absolute best site on cooking Prime Rib Roast that I have ever seen! It is fabulous! Every time I cook a Prime Rib, which unfortunately isn't too often these days, I look up the recipe again and usually spend a lot of time going over different methods. Your article could not have been more complete. You have answered every question I have or have had through my fifty years of cooking Prime Rib. Many, many, many thanks and my best to you, Linda!  – Sue, Sacramento, CA (10/17/10)
Thank you very much for your detailed discussion about how to cook Prime Rib. I echo the sentiments of the other bloggers. That said, I wanted to provide some other feedback. I am one to use multiple recipes and combine them to suit my liking. Using the Barbecue! Bible by Steven Raichlen, I put slits every two or so inches and alternated inserting garlic clove slivers and fresh rosemary leaves. I then put the roast on a spit, slathered it with olive oil, and rubbed in a powdered mixture of equal parts black peppercorns, kosher salt, sweet Hungarian paprika, and dried rosemary. The roast was a USDA Choice cut of meat from a private butcher in my area. The meat was the best I've ever worked with, it was an unbelievable cut of meat at $200.00.
I used a Weber kettle grill with a rotisserie attachment. I used indirect charcoal heat with a drip pan. I had soaked hickory chips that I placed on the coals at three different points in the cooking process. Before I cooked the meat, I compared the temperature readings of three thermometers at 120 (a digital, a candy, and an analog probe) using a pyrex measuring cup with boiling water to verify and adjust the accuracy of the analog probe. I had the roast with the analog thermometer and used a BBQ thermometer to monitor the heat of the interior of the kettle. I kept the heat as close to 325 degrees F. as possible, using the dampers, adding briquettes, and shielding the kettle from the wind that came up half way through cooking.
At 5,500 feet altitude, with a 15 pound roast, about 75 degrees F. outside temperature, keeping the kettle at 300 degrees F. average, it took two (2) hours to cook to 120 degrees F. As you described, the roast sat for an hour and rose to 135 degrees F. before carving. Earlier in the week I purchased T-Bone steaks for my wife and I, BBQ'd them, ate them, and then boiled the bones to create our Au Jus because I knew that drippings from the BBQ in this case would be minimal. This was a hit as well. The drippings that came from the BBQ, combined with the drippings from the resting rig made a fabulous gravy to go with the garlic mashed potatoes.
This was a Toastmasters meeting with about 20 people present. I was told by several, "I've eaten prime rib in many restaurants and hotels. This was by far the best Prime Rib I've ever had." The rave reviews were endless. Thank you very much for your insight. Very appropriate and accurate instructions on your part. I appreciate the time and effort you put forth to write your instructions.  Great job -Dirk Kittredge, Denver, Colorado (7/10/10)
I just wanted to comment on cooking my prime rib roast last night. I live at an elevation of 6,300 feet in western Colorado. I followed you instructions to the crossed t's and dotted i's. I read, reread, and read again. I read that at higher altitude, cooking should take longer. I got on the USDA website and they said the same thing. And everyone agrees, how much longer is an unknown. My roast was 7 ribs, 16 lbs. I did the 15 minutes at 450 degrees F. and then lower the over temperature to 325 degree F. Just for grins, I checked the internal meat temp at 3 1/2 hrs. I don't have a instant digital thermometer but I have four dial thermometers, and they all read similar, between 130 to 140 degrees F. I was a bit shocked and immediately pulled the meat out of the oven. Dinner wasn't for another 1 1/2 hrs. The meat ended up more medium, but quite edible. It was definitely more done than I wanted but everyone loved it. I've owned and used my stove/oven for 4+ years. I've never checked the temperature with a stand-alone thermometer but have always had success in anything that has been cooked in it. The temperature is maybe higher than the displayed digital display. This is more of a FYI for those living at higher altitudes. Next time, with my oven, I'll be checking my internal temperature at 3 hours instead of 3 1/2 hours. Thanks again – Rick Lawrence (1/17/10)
Thank you so much for your web site with instructions for cooking a prime rib roast. I decided to go all out this year and cook one for dinner on Christmas Eve. I was nervous since I spent so much money and this was my first time cooking a prime rib. With your instructions, it came out perfect. Thanks again.- Matthew Ruggiero, Middletown, RI (1/03/10)
I got your cooking times from your web site and it was wonderful. I did the roast over the New Year weekend for my husbands birthday, and I was a little hesitant about the cooking time. When I read that you take it out at 120 degrees F. for perfect medium rare, I did as instructed and when cut had a beautiful dark red come from the meat.  I made an Au Jus of cabernet sauvignon wine and onions. I also tried the sour cream dressing for the roast, but preferred the au jus.  Thank you – I would have hated to ruin this fine cut of beef. – The Karelskinds (1/03/10).
Cooked this beautiful piece of beef for New Year's Eve.  I have plenty of cooking experience but never cooked a roast of this magnitude and quality before.  I found your instructions HUGELY beneficial to the dinner's turnout.  IT WAS PERFECT. – Megan Mancini (1/03/10)
The roast was a raving success and your instructions (especially regarding temperature) were spot on!  Thank you very much. I calibrated my thermometer with an ice bath and with boiling water and found it was 2 degrees off!  Critical for a prime rib. – Robert Henderson (1/03/10)
I have been preparing standing rib roasts for Christmas Dinner and other special occasions and I must say your recipe and instructions are the best. The roast was perfect and my 9 guests applauded me when the bones were taken off and the lovely pieces carved where served. My husband always uses an electric knife which makes nice, clean cuts. Thank you so very much for your informative and accurate article. Happy New Year! – Susan (1/03/10)
---

2009 Comments from readers:
I just wanted to take a second to thank you for the great cooking tips on your site. We cooked our first prime rib last night and like so many others were nervous about messing up such a fine piece of meat.  Yours was the first site that I looked at and the only one that I would even visit as everything was detailed so well that there was no need to look elsewhere. The roast turned out perfectly and it was truly one of the best meals that we have ever enjoyed with friends. It was funny to go back to your site this morning after waking up feeling compelled to write this thank you note. I had never scrolled down far enough to see the other testimonials on the page, but I see that I am in some very good company. Thanks again, and have a Happy New Year! – Dave Popowich, Brampton, Canada (12/31/09)
I just wanted to thank you for posting such flawless instructions.  I made my first prime rib for Christmas dinner and it turned out perfectly!  I was a bit nervous about it especially since I would have to leave it unattended for an hour while we went to Christmas mass, (I cooked a ham earlier in the day) my thought process was cold ham is fine, but cold prime rib would be awful and re-heating isn't an option.  Anyway, it turned out perfectly, the front was medium the center was rare and the end was well done….I couldn't have asked for a better prime rib.  Thanks for a perfect Christmas dinner.  The only thing was, I was so nervous about making the prime rib, that I followed your recipe and someone else's that was very similar to yours, the only thing that was different that made things easier in the other recipe, was that I cut the bones away from the meat and tied it all together BEFORE it went into the oven.  I thought it would make it easier to deal with and it did.  Thanks again – Teresa Ruiz (12/28/09)
Cooking Prime Rib Roast on Rotisserie/Barbecue by Brian Blakely:
On Thanksgiving I barbecued two (2) 16-pound Turkeys (on two rotisseries ). I used to do one turkey in the oven and one turkey on the grill. Everyone ate the grill one first, so now I do both on the grill. It also keeps the oven free for other goodies.  This year I barbecued an 18-pound, 7-bone prime rib roast for Christmas. Trim any excess fat and tie up the prime rib roast. Don't leave any more than 1/2-inch of your strings dangling, as they will burn off.
Rub the entire roast with olive oil and then season with a mixture of onion powder, garlic powder, lemon pepper, salt, and pepper; rub over the roast. The olive oil will help to hold the spices on the roast. I place the seasoning on the roast by placing the rotisserie skewer, with the roast on it, over the sink. I then turn the roast as I add the seasoning mixture. This saves a lot of cleanup.
I used a 3-burner barbecue grill. Turn on the front and rear burners only to medium heat, around 300 to 325 degrees F. NOTE: You may have to adjust the heat depending on the outside temperature. Place the skewered rib roast on the rotisserie, turn the rotisserie on, and close the lid. The rib roast will baste itself as it cooks and the rotisserie turns.  Start check the temperature of your roast with your instant-read thermometer at about 3 hours (sooner for smaller roasts). Cook until rib roast reaches an internal temperature of 120 to 125 degrees F. Remove from barbecue, cover with aluminum foil, and let sit (rest) approximately 15 to 20  minutes. Barbecue until the center reached about 120 to 125 degrees F. in the center.
Hints:
Don't keep opening the cover of the grill. You will lose heat every time you open it.
Check to make sure the rotisserie is turning every so often. I put diagonal stripes on my  handles so I can see them from inside my house. I had a breaker blow one time and burned the roast.
Don't overcook the rib roast. The end cuts will be well done enough for those who like their meat well done.
I have already thanked my little brother, who is my personal prime rib roast hero, for his help yesterday. Some of his greatest help was sending me a link to your What's Cooking America web site. Yesterday I cooked a 7-rib roast (16.2 pounds) for 16 family members. It was my first prime rib roast. I truly made every mistake in the book! I am almost embarrassed to list them all. – Sue Brouse (12/28/09)
The first (and I thought catastrophic mistake) was the way I thawed the meat. In my rush to defrost the roast (I thought I had to freeze it because I had bought it a week before the dinner, but if I had read your site first, I would have dry-aged the roast instead) I covered it with cool water – with NO WRAPPING to protect the roast. When it started to defrost, I realized my mistake, but not before i had forever changed the texture and taste of the outer layer. Still mostly frozen I wrapped it to finish the thawing. When ready to roast, I seasoned the outside of the roast to counter the degradation in flavor and texture of the outer layer.At that point I was sent to your web site for some guidance, but I already had my cooking plan so I used the timeline I had researched instead of your shorter cooking time. You are the only source I found (including the Joy of Cooking, my oven manual, and many google searches) that specified my new convection oven would reduce the cooking time. Even my butcher when questioned, did not know that. Therefore my roast was ready at 4 p.m. – with guests due to arrive at 6 p.m!!  I stopped cooking my roast when it was done (I removed it at 120 degrees). I followed your instructions for holding the cooked prime rib roast (and I believe this was the only instruction for holding a cooked prime rib that I found) and it worked like a charm. I could tell the outer layer was not perfect, but no one else noticed. The inside was cooked to perfection. Many had seconds and care packages went home with guests. Thank you for helping me save this dinner. Next time, I plan on following your directions from the start.
We used your recipes for prime rib, Yorkshire pudding, horseradish sauce, and gravy. We were unable to detect any faults in any of the recipes. Everything was perfect, and we thank you very much. Of particular use was your advice concerning the use of a thermometer, and the idea of taking out the meat when it reads 120 degrees F, expecting that it would later continue to rise. We were surprised by this. After removing the meat, we sat in the kitchen and watched the thermometer continue to rise to the "official" rare level. And when we cut the meat, yes, it was perfectly rare. We used a 7-rib piece of meat, which cost around $280 dollars; it was priced at $18.99/pound. So it was particularly important to get everything right because of the high cost. – Roche Family, New York City (12/26/09)
We bought an 18-pound prime bone in (7 rib bones) rib eye roast for the first time, the largest hunk of beef we've ever cooked. When I came across your recipe, we studied it thoroughly and implemented your instructions. It turned out to be almost perfect!!!!!  Our guests were very impressed, and so were we!However, one detail of your instructions was far from accurate. The time required to allow the 18 pounds of meat to reach room temperature was way off. I removed the roast from the refrigerator at 9:30 AM on Christmas day, as it was dry aging for 2 days prior in the fridge and it was not frozen before hand.  By 1:30 PM, the internal temperature had risen only 1 degree F. from 34 to 35 degrees.  It was evident that we would not reach room temperature, so we cooked it nonetheless. We should have taken it out of the fridge the night before and allowed to sit at room temperature at least overnight. It seems that the required time to reach room temperature, internally, might be 1 hour per pound-in our case, 18 hours!  Next time, we'll try 1 hour per pound, and let you know the results.  Here are before and after photos for your collection of successes!  Thank you very much for helping us make this Christmas Dinner 2009 very memorable!  Thanks. – Barkers in West Bloomfield, MI (26 December 2009)
I just Googled Prime Rib to double check my timing for high heat and found your site. It turned out great! One of the best roasts I've had. My refrigerator does dry aging pretty well and it does intensify the flavor. I used the leftovers, bones, previously made stock, etc. for a killer French onion soup that's our tradition for New Year's Eve. I have an organic garden and use my own onions for the soup. I now know that next year I'll take it out when it says 120 degrees F, not 125 degrees as I'd done this year. Still good, but a tad less done would be even better. Wanted to thank you for your lovely gentle philosophy in response to Dianne's crisis. At almost age 60, I've discovered that it's good to relax and laugh at the "crises" life hands us. A gentle laugh solves so many things. – Barb in Denver (12/26/09)
Thanks for the advice from your web site on cooking a rib roast. I am a good follower and I really liked your detailed instructions. My roast came out perfect. Thanks it really helped with our Christmas. – Brian Stevens (12/26/09)
I just have to tell you – we've been doing standing rib roast for years – but it never really WOW'd me. This year I found your web site, and my husband and myself followed it exactly. I had a 15-pound standing rib roast and it was AWESOME!!….Everyone (all 25 guests) went on and on about how beautiful and how good it was. We made it medium-rare and sometimes its hard to get pink enough for everyone, but again it was AWESOME!  For the few that wanted medium to medium-well, it was a snap by cutting the ends for them. They were very happy too. Thanks so much for your site.  My husband (who is very hard to impress) told me to bookmark it, because it was the best he had ever had – according to him, better then any restaurant!!  Thanks Again  – Traci Richards, Pembroke Pines, Florida (12/26/09)
We bought a 19-pound prime cut, prime rib roast for the first time. My husband was soooooo nervous that we had spent a great deal of money and we had never done a prime rib before. When we came across your recipe, after reading the testimonials, we decided that this must be the right one – and it was.  It was perfect!!!!!  Our grown children were very impressed, and so were we!  Here are a couple of photos for your collection of successes!  Thank you very much for helping us make this Christmas Dinner 2009 very memorable!  Thanks. – Janet Franklin in Abilene, Texas (12/26/09)
The recipe was great – 450 degrees for 20 minutes, 275 degrees for 3 hours – dry-aged at home in the refrigerator for 6 days. 4-rib roast, feeding four twice – plus snacking on the rib bone/chine. Yum!!! X-mas 2009 (see photo below). – Steven Schustak (12/25/09)
My name is David Miguel and I am a 1978 graduate of The Culinary Institute of America. My best friend wanted to know what my Christmas roast was going to be this year and we decided a bone in rib roast. Another good friend owns a meat market and provided us each with a USDA Prime Rib Roast. He was a little nervous about this expensive undertaking, so instead of reinventing the wheel,( I am a terribly slow typer) I googled some pointers. I came upon your web site and was very impressed in both the level of accuracy and the amount of detail on your page – what a treat! As Gordon Ramsey would say, "spot on"!!!! Thanks and Happy Holidays – David Miguel (12/25/09)
I used your prime rib recipe ….. best I've ever made….. and I've made plenty in my 71 years. – Vern Miller (12/25/09)
I found your website and the instructions are excellent.  Our 2 rib roast was moist and medium-rare.  I cooked it at about 8,000 feet and it took more like 30 minutes a pound, but with the instant-read thermometer it was easy to keep an eye on progress. – Chris Williams
Using Electric Roasting Pan:
I really enjoyed reading your website about buying, preparing and cooking a rib roast. I plan on cooking one on Christmas Day. Here is my question for you. I have a GE Roaster. It's a like a mini oven that sits on your table. I have cooked Thanksgiving turkey in it several times and just plain old baked chicken. They both come out delicious! And the turkey usually cooks in a shorter amount of time than is suggested for regular oven cooking. I want to make my roast in this oven. Do you see any problems with that? It will free up my oven for all the other goodies I plan to make. Thanks so much in advance for your reply. Again, I loved your website and will have to go read everything else on it! – Robin Sherlock (12/23/09)
I have to be honest and tell you that I have never used an electric roaster for cooking anything.  If  the roaster cooks in a shorter time period, you will have to be careful that it doesn't dry out your prime rib roast. Please, please use a cooking thermometer to check your roast during the cooking process so as to know how fast the temperature is rising. Remove the prime rib from the roaster at 120 degrees F. Let me know how your prime rib turns out using the electric roaster. I'm sure other people will be interested in this technique. I would like to post your findings on my web page. – Linda Stradley
Feedback from Robin (12/26/09):
I am so sorry I forgot to take pictures! My kitchen was an absolute zoo at the time I took the roast out. But I wanted to let you know that we cooked the 18 lb roast in my GE oven roaster and it came out spectacular! It fit just perfect! And the roaster has a metal rack with handles that we placed the roast on top of to make it easier to lift that bad boy out when done. I actually bought two digital-read thermometers because when I tested the first thermometer and it didn't reach 212 degrees in boiling water, so I went out and bought the other one. That one worked great! I started checking the roast early on because I was nervous cooking it in the roaster. We took it out at exactly 121 degrees. It was beautiful. I wanted to carve it the way you instruct on the website but I didn't have a great knife and the roast  was so big. So my father-in-law just started slicing it up! It was great though!  I also made your sour cream horseradish and everyone loved it. And I made your au jus. It was delicious! Oh yeah – just before I was going to start preparing the roast with my seasonings, I realized it wasn't tied up, so I marched it into my grocery store on a cookie sheet wrapped in a huge bag and made them tie it up!  Thank you so much for your website!
Cooking Two (2) Prime Rib Roasts:
I'm hoping I will hear back from you before I have to cook on Christmas. I had just purchased a 3 rib, approx 7 lb prime rib roast, to serve 4 adults when I was later notified of 2 additional adults now coming to dinner. I was going to purchase a larger 5 rib roast and  keep the other one frozen. But I went with the butcher's suggestion, buying another 7.4 lb (3 ribs) and plan to cook them both at the same time. He said it wouldn't affect the cooking time or end result if I position them bone to bone. What is your suggestion? Half of us like our meat med-rare and the other half like it medium. We do like our slices about 3/4″ thick. Please help.- Linda Guillerme (12/21/09)
Cook both prime rib roasts at the same time, but each individual roast must be checked for cooking temperatures. Treat as two (2) roasts not one when cooking them. – Linda Stradley
Feedback from Linda Guillerme (12/26/09):
Just wanted to tell you that I took your advise – ALL of it and my 2 rib roasts came out PERFECT (despite my oven varying its temperature from 300 to 350 degrees. Thank goodness I had a thermometer in it so I could make the adjustments). Because one roast was 7 lbs and the other 7.5 lbs, I bought a second digital thermometer to monitor them. Before I knew it, the larger roast was cooked a bit more than the 120 degrees you recommend. The smaller roast was spot on. SO I tented the smaller one and not the other one. When we were ready to carve they were both beautiful. I used a tube of steak rub on the outside which added wonderful flavor to the crisp outer layer. Thank you so much for the rave reviews I got.
I am really upset right now. As a last ditch attempt to save a roast I am hoping you may be able to respond and help me.  I had the wrong date, tonight, for preparing a dinner for a group of people.  I had a full prime rib roast that has been in the oven for 1 hour 15 minutes when I found out that the gathering is tomorrow night!!!!  Is there any way this roast can be saved??  I have removed it from the oven and the temperature is around 90 degrees F. on the thermometer. Can I put it in the fridge and finish cooking it tomorrow night?  I am in shock and on the verge of tears. As a last ditch attempt to save a roast I am hoping you may be able to respond and help me. – Dianne Fritche (12/19/09)
I would be in shock also, especially knowing how much a prime rib roast cost! My suggestion (and only a suggestion), as I have never had this happen. I would butter the outside of the prime rib (so that the roast will not dry out). Then put the prime rib back in the oven tonight and cook it at a low temperature (300 to 325 deg. F.), watching the temperature carefully throughout the baking time with your thermometer. If the temperature rises too fast in the prime rib, lower your oven temperature more. Do not let the temperature in the roast get over 120 degrees. If the roast reaches the 120 degrees temperature too soon, just turn off you oven and let the roast sit until you need to cut it. I really feel bad for you. Please smile and just laugh at yourself! Tell your guests your story and let them also laugh. It will be ok! Make sure all your other side dishes are great and everyone will love you. – Linda Stradley
Thank you for your reply. I am still in shock. I have to admit I chose to get a new prime rib roast, but I plan on cooking the other one and keeping it for myself. I just will not know if I serve the "old" roast how it will be because I will not know if the guests will be honest about it or just kind. I do not think at any rate it could possibly be as good as correctly done. I will let you know how the one I keep and finish cooking turns out. I am having a difficult time getting my head around all of this and feeling like maybe I can't pull off the meal all over again tonight.
Feedback from Dianne (12/20/09):  I must say, what a difference a day makes. The dinner was executed flawlessly. I do not think that would have happened if I had spent the whole time worrying wondering about how the roast was going to turn out, but everything was great. Including "my" first prime rib roast.  It did turn out nicely after all. Linda, I actually (because it was "just" for me) chose to put it back in the oven at 325 degrees F. I set the thermometer in place and watched it as you suggested.  It took the full two hours it would have the previous day (total of 3) and still turned out delicious. Not dry or lacking in flavor or over done at all. In fact my family joked that they wonder if the other roast turned out as nicely! So now we know that this strange way of cooking a prime rib roast can work! Not that I'd recommend the "technique" It is way too expensive.
I do want to add something for your knowledge. Your site recommended a digital instant thermometer. I had a probe type that you leave in the meat and the digital read display sits on the counter. I decided to buy an instant-read because of your site and it turns out that my probe thermometer seems to have been way off and actually was reading high. When I put the roast in the oven again the next day, I used both thermometers. I used the new one to double check and learned that mine was showing way higher than the new insta-read. This means that when I took the roast out of the oven the first day, and in my initial email told you it was 90 degrees on my thermometer, that it was probably much cooler internally. I am not sure what temperature a roast would normally be after about an hour of cooking but the end result possibly turned out so well because it was not in fact 90 degrees. Thank goodness I followed your advise and got another thermometer!  Honestly Linda because you responded, which was such a sweet surprise, you helped pick up my spirits and got me into a better state of mind again. Those are the little surprises in life that help us pick up the pieces and keep on keeping on.
My Mother and I cooked a standing rib roast for Thanksgiving 2009 using your web page as guidance. It came out fantastic. We definitely agree with using a good thermometer. We live at altitude (Albuquerque, New Mexico) and it eliminated the guess work on the cooking time. 120 degrees is 120 degrees at the center of the roast regardless of altitude. It took about ten to twenty minutes more in the oven. Will not waste my time on a Turkey again. Thanks – Matt Kappler (12/01/09)
I can cook – barbecue, brisket, beans, you know, cheap stuff. I've never cooked a whole rib roast before, so when my pastor asked me to cook 110 pounds of prime rib, I turned to your site. I cooked seven (7) boneless prime rib roasts in a convection oven for 2.5 hours using the directions you've provided and they turned out great! This was a Hospice fund raiser, so portions were small, 180 portions in all.  I was ready to serve on time at 5:30 p.m., but due to other problems serving did not start till 6:30.  Most of the meat rose in temperature to medium but that was OK for the deep south and older folks. We mostly don't like rare. A little pink is OK. Anyway, one does want to try to do it right with $600.00 worth of meat.  So, thanks for the help.  The meat turned out great due to your detailed instructions. A sincere thank you – Les Powell (10/13/09)
Thanks to Bing you came up first in my search for Prime Rib roasting recipes. Both the roast and the Yorkshire pudding were amazing! I minced two big cloves of garlic and freshly ground pepper on the roast following the cooking directions and it was indeed perfect. Digital Thermometer worked like a champ. On the Yorkshire pudding, I didn't have milk so used half and half. I was also short on fat, so I mixed about 3 tablespoons of melted butter with vegetable oil to make up the difference. I micro-waved it for 30 seconds on high to get the mixture hot to add to the prepared rectangular glass pan. To get the batter cold, I prepared it as directed as soon as the roast was in the oven and put it in the freezer for 15 minutes, then the refrigerator for the roasting time of the meat (5.21 lb – 2 rib roast took 1 hour 50 minutes to reach 120 degrees F.). 5 minutes for the oil, which was crackling when I added the batter and rose like a brown cumulus cloud in 13 minutes. The center was a set custard surrounded by brown pillows – exactly like my mom and dad made us for years. Thanks so much for the magnificent instructions. You are indeed in my bookmarks forever. – Phil Hale, Orlando Florida (9/17/09)
Just wanted to say THANKS so much for the wonderful information provided for cooking a Prime Rib Roast. For the first time ever, I fixed one last night going by your instructions and a restaurant couldn't have turned one out any better. I would never have had the nerve to attempt cooking such a expensive, large cut of meat without the step by step instructions. You have a great informative web site. I can't wait to share your website with all my cooking buddies. Keep up the good work. – Terri (3/25/09)
I came upon your site a couple of years ago while looking for a standing rib roast guide. What a treasure! The rib roast is a NO FAIL recipe every time. Fantastic resource! I love the menus and features. Thanks – Bonita (1/14/09)
---

2007 and 2008 Comments from readers:
Just wanted to let you know that I cooked avery expensive prime rib roast for the first time for Christmas dinner. We had a 10 lb. semi-boneless roast for 13 people. I was very worried that it would not come out to everyone's liking since we had people who like the meat rare, some medium rare, and some even medium. I followed your directions exactly, even though I really wondered about the wisdom of taking the meat out when the internal temp reached 120 degrees. Then I figured I could always roast it a bit more if necessary but I could not make it less done if it was overcooked. After I removed it from the oven, I covered the meat loosely with foil and let it sit on my counter for a half-hour. The temperature did indeed rise to about 125 degrees. The meat was absolutely perfect! The outer part of the roast was between medium and medium rare, then there was a section of medium rare and the center was rare. I cut the meat into sections and had three separate platters, based on doneness. Everyone raved about the meat and there was hardly any leftovers at all. I let the meat come to room temperature before roasting as you suggested and invested in a good digital meat thermometer, which ended up giving me wildly fluctuating readings. In the end, I used my old thermometer that I have had for at least 10 years and it worked well! I made the horseradish sauce and a Madeira-based au jus-type sauce and both were well-received. Thank you so much for your excellent advice. I am so glad I was able to protect my $125 investment! – Denise (12/27/08)
I just wanted you to know that I just made a 15.5 lb prime rib roast (7 ribs) for the first time. I followed the instructions on your website and it was PERFECT!!  I have never made this before and the instructions, from letting it come to room temperature before cooking, all the way to the carving directions were so helpful.  I took it from the oven at 125 degrees and it rose to 140 degrees just while resting – so thank you for the advice about NOT OVERCOOKING. Thank you thank you it was delicious! – Jenny (12/25/08)
Great instructions for cooking standing rib roast! Turned out fantastic! I was a little concerned having never done this and putting $65 worth of beef on the line. Being a novice at this and having a few choices on my oven I was a little unclear on whether to bake and/or roast (I think I chose correctly and went with bake). In any event thank you and great web site. Best wishes for the New Year! – Tom (12/26/07)
The instructions were perfect! Christmas was the first time I ever cooked Prime Rib. It was perfect. Thank you so much for all the tips. 120 degrees F. is perfect and the temperature really did rise after it sat on top of the stove.  I will use these instructions again. – Theresa (12/26/07)
Thank you for the helpful tips in preparing the perfect prime rib. The roast would have been ruined should I had not seen your article regarding what constitutes rare/medium-rare.  Happy Holidays! – Marishka (12/23/07)
Thank you for defining rare as rare, not 140 degrees F. rare, which it well done. Even my Taylor meat probe uses the government standards for temperatures.Could anything be more useless or DIS-helpful than defining rare in terms of well done? You're the first person to point out the deception on the government standards, all in the name of safety. What bureaucrat was trying to save ourselves from ourselves on that one? – Earl (12/02/07)
Comments and Reviews