This grilled flank steak with horseradish sauce recipe makes a fantastic summer dinner.  The marinade for this flank steak recipe consists for lemon juice, dijon mustard, Worcestershire sauce and garlic. This makes for a great flavor combination to marinade the steaks overnight and tenderize the beef before grilling.
I love to enjoy horseradish sauce with beef, especially prime rib!  If you have never tried horseradish before you should know that the root packs a powerful punch.  Raw horseradish is spicy hot and will quickly clear your sinuses.  Mixing with sourcream or mayonnaise will help mellow the flavor but still give a nice spicy zing.  All you need is just a little horseradish sauce on your fork to enjoy with your steak bite.  Don't be afraid to try, i 's a wonderful flavor experience.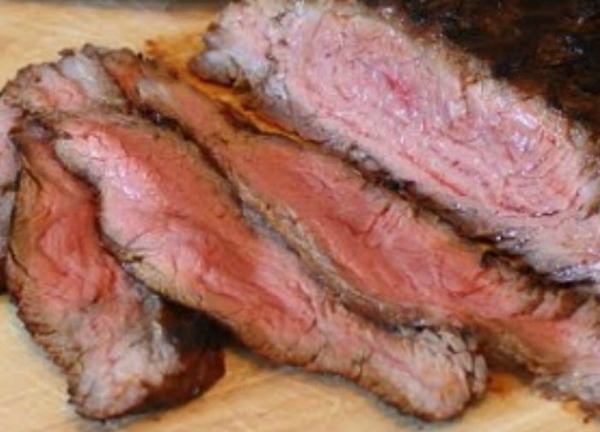 For more great Low Fat Recipes, Low Calorie Recipes, Low Carbohydrate recipes, and Diabetic Recipes, check out my Diet Recipe Index.  Also check out my Nutritional Chart for fat grams, fiber grams, and calories for all your favorite foods.
Grilled Flank Steak with Horseradish Sauce Recipe:
Keyword:
Grilled Flank Steak with Horseradish Sauce Recipe
Ingredients
Grilled Flank Steak:
1

pound

beef flank steak*

3

tablespoons

lemon juice,

fresh-squeezed

2

tablespoons

Dijon-style mustard

2

tablespoons

Worcestershire sauce

2

cloves

garlic,

minced

1/8

teaspoon

hot pepper sauce

or to taste
Horseradish Sauce:
1/4

cup

mayonnaise

(fat-free)

1/4

cup

sour cream

(fat-free)

1

tablespoon

Dijon-style mustard

2

green onions,

finely chopped

2

teaspoons

prepared horseradish
Instructions
Grilled Flank Steak with Horseradish Sauce Instructions:
Prepare Horseradish Sauce (see recipe below).

Using a sharp knife, score the surface of the flank steak wit shallow diagonal cuts at 1-inch intervals, making diamond shapes. Repeat on other side of steak.

In a large resealable plastic bag, combine lemon juice, mustard, Worcestershire sauce, garlic, and hot pepper sauce. Add prepared flank steak. Seal bag and turn to coat. Refrigerate at least 8 hours or overnight, turning steaks occasionally.

Preheat Barbecue grill. Remove steak from marinade; discard marinade. Place steak onto hot grill. Cover barbecue with lid, open any vents and grill until steak is medium rare or until the internal temperature reaches desired temperature on your meat thermometer (see below). NOTE: This steak is best cooked rare to medium rare.

Medium Rare - 125 degrees F

What constitutes rare and medium-rare cooked meat? To satisfy government home economists, the Beef Council says rare beef means an internal temperature of 140 degrees F. Well, that is ok if you like well-done and dry meat. If you like moist, rosy meat (like I do), rare begins at 120 degrees and starts to become medium rare at 125 or 130 degrees. To cook your meat properly, you must purchase and use a good instant-read digital meat thermometer.

Remove from heat and let steak rest 5 minutes before slicing. With a sharp knife, slice steak thinly against (diagonal) the grain. Place on a platter or individual dinner plates and serve with Horseradish Sauce.
Horseradish Sauce Instructions:
In a small bowl, combine mayonnaise, sour cream, Dijon mustard, green onions, and horseradish; cover and refrigerate until ready to serve.

I get many readers asking what cooking/meat thermometer that I prefer and use in my cooking and baking. I, personally, use the Thermapen Thermometer. Originally designed for professional use, the Super-Fast Thermapen Thermometer is used by chefs all over the world.  I only endorse a few products, on my web site, that I like and use regularly.
You can learn more or buy yours at: Super-Fast Thermapen Thermometer.
Sponsored Content
Comments and Reviews