This Smoked Eye of Round Roast is so easy to make and so good! Eye of round roast is an extremely lean cut taken from the hindquarters of the cow. For best results you will need a proper smoke/cooker that has a water tray for moisture.
Eye of Round is a very lean cut of meat. If overcooked, it will be very dry and tough.But if you cook it and slice it properly, it can be extremely delicious, tender, and moist. Learn how to smoke a perfect Eye of Round Roast to serve your family and friends.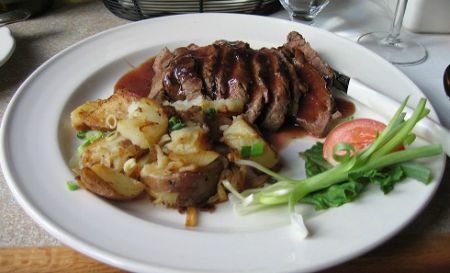 Check out all of Linda's Beef Recipes using various cuts of beef.
Smoked Eye of Round Roast Recipe:
Keyword:
Smoked Eye of Round Roast Recipe
Servings
:
6
to 8 servings
Ingredients
1

(5 to 6-pound)

eye-of-round roast

Dry rub

(your favorite)
Instructions
Prepare your smoker according to manufacturer's directions. I have an Electric Smoker and I like to use either alder or cherry wood. Set temperature to high and then turn down the temperature.

TIPS: As to the temperature of the smoker, I keep it fairly low (250 degree F). Do not raise the lid of the smoker any more than you absolutely need to (it reduces the temperature inside every time you do).

Trim all excess fat from roast. Using your hands, rub all over with your favorite dry rub. Place prepared roast on the oiled smoker rack. Smoke for approximately 2 hours or until internal temperature reaches 125 to 130 degrees F. for medium-rare (using a good meat thermometer).

What constitutes rare and medium-rare cooked meat? To satisfy government home economists, the Beef Council says rare beef means an internal temperature of 140 degrees F. Well, that is OK if you like well done and dry meat. If you like moist, rosy meat (like I do), rare begins at 120 degrees F. and starts to become medium rare at 125 or 130 degrees F. To cook your meat properly, you must purchase and use a good instant-read digital meat thermometer.

Remove from smoker and let it rest at room temperature for 15 to 20 minutes before carving (meat temperature will rise 5 to 10 degrees after it is removed from the oven).

To serve, thinly slice or shave the roast using a shape knife.

I get many readers asking what cooking/meat thermometer that I prefer and use in my cooking and baking. I, personally, use the Thermapen Thermometer. Originally designed for professional use, the Super-Fast Thermapen Thermometer is used by chefs all over the world. I only endorse a few products, on my web site, that I like and use regularly.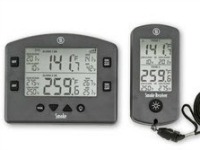 It is important to use a meat thermometer with a cable attached to the meat probe tip. This will allow for the meat probe tip to stay in the Prime Rib during the entire cooking process while the barbecue lid is closed, giving you a continuous temperature reading of the meat to ensure it does not overcook. I recommend using the Thermoworks Smoke Pro Series 2 Channel High Temp Cooking Probe for continuous monitoring of the meat's internal temperature in addition to monitoring the smoker's internal temperature during the smoking and cooking process. Includes wireless receiver to remotely monitor the temperatures from up to 300 feet away.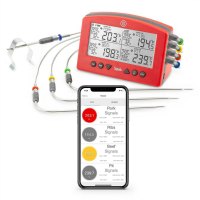 New! Thermoworks Signals™ 4-Channel Wi-Fi/Bluetooth BBQ Alarm Thermometer with built-in Wi-Fi and Bluetooth that can seamlessly switch between the two. Signals boasts 4 channels of continuous temperature monitoring and real-time alerts whether your nearby or across town. Works with both your smart device AND as a stand-alone unit with physical buttons.

Sponsored Content
Comments and Reviews