Steak lovers will fall in love with this beef tenderloin steak with morels!  The flavor of the steak sfuffed with morels and cooked in a savory mushroom wine sauce is outstanding. Your friends and family will feel like they are eating at a 5 star steak house when you serve this dish.  This fantastic steak recipe originated from Tony's Restaurant in St. Louis, Missouri.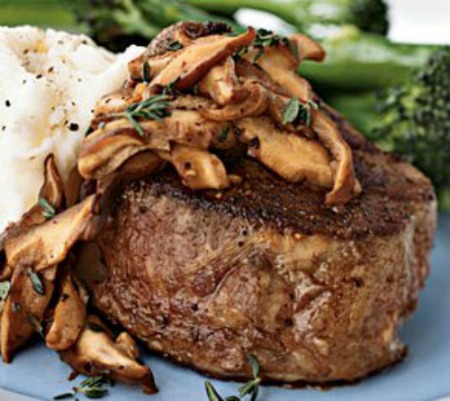 Cooking the Perfect Steak – Learn how to cook the perfect steak.  Check out all of Linda's Beef Recipes using various cuts of beef.
Beef Tenderloin Steaks Stuffed With Morels Recipe:
Keyword:
Beef Tenderloin Steaks Stuffed With Morels Recipe
Ingredients
4

cups

boiling water

(to cover mushrooms
)

2 1/2 to 3

ounces

morel mushrooms,

dried

4

teaspoons plus 2 tablespoons

olive oil

6

tablespoons

green onions

or shallots, minced

Coarse salt

and freshly-ground black pepper to taste

1/4

cup

brandy


1

cup

dry white wine


1/2

cup

beef broth

1

cup

heavy cream

4

(1 1/2-inch thick)

Beef Tenderloin

(Filet Mignon) steaks, approximately 8 ounces each
Instructions
Mix water and mushrooms in large bowl. Let stand 30 minutes. Drain, reserving 1 cup liquid. Finely chop 1/2 of the mushrooms. Slice remaining mushrooms; set aside.

Making Mushroom Stuffing: Heat 4 teaspoons olive oil in a medium skillet over medium heat. Add 2 tablespoons shallots and sauté 1 minute. Add chopped mushrooms; sauté 5 minutes. Season stuffing with salt and pepper. Cut small slits or pockets (2 1/2-inch-wide by 1 1/2-inch-deep) in the side of each steak. Press 1/4 of Mushroom Stuffing into each pocket. Secure with toothpicks. Set aside until ready to cook.

Making Mushroom Sauce: Heat 1 tablespoon oil in large skillet over medium-high heat. Add remaining 4 tablespoons shallots; sauté 3 minutes. Add sliced mushrooms; sauté 4 minutes. Mix in brandy and boil until almost no liquid remains, about 2 minutes. Add white wine; boil 3 minutes. Add beef broth and reserved mushroom liquid, leaving any sediment behind; boil 5 minutes. Add cream; boil until thickened, about 8 minutes. Set aside until ready to use. Heat 1 tablespoon oil in heavy large skillet over medium-high heat (I like to use my Cast-Iron Pots and Pans). Sear the steaks, moving them with tongs a little so they don't stick to the bottom, for 5 to 6 minutes per side. Your steak is done when the internal temperature registers 120 to 130 degrees F. on your instant-read meat thermometer:

Medium Rare - 125 degrees F.

Transfer perfectly cooked steaks to serving plates.

Add prepared Mushroom Sauce to skillet; bring to simmer, scraping up any browned bits. Spoon prepared Mushroom Sauce over steaks.
What constitutes rare and medium-rare cooked meat? To satisfy government home economists, the Beef Council says rare beef means an internal temperature of 140 degrees F. Well, that is ok if you like well-done and dry meat. If you like moist, rosy meat (like I do), rare begins when the internal temperature registers 120 degrees F. and starts to become medium rare at 125 or 130 degrees F. To cook your meat properly, you must purchase and use a good instant-read digital meat thermometer.


This is the type of cooking and meat thermometer that I prefer and use in my cooking. I get many readers asking what cooking/meat thermometer that I prefer and use in my cooking and baking. I, personally, use the Thermapen Thermometer shown in the photo on the right. To learn more about this excellent thermometer and to also purchase one (if you desire), just click on the underlined: Thermapen Thermometer. 
Residual Heat or Carry-Over Cooking: Remember, the steak will continue to cook as it sets. The temperature will rise to 125 degrees F. to 130 degrees F. internal temperature (medium rare) at 15 to 20 minutes. So, pay attention to how long you let the cooked steak sit before serving!
Residual Heat Definition: Carry-over cooking is caused by residual heat transferring from the hotter exterior of the meat to the cooler center. As a general rule, the larger and thicker the cut of meat, and the higher the cooking temperature, the more residual heat will be in the meat, and the more the internal temperature will rise during resting due to carry-over cooking. This means the meat must be removed from the heat at an internal temperature lower than your desired final internal temperature, allowing the residual heat to finish the cooking.
Sources:
Recipe is from
Bon Appetit Magazine

, November, 1995 issue
Photo from My Recipes web site.
Comments and Reviews