If you have ever been to Italy, you will instantly know about Italian Limoncello.  
Lemons are one of the most important staples in the food of Sorrento, Italy.  They have long been a staple in the region along the Italian Amalfi Coast in Capri and Sorrento.  Because of this, the city's most famous product is their famous Italian Limoncello.  Families in Italy have passed down recipes for generations, as every Italian family has their own Limoncello recipe.  In fact, this lemon drink is now considered the national drink of Italy and can be found in stores and restaurants all over Italy.
This lemon drink is wonderful as a palate cleanser or as an after-dinner drink.  It is always served well chilled in the summer months.  Store your bottles of Limoncello in the freezer until ready to serve.  The ingredients are simple and few, and making a batch does not require much work, as it needs to steep for (80) eighty days.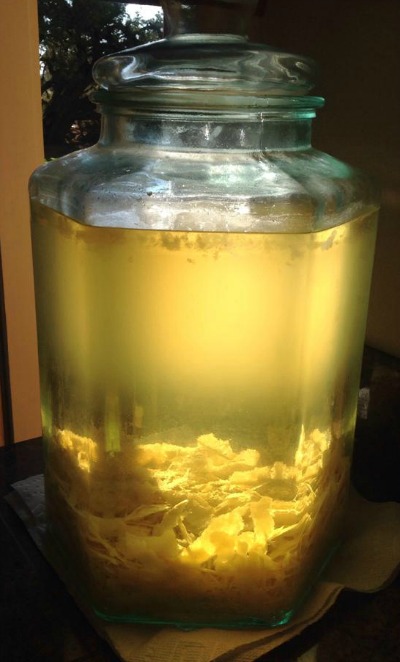 Check out more delicious Limoncello recipes:
Italian Limoncello Recipe - How To Make Perfect Limoncello:
This is my (Linda Stradley) personal recipe for Italian Limoncello that my husband and I make every year.
Keyword:
Best Limoncello Recipe, How To Make Perfect Limoncello
Ingredients
Limoncello:
15

lemons*

2

(750 ml) bottles

100-proof vodka
Simple Syrup:
4

cups

sugar

5

cups

water

(filtered tap water or distilled water)
Instructions
Step One:
Wash the lemons with a vegetable brush and hot water to remove any reside of pesticides or wax; pat the lemons dry.

Carefully zest the lemons with a zester or vegetable peeler so there is no white pith on the peel. Use only the outer part of the rind. The pith, the white part underneath the rind, is too bitter and would spoil your limoncello. Check out my web page on How to Zest Lemons.
Step Two:
In a large glass jar (1-gallon jar with lid), add vodka.

Add the lemon zest as it is zested.

Cover the jar and let sit at room temperature for at least (10) ten days and up to (40) days in a cool dark place. The longer the mixture rests, the better the end taste will be.

There is no need to stir - all you have to do is wait. As the limoncello sits, the vodka slowly take on the flavor and rich yellow color of the lemon zest.
Step Three:
In a large saucepan, combine the sugar and water; bring to a gentle boil and let boil, approximately 5 to 7 minutes. Remove from heat and let the syrup cool before adding it to the Limoncello mixture.

Add cooled sugar mixture to the Limoncello mixture (from Step One). Cover jar and allow to rest for another 10 to 40 days.
Step Four:
After the rest period, strain the Limoncello; discarding the lemon zest. NOTE: Coffee filters or cheesecloth work great for straining the mixture. Moisten the filters before beginning the straining process. Pour strained Limoncello in bottle/bottles (of your choice) and seal tightly.
Storing Limoncello:
Keep your bottle/bottles of Limoncello in the freezer until ready to serve. Serve ice cold from the freezer.

Ways to serve other than just drinking (drinking is my favorite way):

Refreshing and light, it is wonderful as a palate cleanser or as an after dinner drinks. It is an incomparable digestive, and with tonic water it is a sweet, tasty refreshment. Itis also great with champagne or mixed with juice as a cocktail. t even does well simply drizzled on ice cream, fruit salads, or fresh strawberries.
Recipe Notes
* When choosing lemons you want to use organic if possible.  They won't have wax and pesticides on the peel.  Choose thick-skinned lemons because they are easier to zest.  The lemons must be yellow and not tinted with green.
---

Comments from Readers:
Thank you this recipe.  Just bottled my first batch last night.  It was delicious.  We let the second soak time go 60 days.  This photo shows the result. – Dave Oldaker (9/13/15)


I just wanted to thank you for posting your Limoncello recipe.  I am a novice wine maker and I have been known to distill certain fruit mixtures to make my own brandy.  The Limoncello turned out so refreshing!   I will be making this recipe to prepare for summer after dinner drinks every year.  Again, Thank You! –  Dennis Jordan (2/3/15)
Just to let you know that your Limoncello recipe is excellent and certainly appreciate the time you took to post this amazing Recipe.  Thank you – Candance Brooks (2/1/15)
Comments and Reviews