Recipe was shared by Ron Carducci.  Ron says,  "I have relatives in Italy and they make limoncello the same way it is made all through Italy.  Additionally, almost without exception, everyone I order as an after dinner digestive in ristoranti all over Italy, is made and tastes pretty much the same (I speak Italian and I ask the chefs how it is made and they almost always give me a recipe that varies only slightly from the one I am including below).  It is made with 95% pure grain alcohol, lemons, and simple syrup.  That is it!  The same is true for arancello.  One bonus feature of the legit Italian recipe is that it only takes one week to make.
Folks from the Amalfi coast that I have spoken with (that's where it originated) tell me that legit limoncello, when you sip it straight, ice cold and without ice (Italians never put ice in their drink), should be very lemony, and smooth but have a "jolt" in the middle of it; i.e., a spreading warmth with a friendly kick.  Recipes made with vodka, not Everclear Alcohol, are smooth but do not have the jolt.  Try this recipe – you will be pleasantly surprised."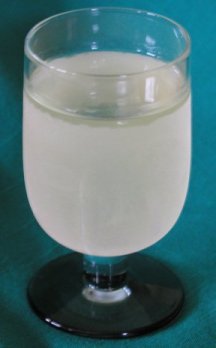 Carducci's Limoncello Recipe:
Keyword:
Carducci's Limoncello Recipe
Instructions
Wash the lemons with a vegetable brush and hot water to remove any reside of pesticides or wax; pat the lemons dry. Using a potato peeler, take all the lemon rinds off of the lemons so there is no white pith on the peel. Place the rind-peelings in a large container with the Everclear alcohol. Cover the container and let it sit for seven days.

On the eight day, strain the the peels from alcohol; discard peels.

In a large saucepan, make a Basic Simple Syrup by combining the water and sugar; let it simmer "fast" for 15 minutes. Let simple syrup cool to room temperature. Add to alcohol.

You are now finished and can drink it right away.

Makes about 2 1/2 liters.
Recipe Notes
*  Choose thick-skinned lemons because they are easier to zest.  The lemons must be yellow and not tinted with green.
Comments and Reviews