Beverage and Cocktail Recipes
Alcoholic Cocktail Recipe Collection – Non-Alcoholic Beverage Recipe Collection
Find the perfect alcoholic or non-alcoholic beverage and cocktail recipes to serve your family and friends in What's Cooking America's large collection of delicious drinks! From favorite beverage recipes, creative cocktails, and eye-opening coffee drinks to refreshing smoothies. It is all here!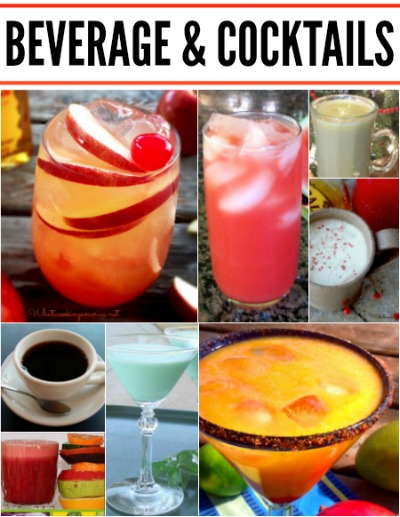 Check out this Basic Simple Syrup Recipe for sweetening your favorite drinks.
---
---
---
---
---
---
---
---
---
---
---
Cooking with Wine – How To Cook With Wine
The first and most important rule: Use only wines in your cooking that you would drink. Never, never use any wine that you WOULD NOT DRINK! If your do not like the taste of a wine, you will not like the dish you choose to use it in.
How To Successfully Taste Wine – Wine Tasting Basics
Wine tasting is not the same as drinking it. To experience the true flavor of a wine requires that you slow down and pay attention to your senses of sight, smell, touch, as well as taste.
---
---
Coffee Information
Coffee Time – Java Talk
How to make a perfect cup of coffee
How To Use a French Press
coffee press, plunger press and/or press coffee
How To Use a Moka Pot
Stovetop Espresso Maker
Italian Coffee – Can't I Just Find a Cup of Joe?
My daughter, a tourist if Italy, wrote this interesting story on Italian coffee.
Espresso Machines
Different Styles for Different Homes
Organic Coffee
Organic Coffee for Your Health and the Environment
Storing Coffee Beans
---
---
---
---
---
---
---
Tea – Drink to your Health
Whether it's drunk hot or cold, did you know that tea is one of the best things you can drink?
---
---