Banana Chia Seed Muffins are very tasty and delicious.  These muffins are easy to make and a great way to incorporate Chia seeds in your diet.
Chia Seeds are the new super food that health experts are talking about.  They have been shown to suppress appetites while providing protein, calcium, and omega-3s.  Using chia seeds in a recipe, such as the Banana Chia Seed Muffins, are one great way to get the benefits of chia seeds in a yummy muffin.  These muffins make a great breakfast meal or snack as they only contain 190 calories each.  Be creative and try using Chia seeds in more of your recipes.  They do not affect the taste of your dish and are very versatile.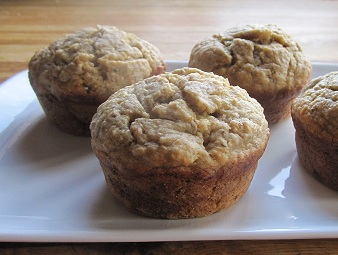 Check out Linda's Bread Making Hints: Secrets to using the bread machine, About yeast in bread making, Sourdough Starter, and Quick Breads.
More of Linda's great Bread Recipes for your bread making.
Banana Chia Seed Muffins Recipe:
Keyword:
Banana Chia Seed Muffins Recipe
Ingredients
2

very rip

bananas, 

mashed (preferably overripe)*

1

tablespoon

Chia seeds,

ground or whole (your choice)**

1/4

cup

butter,

room temperature

1/2

cup (firmly-packed)

brown sugar

3

egg

whites

6

ounces

yogurt,

vanilla or plain***

1/4

cup

milk

(low-fat)

1/2

teaspoon

pure vanilla extract

1

cup all-purpose

flour

1

cup

old-fashioned rolled oats,

ground****

1/4

teaspoon

salt

(optional)

1

teaspoon

baking powder

1

teaspoon

baking soda
Instructions
Preheat oven to 350 degrees F. Adjust oven rack to middle position. Grease or spray the muffin tins with non-stick oil.

In a bowl, combined the mashed bananas and chia seeds; set aside.

In the bowl of your electric mixer, cream butter and brown sugar just until mixture is light and fluffy. Add egg whites, one at a time, beating well after each addition. Stir in yogurt, milk, and vanilla extract until combined.

Remove bowl from your electric mixer and stir in the all-purpose flour, ground rolled oats, salt, baking powder, and baking soda until dry ingredients are moistened. Fold in the banana/chia seeds mixture.

NOTE: Bake all quick breads as soon as the ingredients are assembled.

Fill prepared muffin cups 2/3 full. Bake approximately 20 to 25 minutes or until a toothpick inserted in the center comes out clean. A good check is to use an instant digital thermometer to test your muffins. The temperature of the muffin should be at 200 degrees F.

When done, remove from oven and as soon as they have cooled enough to handle, remove the muffins from pan and place on a wire rack to finish cooling.

1 muffin = 4.8 fat grams, 34 carb grams, 190 calories
Recipe Notes
* To ripen bananas, allow green or yellow bananas to ripen at room temperature until the skin is covered with brown spots.  Use a potato masher, fork, or spoon to mash the bananas, leaving no chunks of banana.
** Chia Seeds: You may know Chia as the sprouts that grow on the porous clay figurines called Chia Pets, however there is much more to it than that!  Chia has both nutritional and medicinal benefits.  The seeds are an excellent source of essential fatty acids and are a great addition to a healthy diet.  Chia Seeds are an edible seed that comes from the desert plant "Salvia hispanica," a member of the mint family that grows abundantly in southern Mexico.  The seeds are either white or black and both types are highly nutritious.  Learn more about the Ancient Chia Seed - How it Can Benefit Your Health.
*** You could use any flavor of yogurt that you desire.
**** Make a powder out of the rolled oats by putting into the blender or food processor.

I get many readers asking what cooking/meat thermometer that I prefer and use in my cooking and baking. I, personally, use the Thermapen Thermometer. Originally designed for professional use, the Super-Fast Thermapen Thermometer is used by chefs all over the world.  I only endorse a few products, on my web site, that I like and use regularly.
You can learn more or buy yours at: Super-Fast Thermapen Thermometer.
Sponsored Content
Comments and Reviews