Buttermilk Pancake are the absolute best!  These Buttermilk Pancakes are so light and fluffy.  This is the recipe that I now use for my family.  Sometimes, I will add blueberries to the batter.  Give it a try!
This recipe originally is from Frank Elliott, the cook at Robie's Country Store and Deli in Hooksett, NH.  The recipe and photo appeared in Saveur magazine, March 2008.  Photo below by Andre Baranowski.
More of Linda's great Pancake Recipes for your family's breakfast needs.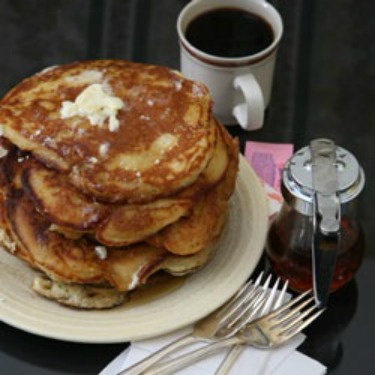 Buttermilk Pancakes Recipe:
Keyword:
Buttermilk Pancakes Recipe
Ingredients
2

cups all-purpose

flour

2

tablespoons granulated

sugar

4

teaspoons

baking powder

1

teaspoon

baking soda

1

teaspoon

salt

2

cups

buttermilk*

4

tablespoons

butter,

melted

1

teaspoon

pure vanilla extract

optional

2

eggs,

beaten

Additional

butter

for cooking the pancakes

Maple Syrup**

Powdered sugar

(confectioners' sugar)
Instructions
In a large bowl, add flour, sugar, baking powder, baking soda, and salt; mix well.

In a small bowl, whisk together buttermilk, melted butter, vanilla extract, and eggs. Pour the buttermilk mixture into the flour mixture and whisk together. For tender pancakes, do not over-mix the batter. For best results, just briefly whisk the batter and do not smooth out the lumps.

To achieve light and fluffy pancakes, it is important to let the batter rest for 10 minutes while you heat the skillet. The flour needs this time to absorb all the liquid which ensures that the batter will set up property. If you skip this step, the pancakes will run together in the pan and cook up flat and misshaped.

Heat a large frying pan or cast-iron skillet or griddle over medium heat until fairly hot. Make sure the griddle is hot but not too hot. Temperature is key to getting light, fluffy pancakes. If the griddle is too hot or cold, they will either scorch or will not rise. Always preheating the griddle before adding your butter. Add 1 teaspoon butter and heat until the butter's foam subsidies.

Ladle about 1/2 cup of the pancake batter onto the hot griddle.

Do not mess with the pancakes too much. Let the pancake sit on the griddle and grow and rise by itself.

Do not shake the pan or move it, as that will prevent it from rising.

Let the batter do the work sitting on the grill and turn or flip the pancake over just when it starts to bubble on top.


Cook the pancakes, turning only once, until deep golden brown on both sides, approximately 5 minutes total.

Transfer the cooked pancakes to a large plate, keep warm in oven.

Repeat process with additional butter and remaining pancake batter to make 8 pancakes in all.

Serve hot, topped with butter and maple syrup and a dusting of Confectioners' sugar.

Serve hot, topped with butter and maple syrup and a dusting of Confectioners' sugar.

Freezing Pancakes:  Cooked pancakes will keep, sealed in freezer bags, for up to 2 days in the refrigerator and up to 1 month in the freezer.  Defrost in the refrigerator overnight and reheat in a 350 degree F. oven for 5 minutes.

Buttermilk Pancake Variations Ideas:

Blueberry Buttermilk Pancakes:  Combine 1 cup blueberries dusted with 2 tablespoons sugar; let stand a few minutes. Gently fold blueberries into the batter just before baking.

Apple Buttermilk Pancakes:  Grate some tart apples into the batter before baking.

Banana Buttermilk Pancakes:  Thinly slice or mash banana into the batter before baking.
Related Pancake Recipes:
Almost Homemade Buttermilk Blueberry Pancakes
Oatmeal Pancakes
Sourdough Pancakes
German Pancakes – Dutch Baby Pancakes
Apple Pancake
Comments and Reviews