Bread Machine Instructions
My children and I love Stollen bread at Christmas time.  This is a sweet bread like Challah and also contains candied fruits, raisins,nuts and citrus zest. It is a wonderful treat to enjoy.  This bread originated in Germany going by many name variations: Stollen, Dresden Stollen, Strutzel, Striezel, Stutenbrot, Christstollen or Zemmel.  We look forward to enjoying this bread on Christmas Eve and toasted with butter on Christmas morning.  Their German Grandmother would make this bread every Christmas for the family.
My youngest daughter's Mother-in-law, Joan Weller of North Plains, Oregon taught her to make the Stollen version that has icing on top.  Some other versions might dust the top of the loaf with powdered sugar.  Each version is delicious.
We had a fun time together converting the recipe and making it in the bread machine.  Please give this Christmas Dresden Stollen bread machine version a try, as it is so easy to make and so delicious!
Please check out What's Cooking America's Dresden Stollen History.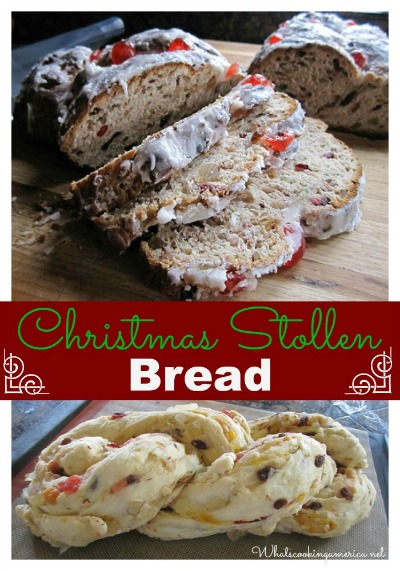 Check out Linda's Bread Making Hints: Secrets to using the bread machine, About yeast in bread making, Sourdough Starter, and Quick Breads.  More great Bread Recipes, Sourdough Bread Recipes and Quick Bread Recipes for all your bread making.
Christmas Dresden Stollen Recipe:
Keyword:
Christmas Dresden Stollen Recipe
Ingredients
Christmas Dresden Stollen:
1/2

cup

warm water

(110 degrees F.)

3/4

cup

milk,

scalded*

1/2

cup granulated

sugar

1

teaspoon

salt

2

eggs,

slightly beaten

1/2

cup

butter,

room temperature or softened

4 3/4

cups all-purpose

flour

or bread flour

1

tablespoon

vital wheat gluten

(optional)**

4

teaspoons

instant active dry yeast
Candied Fruit and Nut Mixture:
1/2

cup

raisins

1/2

cup

candied citron

1

(16-ounce) container of mixed

candied fruits***

2

teaspoons

orange zest

(peel), grated

1

teaspoon

lemon zest

(peel), grated

1

cup

nuts

of your choice (hazelnuts, pecans, walnuts, etc.), coarsely chopped****
Powdered Sugar Glaze:
1 1/2

cups

powdered sugar

(confectioners' sugar)

3

tablespoons

hot water

or milk (your choice)

1

teaspoon

pure vanilla extract
Instructions
Christmas Dresden Stollen Instructions:
In a large bowl, prepared the Candied Fruit and Nut Mixture; set aside.

Place all ingredients except the Candied Fruit and Nut Mixture in the bread pan of your bread machine. Select Quick Dough setting and press start. Check the dough (don't be afraid to open the lid). It should form a nice elastic ball. If you think the dough is too moist, add additional flour (a tablespoon at a time). The same is true if the dough is looking dry and gnarly. Add warm water (a tablespoon at a time).

When dough cycle has finished, remove dough from pan and turn out onto a lightly-floured surface. Knead the prepared Candied Fruit and Nuts Mixture into the dough until well distributed. NOTE: I have found that it works better to knead in the Fruit and Nut Mixture than add the mixture to the bread machine. The bread machine tend to tear up the fruit.

Lightly oil a large bowl. Add the kneaded dough, turning to coat the entire surface of the dough. Cover with plastic wrap and let rise until doubled, approximately 1 to 2 hours (depending on how warm your room is).

Oven Rising: Sometimes I use my oven for the rising. Turn the oven on for a minute or so, then turn it off again. This will warm the oven and make it a great environment for rising bread. If you can't comfortably press your hand against the inside of the oven door, the oven is too hot. Let it stand open to cool a bit.

Cool or Refrigerator Rise: If I don't have the time to wait for the rise to finish or I know that I will be interrupted before the completed rise, I do a cool rise. A cool rise is when the dough is place in the refrigerator and left to rise slowly over night approximately 8 to 12 hours. This is my favorite way of rising bread.

After the dough has risen, punch down the dough and place it on a lightly-floured surface. Divide the dough into either 3 or 4 parts. Braid the dough to form the stollen.

Small Loaves: Divide the dough into 2 or 3 parts depending on how large you want your stollens, and form into loaves.

Fold Over Method: Press down center lengthwise with rolling pin. Fold over lengthwise 2/3 of the way.

Place formed stollen loaf/loaves on a baking sheet that has been coated with cooking spray or on a Silcone Baking Mat. Cover with plastic wrap and place in a warm spot to rise for approximately 1 to 2 hours or until doubled (time can vary depending on room temperature).

Preheat oven to 375 degrees F.

Bake for 20 to 30 minutes or until loaf sounds hollow when tapped. A good check is to use an instant digital thermometer to test your bread. The temperature should be between 200 and 210 degrees. Remove from oven and cool on a bread rack. Let baked loaf cool for 30 minutes before cutting (this is because the bread is still cooking while it is cooling).

While the baked bread is cooling, make the Powdered Sugar Glaze. Either drip or brush the Sugar Glaze over the slightly warm bread. Decorate with candied cherries and or nuts (if desired). Let bread completely cool before slicing.

Makes one large stollen loaf.
Candied Fruit and Nut Mixture Instructions:
In a large bowl, combine all the ingredients; set aside. NOTE: To keep dried fruit and nuts from sticking together, add approximately 2 to 3 teaspoons flour (depends on how sticky your mixture is); stir to thoroughly combine.
Powdered Sugar Glaze Instructions:
In a small bowl, combine the powdered sugar, hot water, and vanilla extract until well combined and smooth (you may need to add additional hot water or milk).
Recipe Notes
*Scalding milk - In a heavy saucepan over low heat, heat the milk just until you start seeing bubbles forming around the inside edges of the pot - do not let the milk come to a full boil.  Immediately remove from the heat as it is now scalded. You can scald the milk either on your stove top or in the microwave oven. 
** Also called gluten flour, instant gluten flour, pure gluten flour, and vital wheat gluten depending on vendor and manufacturer.  This is flour with the starch and bran removed.  Gluten is the natural protein in the wheat endosperm which, when combined with water, for a taffy-like dough.  This retains the gas and steam from baking, thus helping the bread to rise.
*** Use candied fruits of your choice, such as candied pineapple, cherries, candied citron. In place of the some of mixed candied fruits,  I sometimes substitute dried apricots.
**** I like to use sliced almonds.

I get many readers asking what cooking/meat thermometer that I prefer and use in my cooking and baking. I, personally, use the Thermapen Thermometer. Originally designed for professional use, the Super-Fast Thermapen Thermometer is used by chefs all over the world.  I only endorse a few products, on my web site, that I like and use regularly.
You can learn more or buy yours at: Super-Fast Thermapen Thermometer.
Sponsored Content
Comments from Readers:
My husband and I just sampled your bread machine stollen recipe and can't find a superlative good enough to describe how perfect it is!  Made a couple of minor changes – didn't have citron so I doubled the raisins and I sprinkled the top with powdered sugar.  Had to add about 1/4 cup of water to get the flour to work it, scraping down the sides of the bread pan to help.
Used an internal remote digital thermometer and placed my cookie sheet on a lower middle shelf because my baked things tend to brown too quickly.  Checked at 18 minutes and the top was getting to look too brown, so I took it out.  To get back to the prep., at first the quantity of fruit and nuts looked like way too much, but as you can see from the attached photos – it was just right.  I made two loaves and metric measurement on my scale to get sizes correct. – Thank you, thank you, thank you! – Isabel Cytler (12/24/15)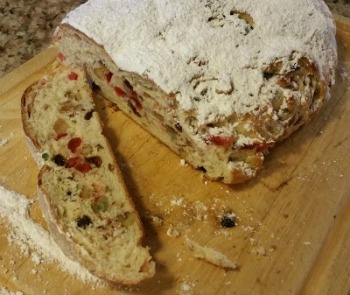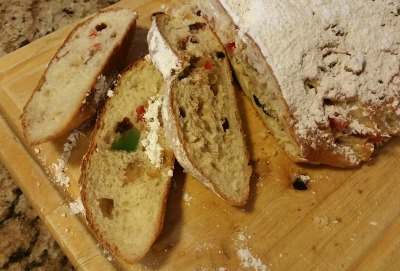 Comments and Reviews