Perfect Cinnamon Rolls Recipe a.k.a. Harvest Cinnamon Rolls
Perfect cinnamon rolls – decadent and delicious. Be prepared, as your guests will want this recipe once they sink their teeth into these sublime cinnamon rolls!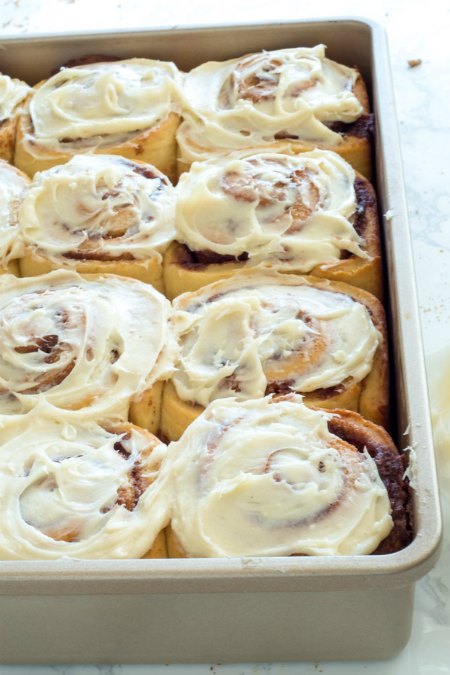 I have dubbed these perfect cinnamon rolls as my "Harvest Cinnamon Rolls." Every year in October, we host an annual party to enlist friends and family to help harvest the wine grapes in our vineyard. During the morning break, we bring out hot coffee and my homemade cinnamon rolls. I serve the cinnamon rolls freshly baked out of the oven, topped with a cream cheese frosting that melts into the warm rolls.
You can not find a more perfect cinnamon rolls recipe! They go so well with coffee and just melt in your mouth. Everyone calls them amazing and heavenly. (I have been told a diet or two have been broken for the day to make an exception for these babies.) We all end up going back for a second roll and before the day is over, I receive several requests for my cinnamon roll recipe. I proudly declare these as the perfect cinnamon rolls. Our reader feedback even attests to this Perfect Cinnamon Rolls claim and state the recipe is "Fail-Proof." They are even better than Cinnabon!
The best part about making this cinnamon roll recipe is the dough can be mixed then the rolls filled, shaped, and frozen long before our Harvest Festival. I typically make eight dozen cinnamon rolls for the event. The night before I need to bake the cinnamon rolls, I take them out of the freezer to thaw and rise. When I awake in the morning, I just bake and frost. So easy to make and so rewarding. These cinnamon rolls are perfect to make for any special event or holiday. Members of my family also enjoy baking this recipe for breakfast on the mornings of Thanksgiving or Christmas. We hear back from many families that also love to spoil their family with these perfect cinnamon rolls part of their Christmas morning breakfast.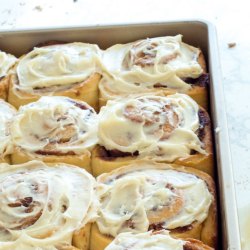 Perfect Cinnamon Rolls - Harvest Cinnamon Rolls Recipe:
Keyword:
Harvest Cinnamon Rolls Recipe, Perfect Cinnamon Rolls Recipe
Servings
:
15
Cinnamon Rolls
Ingredients
Cinnamon Roll Dough:
1

cup

milk

(heated approximately 1 minute in microwave)

1/4

cup

warm water

(110 degrees F.)

1

teaspoon

pure vanilla extract

1/2

cup

butter,

room temperature

2

eggs,

room temperature and beaten

1/2

teaspoon

salt

1/2

cup granulated

sugar

5

cups

bread flour

1

tablespoon

vital wheat gluten

(optional)

3

teaspoons

instant active dry yeast
Cinnamon Filling:
1/2

cup

butter,

melted or softened

1

cup (firmly-packed)

brown sugar

4 to 5

tablespoons

cinnamon,

ground

3/4 to 1

cup

nuts,

chopped (optional)
Cream Cheese Frosting:
2

ounces

cream cheese,

room temperature

1/4

cup

butter,

room temperature

1

cup

powdered sugar

(confectioners' sugar)

1/2

teaspoon

pure vanilla extract

1/8

teaspoon

lemon extract

or oil (optional)
Instructions
Cinnamon Roll Instructions:
Prepare the bread according to your choice of techniques below.

Bread Machine Instructions:

Add all the ingredients in the bread pan of bread machine.  Process according to manufacturer's instructions for a dough setting.  Do not be afraid to open the lid and check the dough.  It should form a nice elastic ball.  If you think the dough is too moist, add additional flour (a tablespoon at a time).  The same is true if the dough is looking dry and gnarly.  Add warm water (a tablespoon at a time).

If you can not judge your dough by looking, stick your finger in and feel the dough. It should be slightly tacky to the touch. When the bread machine has completed the dough cycle, remove the dough from the pan to a lightly floured surface. Knead the dough several times and form the dough into an oval; cover with plastic wrap and let rest for 10 to 15 minutes.

Stand Up Mixer Instructions:

In a large bowl or in the bowl of a 5-quart stand mixer, add all the ingredients. Using a dough hook, mix all the ingredients together into a uniform dough.  It should form a nice elastic ball.  If you think the dough is too moist, add additional flour (a tablespoon at a time).  The same is true if the dough is looking dry and gnarly.  Add warm water (a tablespoon at a time).

Turn the dough out onto a floured surface and knead until elastic, about 15 minutes. In an electric mixer, it should take about 9 minutes. Cover the bowl with plastic wrap and let rest for 10 to 15 minutes.

Rolling Out and Shaping Cinnamon Rolls:

Butter a 9 x 13 x 2-inch baking pan; set aside.

After dough has risen, using your rolling pin, roll and stretch the dough into approximately a 15 x 24-inch rectangle.

Step 2: Brush the 1/2 cup softened butter (listed below in the Cinnamon Filling) over the top of the dough with a rubber spatula or a pastry brush.

Sprinkle Cinnamon Filling over the butter on the prepared dough.

Starting with long edge, roll up dough; pinch seams to seal. NOTE: Rolling the log too tightly will result in cinnamon rolls whose centers pop up above the rest of them as they bake.

Step 3: With a knife, lightly mark roll into 1 1/2-inch section. Use a sharp knife (I like to use a serrated knife and saw very gently) or slide a 12-inch piece of dental floss or heavy thread underneath. By bringing the ends of the floss up and crisscrossing them at the top of each mark, you can cut through the roll by pulling the strings in opposite directions.

Place cut side up in a prepared baking pan, flattening them only slightly.

The unbaked cinnamon rolls should not touch each other before rising and baking. Do not pack the unbaked cinnamon rolls together.
Two Options or Choices for Rising Rolls:
1. Refrigerating or Freezing Unbaked Cinnamon Rolls:

At this point, the cinnamon rolls can be covered with plastic wrap and refrigerated overnight. I have actually made them two days in advance or frozen for one (1) month.

Before baking, allow rolls to thaw completely and rise in a warm place if frozen. I have found that I have to take the unbaked frozen cinnamon rolls out of the freezer 10 to 12 hours before planning to bake. I just put the frozen cinnamon rolls (container and rolls) on my counter (not in the refrigerator) overnight for 10 to 12 hours.

If refrigerated, they can be either baked upon removing from the refrigerator or let come to a room temperature (I've done both ways). They do a slow rise overnight and it is not necessary to let them come to room temperature before baking. If your rolls are not rising enough after being refrigerated, your yeast may need to be tested. To overcome this, let them rise while sitting on the counter until you achieve the desired rising before baking.

2. Bake Immediately After Making:

Cover and let rise in a warm place for approximately 45 to 60 minutes or until doubled in size (after rising, rolls should be touching each other and the sides of the pan).

Preheat oven to 350 degrees F. Bake approximately 20 to 25 minutes in a regular oven until they are a light golden brown. A good check is to use an instant digital thermometer to test your bread. The temperature should be between 190 and 200 degrees F.

Remove from oven and let cool slightly. Spread prepared Cream Cheese Frosting over the cinnamon rolls while still warm. Best served warm, but room temperature is also great!

Yields 15 large cinnamon rolls.
Cinnamon Filling Instructions:
Soften the butter; set aside. In a bowl, combine brown sugar and cinnamon; stir in chopped nuts (optional). NOTE: I like to sift the brown sugar and cinnamon together to remove any lumps.
Cream Cheese Frosting Instructions:
In a medium bowl, combine cream cheese and butter until creamy. Add powdered sugar, vanilla extract, and lemon extract or oil until well mixed and creamy. Refrigerate cream cheese frosting until ready to use and then bring to room temperature before spreading.

I get many readers asking what cooking/meat thermometer that I prefer and use in my cooking and baking. I, personally, use the Thermapen Thermometer. Originally designed for professional use, the Super-Fast Thermapen Thermometer is used by chefs all over the world. I only endorse a few products, on my web site, that I like and use regularly.
You can learn more or buy yours at: Super-Fast Thermapen Thermometer.
Sponsored Content
Watch a video to learn to make these Perfect Cinnamon Rolls

Comments and Questions from Readers:


What a wonderful way to start Christmas morning. I made the rolls two days before and placed in the refrigerator. On Christmas morning they came out of the refrigerator and sat on the counter about a ½ hour before they need to bake. This is the best dough I've worked with in a long time! They did start to unwrap on me but then I realized I had not pinched the seam together. Once that was done, everything when smoothly. I really liked using the oil on the counter for kneading instead of adding more flour. I'm going to try that trick with other doughs. My son claimed two to take home with him. Thanks for the great recipe, this is a keeper!
Happy Holidays – Flo Julias (12/26/15)
I've been searching for the perfect cinnamon roll recipe for a long time. I've tried a lot, thrown out a lot and now use your recipe exclusively. The only experimentation I plan to do with your recipe is to add a little nutmeg or allspice for Christmas rolls. Haven't tried it yet because it's so good the way it is. –
Thank you, Mark Liberty Hill, TX (9/07/15)
Just wanted to thank you for the awesome recipe. I've used it a countless number of times now over the years. I modify it ever so slightly and have used it to make savory rolls as well. Lovely recipe. – S. Crosby (8/23/15)
I work in a restaurant, and we had a brunch today. I am the pastry chef (not formally trained) and I was to make cinnamon rolls for the event. I found this recipe, made them Thursday, froze them as suggested, brought them out Saturday night to rise, and baked them off right before the event Sunday morning. They were a huge success. I made 60 cinnamon rolls in all, and at the end of the event, only two were left. Thank you so much. Your step by step instructions was wonderful and very clear. I would highly recommend this recipe to anyone.
– Karen Kirby (12/8/14)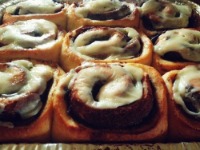 I just wanted to thank you for the recipe. I was not afraid of trying it because of the detailed instructions. It is as if you were foreseeing the questions already while you were writing it. I also like the fact that I did not need to knead. Considering I am 7 months pregnant. I just used a hand mixer and voila! It was like a glimpse of paradise when they came out of the oven. So yummy and fluffy! Here are the pictures that I took and the other one is a close-up shot to show the texture of the bread. Friends were asking for the recipe when I posted it in Facebook. I couldn't thank you enough.
– Saharah, National City CA (10/12/14)
It's Saharah again. This time, I want to let you know that I have innovated your cinnamon rolls recipe. Since my husband is not a huge fan of cinnamon, I came up with an idea of filling it with purple yam jam. He loves it and what's more exciting is I made a business out of it. I have friends ordered it already and they love it too. Your dough is the BOMB! I have a friend who ordered 2 dozens and was not able to taste it because it everyone in the party where she brought it to went crazy for it. Another friend was supposed to bring it to her friend, but after trying one roll, she changed her mind because she fell in love with the taste. Ha ha ha! I will not get tired of thanking you for the recipe. It is a huge help. More power to you. Below is the photo of the purple yam rolls. On top of the rolls, I spread butter and then sprinkled sugar. You can buy Purple Yam Jam (Halayang Ube) at a Filipino store. – Saharah, National City CA (10/22/14)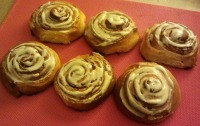 Just a little message to let you know that we have tried this recipe and the rolls are absolutely delicious! We ate two each yesterday – can't wait until tea time to have another one! Thanks for your good advice! – Warmest regards from France – Sylvia (11/23/13)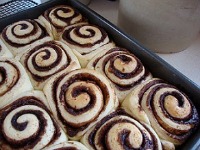 Making cinnamon rolls was my first attempt to make anything with yeast – and I did it! They came out fat, moist, lots of cinnamon, and with sweet frosting on top. This recipe is a keeper. Visit the website as they offer suggestions on baking and freezing, and other important information like using vital wheat gluten which will help the sweet bread rise even better, be more elastic, and easier to roll. – Andi Winslow, Wednesday's Baker (6/11/13)
I found your recipe and wanted to try it for Christmas day. I am fairly new to baking and didn't want to take a chance so I made some on the 22nd. Sort of a trial run. They turned out awesome! Thank you so much. I can't wait for my family to try them Christmas day. Merry Christmas. – Tim Farris and Logan Farris (5 year-old that helped). (12/23/12)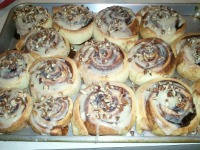 I've just tried your cinnamon roll recipe, and I had to write you to say thanks. I've been baking for many years, and I've never been satisfied with the other cinnamon roll recipes I've tried. My sweetie and I are leaving next week for a few days in a rented house up in redwood country, and I've been putting together menus. He adores cinnamon rolls, and so I decided to google "cinnamon roll frozen" to see if I could find a recipe that would allow me to freeze the unbaked rolls. Yours was at the top of the list. I liked what I saw, and I was very impressed by the number of comments. These are perfect in fact, I just told a friend that I had found the Holy Grail of cinnamon roll recipes. The recipe is terrific and your instructions are just right. Thank you, thank you for sharing this exquisite recipe. – Earline Leppert Ahonima (1/24/10)
I found your recipe when I typed in cinnamon rolls/freezer. I really just wanted to put them in the refrigerator overnight. I was going to visit my new grandson and of course his parents. We were going to have brunch. I made the rolls on Saturday night. It was very therapeutic kneading the dough. On Sunday morning, the rolls with extra frosting were a big hit! Just want to let you know that I have bookmarked your site. – Rachel Ramer (3/22/09)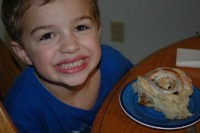 I came across your recipe for harvest cinnamon rolls about a year or so ago whilst looking for a 'Cinnabon' style recipe (we don't have cinnamon rolls here in England – but my husband had tried a 'Cinnabon' and loved it – but as they are not available in the U.K I was looking for a recipe I could make for him at home). Your recipe turned out great, and I'm not a particularly good cook! I have made them a few times now. We have made it a new tradition to have these on Christmas morning (and birthdays, and wedding anniversary…..!). I have since become a Vegan and have 'veganised' your recipe and it still works wonderfully. Many thanks for your help, and thanks for a great recipe that we love! – Becky Ansell – Hampshire, United Kingdom (9/27/08).
Check out Becky's vegan version of this recipe: Vegan Harvest Cinnamon Rolls.
I made 300 of your harvest cinnamon rolls for a soup supper and everyone loved them! I used three bread makers and timed them so that they would go off every 20 minutes which gave me time to roll out dough and measure ingredients for another batch. I set my ingredients in order on my counter, with the appropriate measure by each of them, to really speed things up. I did not have my butter soft so I would measure the milk and water into a glass cup, and then add the stick of butter and zap it. I also dropped the eggs into the machine and started it while I added the rest of the ingredients so the machine could mix them for me.
On my countertop, I used clear packing tape to mark out the rectangle size that I needed to roll them to. This worked great, and I could quickly get the dough to the exact size without measuring length/width. 1 1/2-inch" marks on the tape made that part go fast also. I did the Cinnamon Filling a little different. I used a pastry blender to cut the butter into the cinnamon/sugar mix. This crumbled mix was easy to spread out on the dough in one step.Putting the Butter Frosting in a zip loc bag, and then snipping the corner made this step go super fast also.
Thanks for a great recipe and clear instructions. Approximately 300 cinnamon rolls in 7 to 8 hours using bread machines with a 1:40 dough cycle. – Christine Sueverkruepp from Firth, Nebraska (10/27/07)
I just have to tell you how much we enjoy your Harvest Cinnamon Rolls! I have made them for several years for our Christmas breakfast and they are a huge hit! It just wouldn't be Christmas without them. The recipe is well-written and easy to make. I always make extra and share them with friends and family. They always get rave reviews. Thank you so very much for sharing the recipe. Happy Holidays! – Peggy from Iowa (12/21/06)
I finally found success with cinnamon rolls! I used the Harvest Cinnamon Roll recipe and my family was jumping for joy. They looked and tasted amazing. I made of my husband's siblings and their families a pan of cinnamon rolls to put in their freezer to bring out for consumption during the Rose Parade. Thank you so much. I am trying the roll recipe for Sunday dinner tomorrow. The information you have shared has made me feel re-inspired to bake and make new things. A gift I will treasure. – Peggy from Las Vegas (1/06/07)
I tried your recipe and it turned out great. I have always loved cinnamon rolls but was never able to make any that would do to eat until I found your recipe. I have made several batches and haven't had a failure yet. Thanks so much for the great recipe. – J. Welch (1/30/07)
Question:
I am wanting to try your recipe but I don't have any of the equipment you mention for making the rolls. Since we are on a tight budget, I would like to not waste a complete recipe of ingredients to only find that not using the equipment will make the recipe not turn out favorable. Can I make these the old-fashioned way? – elbow grease and hand kneading? Thanks for your assistance. New to baking – Kelli Tate (10/06/07)
Answer:
Yes, you can make them the old-fashioned way. Like you said – elbow grease and hand kneading. The cinnamon rolls will turn out great!
Question:
I made your rolls for the first time as a gift but kept a few for us. They are good and one of the best recipes for these. My mom used to make cinnamon rolls. Since she passed away, I have continued this tradition but could never find her recipe and these would be the closest that I have come up with.
I do have a couple of questions: do you only use one 9X13-inch pan because mine filled the pan and were touching from the very beginning and do you actually just get 15 rolls because the website shows two pans with 12 in each and so I was wondering do you actually cut them about 1 inch and thus get 24. What I found was that some of the dough seemed doughy and not flakey which would mean not cooked long enough, even though I did it longer than the suggested time and at the right temperature, and that could be because it was too packed in. Thanks for the recipe – Tom (12/27/06)
Answer:
If you roll the dough per my instructions in the recipe, one (1) batch will make 15 cinnamon rolls. I cut the dough into 1 1/2-inch cinnamon rolls to make 15 cinnamon rolls per batch.
My pan only holds 12 cinnamon rolls, so I have to place the extra rolls in another pan. Since I am usually making many, many batches of cinnamon rolls for our Harvest Festival, I just keep adding additional pans and place the extra 3 rolls in them. Since I make mine in advance, I freeze the unbaked cinnamon rolls. When I make the next batch, I add the new rolls to the partially empty pan with the frozen rolls. Check the photo out on my page and you will see that the unbaked cinnamon rolls do not touch each other before rising and baking. Do not pack the unbaked cinnamon rolls together, as they must not touch each other before rising and baking. If you are just making one (1) batch, place the three (3) extra cinnamon rolls in a cake pan to rise and bake.
Comments and Reviews