Savory Garlic Rolls are great to serve with homemade soup.  These rolls could also be used as an appetizer.  The best part about making this savory roll recipe is that the dough can be mixed and the rolls filled, shaped, and frozen long before you want to serve them.
Check out Linda's Bread Making Hints: Secrets to using the bread machine, About yeast in bread making, Sourdough Starter, and Quick Breads.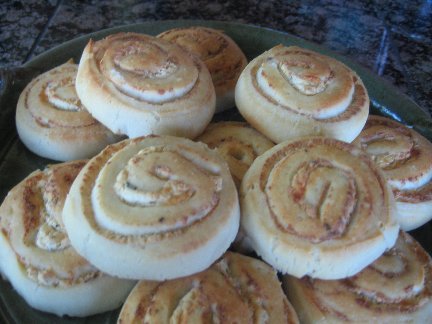 Savory Garlic Rolls Recipe:
Keyword:
Savory Garlic Rolls Recipe
Ingredients
Roasted Garlic Spread:
1

large whole head of

Roasted Garlic

(Learn how to easy it is to oven-roast garlic)

8

ounces of

cream cheese,

softened (you can use regular, low-fat, or fat-free cream cheese - your choice)

1/4 to 1/2

cup

sharp cheddar

cheese, grated

Black pepper,

coarsely ground to taste
Instructions
Savory Garlic Rolls Instructions:
Prepare your favorite bread recipe, but do not bake yet. Prepare the Roasted Garlic Spread; set aside.

Preheat oven to 325 degrees F. Butter a 9-x 13-x 2-inch baking pan; set aside.

After your have made the bread dough and it has rested, roll and stretch the dough into approximately a 24 x 10-inchrectangle. In other words, a large rectangle - depending on your counter space, you may need to divide the dough in half and roll each 1/2 at a time.

Using a spatula, spread the Roasted Garlic Spread over the top of the rolled dough.

Starting with long edge, roll up dough; pinch seams to seal. Rolling the log too tightly will result in rolls whose centers pop up above the rest of them as they bake.

With a knife, lightly mark roll into 1-inch section. Use a sharp knife (I like to use a serrated knife and saw very gently).

Place cut side up in prepared baking pan. The unbaked rolls should not touch each other before rising and baking. Do not pack the unbaked rolls together.

Lightly spray the tops of each roll with the vegetable non-stick spray. Using your fingers, sprinkle the coarse or sea salt over the top of each roll.

Cover with plastic wrap and let rise in a warm place for approximately 45 to 60 minutes or until doubled in size (after rising, rolls should be touching each other and the sides of the pan).

Preheat oven to 325 degrees F.

Bake approximately 15 to 20 minutes until the tops are a light golden brown. Remove from oven and let cool.

Yields approximately 20 to 25 rolls (depending on the size you make them).

Refrigerating or Freezing Unbaked Cinnamon-Type Rolls:

At this point, the rolls can be covered with plastic wrap and refrigerated overnight (I've actually made them two days in advance) or frozen for 1 month. Before baking, allow rolls to thaw completely and rise in a warm place if frozen.

If refrigerated, they can be either baked upon removing from the refrigerator or let come to a room temperature I have done both ways). They do a slow rise overnight and it is not necessary to let them come to room temperature before baking.

NOTE: If you rolls are not rising enough after being refrigerated, your yeast may need to be tested. To overcome this, let them rise, while sitting on the counter, until you achieve the desired rising before baking.

Roasted Garlic Spread Instructions:

In a small bowl, mash the roasted garlic cloves. Stir in the softened cream cheese, cheddar cheese, and pepper.
Recipe Notes
*  You can use either of the listed bread recipes or use your favorite bread recipe
Comments and Reviews