Date Drop Scones are so delicious and tender.  Since I love dates, adding them to scones make sense to me!  These are the scones that my family always wants served at our Mother's Day Tea.  Date Drop Scones are a delicious treat any time of the day.
Scones are best served warm and fresh, split open, and topped with either lemon curd or thick homemade jam and clotted cream (Devonshire Cream or Creme Fraiche).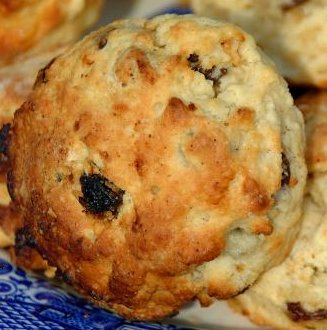 Check out Linda's History of English High Tea, English High Tea Menu, and Afternoon Tea Recipes.
More great Scone Recipes, Bread Recipes, Sourdough Bread Recipes, and Quick Bread Recipes for all your bread making.
Date Drop Scones Recipe:
Keyword:
Date Drop Scones Recipe
Ingredients
2

cups all-purpose

flour 

1/4

cup granulated

sugar

2 1/2

teaspoons

baking powder

3/4

teaspoon

salt

1/2

teaspoon

baking soda

1/2

teaspoon

nutmeg,

ground

1/2

cup

unsalted butter,

chilled and cut into 1/4-inch pieces*

1/2

cup

dates,

chopped

1

egg,

cold and beaten*

2/3

cup

buttermilk,

cold
Instructions
Preheat oven to 425 degrees F. Place oven rack in middle of oven. Lightly spray a large baking sheet with vegetable-oil cooking spray.

Tip: Chill the bowl and any utensils you will be using in the refrigerator before making the scones.

In a large chilled bowl, sift together flour, sugar, baking powder, salt, baking soda, and nutmeg. With a pastry blender or two knives, cut the chilled butter into flour mixture until particles are the size of small peas; stir in dates. Add the chilled egg and chilled buttermilk; stir just until mixed. When making scones, work the dough quickly and do not over mix.

Drop by heaping tablespoonfuls onto prepared baking sheet, 2 inches apart to allow for spreading, making 10 mounds. Note: Scones can be cut into any shape you desire. Use a drinking glass to make circles, or cut into squares or wedges with a knife. Dip the edges of the cutter in flour to prevent the dough from sticking. Do not pat the edges of the scone down; instead leave the cuts as sharp as possible to allow the scones to rise in layers.

Tip: Prior to baking, place the tray of scones in the refrigerator for about 5 to 10 minutes to ensures that the scones remain cold before baking.

Bake 12 to 18 minutes or until golden brown (depending on the size of your scones). A good check is to use an instant digital thermometer to test your scones. The temperature of the scones should be at 200 degrees F. when done.

Remove from oven and serve warm.

Freezing baked scones: When the scones are cool, wrap airtight and hold at room temperature for up to one day or freeze to store longer. To reheat, unwrap scones (thaw wrapped, if frozen) and place onto a baking sheet. Bake in a 350 degrees oven 8 to 10 minutes or until warm.

Freezing unbaked scones: When the dough is made and patted into circles or cut into 8 wedges/circle, place on a cookie sheet and place, uncovered in the freezer. It will take about an hour for the dough to freeze firm. Once the dough is firm, put frozen scones into a zip-lock bag and return them to the freezer.

When you are ready to bake the scones, simply take out as many as you want to bake and let them sit on the kitchen counter on aluminum foil or parchment paper while you preheat the oven. They should only be allowed to thaw as long as it takes the oven to preheat. Once the oven is preheated, place the scones onto a fresh sheet of aluminum paper or parchment paper and bake. It will be necessary to extend the baking time by a few minutes (it could easily add up to 4 to 5 minutes to the baking time - just add it in 2 minute increments until you are sure of your times).
Recipe Notes
* Why do your ingredients need to be cold?  It is important that your ingredients (both fats, liquids, and eggs) remain cold.  The purpose is to keep the butter solid and not let it melt.  If your dough is kept cold, it will have little bits of dispersed butter.  In the heat of the oven, that butter melts into the dough but leaves pockets and layers in the scones.  If it's hot in your kitchen, freeze your butter before making scones.  Cold butter makes scones rise higher!
Comments and Reviews