Olive Sourdough Bread is one my favorite bread recipe. It is so delicious with all the olives. It is a crusty sourdough bread with a mild blend of the tangy and briny olives. The Kalamata olives added a depth of color and a wonderful taste! Please do not substitute with those canned plain black olives. You want this bread to deliver real big olive flavor, so keep the olives in large pieces.
Give my Olive Sourdough Bread a try – I know you and your family will love this bread! I serve this bread at most of my dinner parties.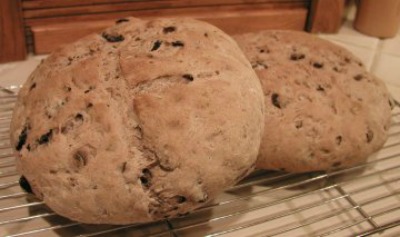 For more great Low Fat Recipes, Low Calorie Recipes, Low Carbohydrate recipes, and Diabetic Recipes, check out my Diet Recipe Index. Also check out my Nutritional Chart for fat grams, fiber grams, and calories for all your favorite foods.
Bread Making Hints: Secrets to using the bread machine, About yeast in bread making, and Sourdough Starter – How to make a Sourdough Starter.
More great Bread Recipes, Sourdough Bread Recipes and Quick Bread Recipe for all your bread making.
Sourdough Olive Bread Recipe:
Keyword:
Sourdough Olive Bread Recipe
Ingredients
2

cups

lukewarm water

(110 degrees F.)

2

cups

sourdough starter,

room temperature*

2

teaspoons

instant dry active yeast

1/2

teaspoon

diastatic malt

(optional)**

7 to 8

cups

bread flour***

1

tablespoon

salt

1

tablespoon

rosemary,

fresh and finely minced

2

tablespoons

olive oil

2

cups

Kalamata olives,

pitted and coarsely chopped (I usually cut them in halves)

Semolina flour

(for dusting)
Instructions
Combine water, sourdough starter, yeast, and diastatic malt in the bowl of a mixer; stir with a rubber spatula or wooden spoon, just to moisten. Fit the mixer with a dough hook. Add flour, salt, rosemary, and olive oil; mix the dough on medium speed for 6 to 8 minutes until dough snaps back quickly.

Turn the dough onto a lightly floured board; add olives and knead by hand for several turns to be sure the olives are well incorporated and the dough is smooth, adding additional flour if needed. NOTE: Knead dough by pulling the dough towards you and then pushing down and forward with the palms of your hands (kneading gives the bread the elasticity and lets it rise).

Place the dough in a lightly oiled large bowl. Cover the bowl with plastic wrap Let rise until it doubles in volume (when you can put your finger in the dough and it leaves and indentation and doesn't spring back out) approximately 4 to 8 hours (depending on the temperature and the starter used, the rising time can vary as much as 2 hours).

Punch dough down and knead it on a floured board to feed itone more time before baking. Divide dough in half and shape each dough ball into a loaf or round shape (boule); place on a jelly roll pan or cookie sheet that is dusted with cornmeal (I use the Silicone Baking Mats instead of cornmeal). Cover with plastic wrap and place ina warm spot to rise until doubled in size, approximately 1 to 3 hours.

Oven Bread Rising: Sometimes I use my oven for the rising. Turn the oven on for a minute or so, then turn it off again. This will warm the oven and make it a great environment for rising bread. If you can't comfortably press your hand against the inside of the oven door, the oven is too hot. Let it stand open to cool a bit. Sourdough rises more slowly than yeast bread; Always remember, the longer the rise time, the more sourdough flavor.

Cool or Refrigerator Bread Rise: If I don't have the time to wait for the rise to finish or I know that I will be interrupted before the completed rise, I do a cool rise. A cool rise is when the dough is place in the refrigerator and left to rise slowly over night approximately 8 to 12 hours. I usually do this after the first rise and the dough has been shaped into a loaf. As this is a longer rise time, it improves the sourdough flavor in your finished bread.

Preheat oven to 450 degrees F. After the bread has risen, slash the bread with a bread razor or a very sharp knife making three 1/2-inch deep diagonal slashes. Brush or spray the top of the bread with cold water. Slide the trays in the oven. Spray the oven with a spray bottle full of water and close the oven door. Thirty seconds later, open the oven door and mist the oven again. Repeat this two more times, then turn the oven temperature down to 400 degrees F. and let the bread bake for 15 minutes.

After 15 minutes, turn the bread around 180 degrees so it can brown evenly; bake another 10 minutes or until nicely browned. NOTE: A good check is to use an digital thermometer to test your bread. The internal temperature should be between 200 and 210 degrees F.

Remove from oven and place bread on a wire rack to cool. Let the loaves cool for 30 minutes before cutting (this is because the bread is still cookingwhile it is cooling).
Recipe Notes
* If you don't presently have a sourdough starter, either make your own sourdough starter or purchase Packaged Sourdough Starter Mix by mail-order.
** Diastatic malt is powdered malted grain, usually barley,but wheat, and rice may also be malted It breaks down the starch in dough to yield sugars on which the yeast can feed.
*** The thickness of your sourdough starter can determine howmuch flour needs to be used.  If you think the dough is too moist, add additional flour (a tablespoon at a time).  The same is true if the dough is looking dry and gnarly.  Add warm water (a tablespoon at a time).  Your dough should not be sticky but should form a niceelastic ball.  I usually have to add extra flour.

I get many readers asking what cooking/meat thermometer that I prefer and use in my cooking and baking. I, personally, use the Thermapen Thermometer. Originally designed for professional use, the Super-Fast Thermapen Thermometer is used by chefs all over the world.  I only endorse a few products, on my web site, that I like and use regularly.
You can learn more or buy yours at: Super-Fast Thermapen Thermometer.
Sponsored Content
Did you know that the name sourdough comes from San Francisco and their famous sourdough breads? It is thought that French bakers brought sourdough techniques to Northern California during the California Gold Rush in the late 1800s. If you don't want to make your own sourdough starter, you can buy a San Francisco sourdough starter from Amazon. 
sponsored content
Comments and Reviews