Belle's 8-Layer Chocolate Torte Cake Recipe, also know as Stack Cakes and Layer Cakes, are a traditional Southern recipe where the cake can vary anywhere from this 8-layer cake up to 17 layers.  This is not a traditional layer cake – It is a "superstar" cake.  Belle's 8-Layer Chocolate Torte Cake Recipe is truly spectacular looking and tastes fantastic.  These layer cakes are especially popular at Christmas in the Southern states of America.  All across the Southern States at Christmas, layer cakes parade across virtually every sideboard.
It is an unusual and labor-intensive cake as preparing this cake does take more effort on the bakers part, but in the long run, it is sure worth it!  It is said, in the Southern States, that the worth or skill of a cook can be measured by the tenderness of the crumb and how many layers the cake has.
This outstanding Belle's 8-Layer Chocolate Torte Cake Recipe is courtesy of Belle Cook of North Carolina.  Belle is the mother-in-law of Andra Cook, co-author of my first cookbook called What's Cooking America.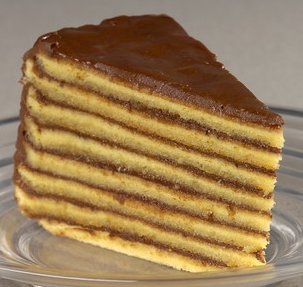 Click here for Basic Rules For Baking or here for Secrets of a Successful Cake.  Check out more of Linda's wonderful Cake Recipes and Chocolate Recipes.
Belle's 8-Layer Chocolate Torte Cake Recipe:
Keyword:
Belle's 8-Layer Chocolate Torte Cake Recipe
Ingredients
8-Layer Chocolate Torte Cake:
6

eggs,

separated and room temperature

1 1/4

cups granulated

sugar

2

tablespoons

lemon juice,

fresh-squeezed, divided

1/4

cup

cornstarch

3/4

cup all-purpose

flour

1/2

teaspoon

salt

Nuts,

chopped
Instructions
8-Layer Chocolate Torte Cake Instructions:
Make the above cake recipe twice (two times).

Preheat oven to 375 degrees F. Line two 14- x 10-inch rimmed pans with wax paper. Grease wax paper with butter or margarine.

In a large bowl, beat egg yolks until thick and creamy. Gradually beat in sugar and 1 tablespoon lemon juice.

In a small bowl, sift cornstarch, flour, and salt together; add to egg yolk mixture. Add remaining lemon juice and beat until smooth.

In a large bowl, beat egg whites until stiff peaks form; fold into already prepared batter mixture.

Spread batter evenly onto the prepared baking sheets. Bake 10 to 15 minutes; remove from oven. Remove from baking sheets immediately and remove wax paper. Let cakes cool on wire racks.

Prepare and bake the 2nd batch of chocolate cake batter.

To assemble, cut each layer in half widthwise. NOTE: After making this recipe twice, you will end up with a total of eight (8) layers.

Place each layer, one by one, onto a cake plate and frost each layer with Chocolate Frosting. After frosting the top layer, sprinkle with chopped nuts.
Chocolate Frosting Instructions:
Melt chocolate (unsweetened and semi-sweet chocolate) in the top of a double boiler over hot water. In a medium bowl, combine egg yolks and sugar. Stir in heavy cream; add to the melted chocolate. Cook, stirring constantly, until thickened. Remove from heat and let cool.

In a medium bowl, cream butter until light and fluffy; beat into chocolate mixture, 1 tablespoon at a time. Chill until frosting is of spreading consistency.

Comments and Reviews