Are you a lover of cheesecakes and on a quest to learn how to make a perfect cheesecake?  Here is a fantastic step-by-step photo tutorial on how to make perfect cheesecake, plus additional troubleshooting tips.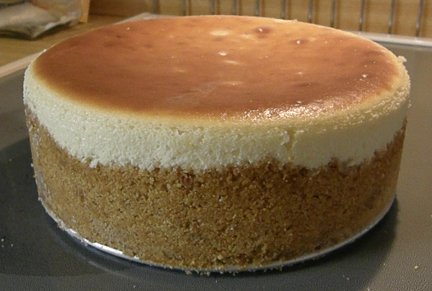 This is just a basic Perfectly Plain Cheesecake recipe, but it can be used as the base for many other varieties.  Change the crust, add some chocolate, or just get creative!  Have fun developing other ways to make it; once you have made one that comes out like this Perfectly Plain Cheesecake, the possibilities are endless!
Who does not love a good cheesecake?  OK – maybe there are some out there that do not, and I have to feel a little sorry for them.  I have always loved a good cheesecake, and for many years my cheesecake consisted of the cream cheese and condensed milk refrigerator version, with canned cherries on top.  To think I actually thought this was a cheesecake!   Admittedly, I do still love this version, and it is great when you are in a rush, but this is nothing in comparison to the "real deal."
While attending the University of Texas, some friends and I began experimenting with making cheesecakes.  They always seemed to come out runny, cracked. or just wrong.  It was not until my senior year there that I actually found the secret to a wonderful cheesecake, and realized that maybe all those other attempts were good cheesecakes, but the preparation and cooking methods were all wrong.  So here is my recipe, and with a little help from watching shows like Alton Brown's Good Eats, I found the perfect way to make it and cook it so that it came out wonderful!
This wonderful Perfectly Plain Cheesecake recipe, comments, and photos are courtesy of Cynthia Detterick-Pineda of Andrews, TX.  Check out more of Cynthia's Southwest Recipes.
Perfectly Plain Cheesecake Recipe:
Keyword:
Perfectly Plain Cheesecake Recipe
Ingredients
2

cups

graham cracker

crumbs

1

cup plus 2 tablespoons granulated

sugar,

divided

1/2

cup

butter

(1 stick), melted and cooled

3

(8-ounce) packages of

cream cheese,

softened to room temperature

3

eggs,

room temperature

1

teaspoon

pure vanilla extract

1

tablespoon

lemon juice,

fresh-squeezed

1

cup

heavy cream,

room temperature
NOTE:  It is very important that the cream cheese, eggs and cream be at room temperature.  You may need to let them sit out for an hour before beginning to make this recipe.
Instructions
Preheat oven to 350 degrees F. (315 degrees F. for convection oven).

Wrap the bottom of an 8-inch Springform Pan with two layers of heavy-duty aluminum foil. Set aside another oven-proof pan that this can sit into. You will use these as a water bath when cooking your cheesecake, so make sure the aluminum foil come up high enough to keep water out of your cheesecake. Cut a round piece of parchment to cover the bottom of the springform pan, and set it in.

Mix the graham cracker crumbs, two tablespoons of sugar, and the cooled butter in the bottom of the springform pan.

Once it begins to cling together, use a flat object, such as a cup or glass, to firmly press the cookie crumb mixture onto the bottom of the pan and half way up the sides. Place this pan into the larger ovenproof pan and set aside.

Beat the cream cheese for a minimum of 3 minutes; add the remaining 1 cup sugar and continue beating this mixture until it is light and creamy.

Start the mixer on a medium low speed and work up to medium high as the cream cheese becomes smoother. Use a spatula to scrape down the sides AND the beaters while mixing so that all the cream cheese is well beaten. It can take up to five minutes of beating to get a smooth, fluffy cream cheese mixture.


Add the eggs, one at a time, while continuing beating at medium speed after each egg is added.


Add the heavy cream, beat until incorporated. Remember to scrape down the sides of the mixer bowl, and scrape up any thicker bits of cream cheese that have stuck to the bottom of the mixer

Increase the speed of the mixer to high and let this mix while you add the lemon juice and vanilla extract to thr cream mixture. This will curdle the cream, so do not be surprised to see some lumpiness in the cream. As before, frequently scrape down the sides and the beaters so that the mixture is smooth.

Pour the mixture into the prepared springform pan.

Baking Cheesecakes: Place the two (2) pans into the oven on the middle rack, and fill the larger, outside pan with hot water until it is about half way up the sides of your cheesecake pan.

Bake cheesecake until it is golden brown and the edges are firm to about 1 inch in on the pan, about 40 to 45 minutes. When the cheesecake is done cooking, reaches an internal temperture of 150 degrees F. on your cooking thermometer, turn the oven off. Let cake stand in oven, with door ajar, approximately 30 minutes or until center is completely set. During this time, the remaining part of the cheesecake will firm up so that it does not "jiggle" when the pan is moved.

NOTE: There should be no wet spots or liquid areas in the center of the cheesecake. Remember that a cheesecake continues to cook when it is removed from the oven.

Prevent cracks in your cheesecake: When the internal temperature of a cheesecake rises beyond 160 degrees F. while baking, it will always crack. To prevent this from happening, use an instant-read cooking thermometer to test its doneness. Take it out of the oven when the cheesecake reaches 150 degrees F. at the center to avoid over baking.

Remove from oven and cool completely on a wire rack. NOTE: Cool the cheesecake completely before attempting to remove from the springform pan. To remove from pan, simply release the sides and slide the cheesecake up and out of the pan. The parchment round on the bottom of the cheesecake will make it easy to slide the cheesecake onto a serving plate.

Photos showing inside texture of the cheesecake.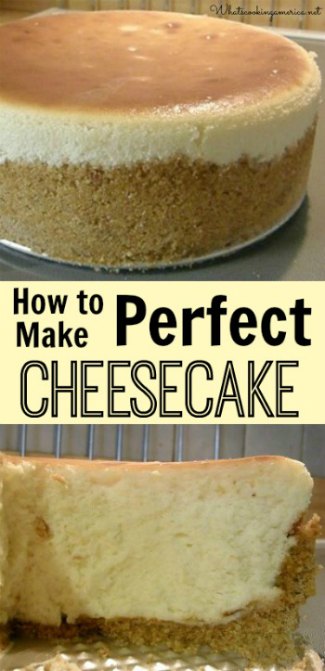 Check out the following tips and hints on baking cheesecakes:
Baking A Perfect Cheesecake
Baking Cheesecakes Ahead Of Time
Cracks in Cheesecake
Cutting Cheesecake
How To Freeze Cheesecakes
Traveling with Cheesecakes
Springform Pans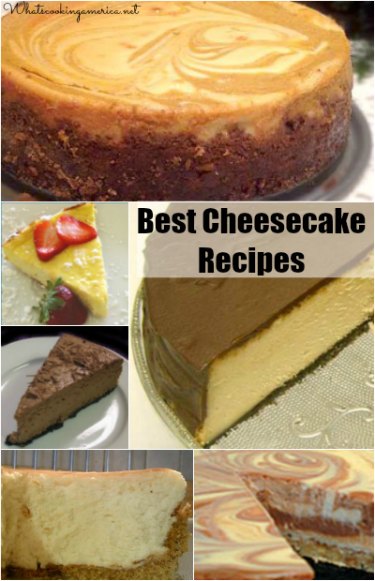 Comments and Reviews