Plum pudding is a steamed or boiled pudding frequently served at holiday times.  Plum pudding has never contained plums.  The name Christmas pudding is first recorded in 1858 in a novel by Anthony Trollope.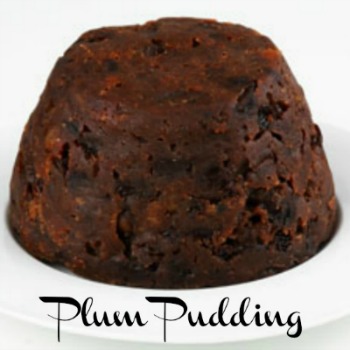 Why is Plum Pudding called Plum Pudding when there are no plums in it?
In the 17th century, plums referred to raisins or other fruits.  Plumb is another spelling of plum.  Prune is actually derived from the same word as plum – the Latin word was pruna, which changed in the Germanic languages into pluma.  But the terms were quite confused in the 16th and 17th centuries and people talked about growing prunes in their garden.
(1) Defination of "plum" in the Oxford English Dictionary:
A dried grape or raisin as used for puddings, cakes, etc.  This use probably arose from the substitution of raisins for dried plums or prunes as an ingredient in plum-broth, porridge, etc., with retention of  the name 'plum' for the substituted article. The OED then goes on to list occurrences of this use in literature.  Samuel Johnson defined a "plum" as "raisin; grape dried in the sun."

(2) Some information from A Gourmets Guide by John Ayto:
"Dried plums, or prunes, were popular in pies in medieval times, but gradually in the sixteenth and seventeenth century they began to be replaced by raisins.  The dishes made with them, however, retained the term plum, and to this day the plum pudding, plum cake, plum duff etc. remind us of their former ingredients."  And yes, the raisins were sometimes called plums in the 19th century, but only when they were in a plum pudding or plum cake.

(3) Quote from The Gourmets Guide:
"Nowadays served only at Christmas, and so called exclusively Christmas pudding, this was formerly a common year-round pudding (albeit not always as rich as the festive version); indeed, in 1748 Pehr Kalm, a Swedish visitor to England, noted that "the art of cooking as practised by Englishmen does not extend much beyond roast beef and plum pudding".  And in 1814, one of the traditional English delicacies introduced to the French by Antoine Beauvilliers in his Lart du cuisiner was plomb-poutingue."
During the Puritan reign in England, plum pudding was outlawed as "sinfully rich."  Traditionally, in England, small silver charms were baked in the plum pudding.  A silver coin would bring wealth in the coming year;  a tiny wishbone, good luck;  a silver thimble, thrift;  an anchor, safe harbor.  By Victorian times, only the silver coin remained.  In England these tiny charms can still be bought by families who make their own puddings.  It is also traditional for every one who lives in the household to simultaneously hold onto the wooden spoon, help stir the batter for the pudding, and make a wish.
Grandma Fisher's Plum Pudding Recipe:
This recipe comes my husband's great-great grandmother.  I adapted this recipe to modern standards.  I have not yet made the recipe.
Keyword:
Grandma Fisher's Plum Pudding Recipe
Servings
:
2
plum puddings
Ingredients
Plum Pudding:
1

cup granulated

sugar 

1

cup

butter,

room temperature

1

cup

milk*

2

eggs,

beaten

2/3

cup

molasses

1/4

teaspoon

salt

1

teaspoon

baking soda

3

tablespoons

baking powder

3 1/2

cups all-purpose plus 2 tablespoons

flour

1 1/2

cups

raisins,

finely chopped

1

cup

dates,

chopped

1/2

cup

nuts,

chopped

3

tablespoons

orange

or lemon citron, candied and finely chopped

1 1/2

cups

apples,

chopped

1

teaspoon

cinnamon,

ground

1/4

teaspoon

cloves,

ground

1/4

teaspoon

nutmeg,

ground

Boiling water
Instructions
Plum Pudding Instructions:
Grease two 2-pound coffee cans, two 2-quart pudding molds, or two 2-quart oven-proof deep dishes.

If you do not have a steamed pudding mold, you can use a small bowl, but a pudding mold is inexpensive and pretty easy to find at a kitchen store or online.

In a large bowl, combine sugar, butter, milk, eggs, molasses, salt, baking soda, baking powder, and flour; add raisins, dates, nuts, candied orange or lemon citron, apples, cinnamon, cloves, and nutmeg.

Fill each greased pan 1/2 full of batter. Cover tops of pans with lids or 2 layers of aluminum foil. In a large pot or roaster, place molds on trivets or a rack and add boiling water 2/3 up the side of the mold; bring rapidly to a boil. Reduce heat to medium-low, cover pot or roaster, and boil gently 4 to 4 1/2 hours (add more boiling water as necessary) or until fork comes out clean when put into center of pudding.

Be sure to let the pudding cool to room temperature in the mold before removing it. Wrap the cooled pudding tightly in plastic wrap and store in a sealed plastic bag. The pudding will keep for about 3 weeks in the refrigerator or may be frozen for longer storage.

While the Plum Cakes are ripening you can unwrap them periodically and add more cognac or other spirits. Piercing the puddings with a fine skewer or needle makes this process easier.

To Serve: The pudding may be put back into its pudding mold and reheated for 1 to 2 hours (depending on size of Plum Pudding) in a hot water bath at the time of serving. However, the easier way today is to simply microwave the pudding for just a few minutes until it is heated. Unmold and serve hot with Nutmeg Sauce.
Nutmeg Sauce Instructions:
In a large saucepan over medium-high heat, combine sugar, cornstarch and salt. Add boiling water and cook, stirring constantly, 3 minutes until ingredients are well blended.
Recipe Notes
* 1/2 cup fruit juice and 1/2 cup brandy may be substituted for the milk if desired.
** Brown sugar may be substituted for the granulated sugar if desired.
Source:  Photo from Zarbo Delicatessen and Cafe, Auckland, New Zealand.
Comments and Reviews