Spiced Pumpkin Trifle would make an excellent dessert for your next Thanksgiving Dinner.  The Spiced Pumpkin Trifle can either replace the traditional pumpkin pie or be served as an alternate – your choice.  This dessert is a time saver as it can be made ahead of time.  If you do not have a true trifle bowl, use any straight-sided round glass bowl (the layers look beautiful from the sides of a glass bowl.
The word "trifle" comes from the old French term "trufle," and literally means something whimsical or of little consequence.  A proper English trifle is made with real egg custard poured over sponge cake soaked in fruit and sherry and topped with whipped cream.  The first trifles were very much like Fools (an old confection of pureed fruit mixed with cream), and the two terms were used almost interchangeably for many years.  Many puddings evolved as a way of using up leftovers and trifle originated as a way to use stale cake.  According to Trifle history, the English Trifle is a close cousin of an Italian version called "Zuppa Ingles" (English Soup), and also seems distantly related to a Spanish dessert called "Bizcocho Borracho."  Learn more about the history of Trifles.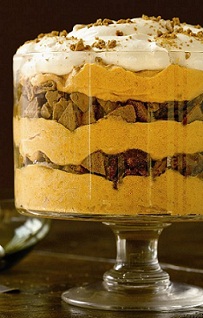 Click here for Basic Rules For Baking or here for Secrets of a Successful Cake.  Also check out more great Cake Recipes.
Additional trifle recipes: English Trifle and Red, White and Blue Trifle.
Spiced Pumpkin Mousse Trifle Recipe:
Keyword:
Spiced Pumpkin Mousse Trifle Recipe
Servings
:
10
to 12 servings
Ingredients
3

cup

heavy cream

1

(15-ounce) can

pumpkin puree

1

teaspoon

pure vanilla extract

1

teaspoon

cinnamon,

ground

1/2

teaspoon

ginger,

ground

Pinch

cloves,

ground

Pinch

salt

1

(7.5-ounce) jar

marshmallow fluff,

divided*

3

cups

gingersnap cookies,

chopped (plus more for garnish)

3

tablespoons

dark rum
Instructions
Using an electric mixer, beat the cream until stiff. Set aside 2 cups of the whipped cream for serving; refrigerate until ready to use.

In a large bowl, stir together the pumpkin puree, vanilla extract, cinnamon, ginger, cloves, and salt. Fold in 1/2 of the marshmallow cream, then 1/2 of the remaining whipped cream. Repeat and fold in the remaining 1/2 marshmallow cream and remaining 1/2 of the whipped cream until combine.

In a medium bowl, sprinkle the chopped gingersnap cookies with rum.

Spoon 1/3 of the pumpkin mousse into a clear glass serving bowl, spreading evenly. Sprinkle 1/2 of the gingersnap cookie mixture on top. Spoon another 1/3 of the pumpkin mousse over the cookie mixture. Repeat with the remaining 1/2 of the remaining gingersnap cookies, then top with the final layer of pumpkin mousse. Cover with plastic wrap and refrigerate at least 1 hour and up to 4 hours.

Just before serving, top with the reserved 2 cups whipped cream and sprinkle with the crushed gingersnaps.
Source:  This easy-to-make and delicious recipe and photo are from Everyday with Rachael Ray Magazine.
Comments and Reviews